August 2022: Pickling jars, 麻辣 (mala) aprons, and Sichuan pepper peanuts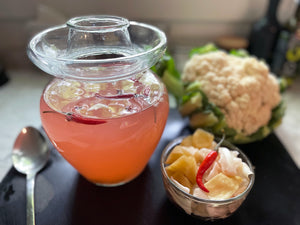 Any Time Is Pickle Time!
Greetings, friends of The Mala Market

Two of our most useful and stylish products are back in stock!

Our Chinese pickle jar in mouth-blown glass makes natural fermentation easy enough that you can have Sichuan pao cai always at the ready.

Our 麻辣 (mala) apron is better than ever in a new, lighter-weight denim with pockets and the same striking royal-red embroidery.

Plus, we have a new treat for all you Sichuan pepper lovers who also happen to be fond of peanuts....

And a recipe for weeknight(!) suancai yu. 

Keep reading for the deets! 
🌶 Taylor & Fongchong 🌶

P.S. How long can you keep your pickle brine going? In the above photo, I've retrieved the cabbage and celery as a side dish for dinner (to be drizzled with homemade chili oil, of course) and am adding Chinese cauliflower and ginger for the next round of fermentation. Find detailed instructions here.
 
Sichuan Pao Cai Pickle Jar (Mouth-Blown Glass Jar for Natural Fermentation)
$64.00
We've extolled the virtues of the Chinese method of natural fermentation to make homemade pickled vegetables many times, so we're just going to let our customers do it this time:

"I've used various pickling jars, some of them home-made with gizmos at the lid to release air, but I think this Sichuan Pao Cai Pickle Jar is my favorite. Not only is it elegantly styled and looks attractive on the counter, but its form has a desirable function of holding the majority of the ingredients under the liquid. I think it is a good size as well. It would be nice to have a couple of them."~~Richard B

"I got this as a gift for my wife, who loves all things fermented - she makes her own kombucha and sometimes kimchi and, as we love Sichuan cooking, I knew Sichuan pickles would be a perfect new endeavor! I haven't given it to her yet but did open it upon arrival to check the condition (perfect). It's a beautiful, well made, and sturdy pickle jar and I can't wait till it's filled with fermenting mala goodies."~~ Wm Paul M

"This hand blown glass jar is wonderful. Not only does it have a large capacity, the tight neck helps to prevent too much of your vegetable of choice from floating to the surface, and the design feature which allows a water seal is much appreciated. Highly recommend."~~Jacob D

You might also like this recent article in Radii:

 

Funky, Flavorful Pao Cao: Making Chinese Pickles Cool Again (though I would argue they were never uncool in Chengdu).
Weeknight Suancaiyu
Once you get into pickle mode, you can even make the sauncai, or pickled mustard greens, for Kathy's One-Pot Weeknight Suancaiyu (though they don't have to be homemade). 

This fish with pickled greens may be Sichuan's favorite non-red stew. But while it's not packed with chilies, that does not mean it is lacking in Sichuan flavor. The tartness of the pickled veg plus a touch of citrusy green Sichuan pepper oil makes it quintessentially Sichuan—even if you simplify it a bit.

Says Kathy: "When it comes to weeknight 酸菜鱼 (suāncàiyú), spicy and sour Sichuan fish (yu) with pickled mustard greens (suancai), even devout cooks need the occasional shortcut. Like most fish dishes on the mainland, suancaiyu uses whole fresh fish. And try as one might, Ma simply won't be found buying, killing and gutting live fish on a Tuesday. Not that there's much live fresh fish to be found around those parts—what suburbs have in 4-bedroom family homes, they lack in specialty fishmongers."

Making it even easier, you can buy ready-to-eat suancai at most Asian markets (though, sorry, not yet from us). But if you want to ferment your own in your new pickle jar, you can use the Sichuan wet-brine method or the Yunnan dry-brine approach with stellar results.  
 

If you love huajiao, I'm warning you now that

 

Sichuan Pepper Peanuts

 

will be your new favorite snack, beckoning you during every cocktail hour or providing a bit of spice to anytime snacking. 

Our friends at 50 Hertz have knocked it out of the park with their newest product. These perfectly roasted, preternaturally crispy peanuts hit you with waves of flavor—first the taste and tingle of both green and red Sichuan pepper, then the umami of salt-sugar-msg, followed by just a bit of chili heat. They set your mouth pleasantly abuzz and leave you reaching for more. 

The second photo

 

is 50 Hertz founder Yao Zhao and I scheming and dreaming a few years ago, when The Mala Market was still young and 50 Hertz was only in the planning stages. We bonded over our mutual adoration of Sichuan pepper (and Chongqing, his hometown), and it has been a joy to watch his brand take flight. 
 
Mala (麻辣) Unisex Apron
$39.00
We didn't think we could love our 麻辣 (mala) apron any more, but after cooking in it for extended periods of time we decided it was a bit heavy for a hot kitchen. Plus many of you want your aprons to have pockets. 

So we have updated the apron to lighter weight (but still substantial) gray-black denim that's less prone to wrinkles and has four pocket compartments. Plus—key for women—an adjustable neck strap. 

The gorgeous embroidery remains the same—allowing you to flaunt your love of 麻 (numbing) and 辣 (spicy) Sichuan food. 
 
Xi'an Famous Foods at Home
Fongchong and I had a lot of good Chinese eats on our NYC trip, staying, as we always do, within striking distance of Chinatown. You might have seen some of our drool-worthy meals on Instagram, but the one that really stays with me is the lunch at Xi'an Famous Foods. All these years and locations later, they still have it!

Unfortunately, I cannot still have it, because they are located only in New York City. But that only doubles my resolve to dive back into the Xi'an Famous Foods cookbook, which has recipes for all the dishes above and many more—hand-ripped noodles stir-fried with lamb, the same noods featured in a beef soup, plus fresh tofu pudding with pickles and chili. 

Hand-ripped biang biang noodles may not be easy to master, but can you think of anything more worthy of the effort?