August 2023: Red Boat Phamily Reserve Fish Sauce and Burlap & Barrel Chinese Trinity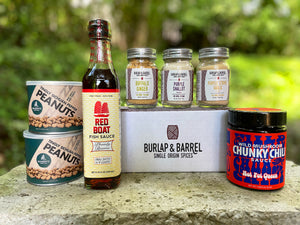 New Flavors From Old Friends 
Greetings, Friends of The Mala Market
As you know, we import most of the products on The Mala Market ourselves, direct from China. But sometimes the best product for the job has already been imported by someone else. So with this newsletter, we welcome two new brands to our shop as well as fresh batches of two other products sourced from small U.S businesses. Two are imports from Vietnam, and two are made in Sichuan/Chongqing. 

We admire and celebrate each of these businesses and hope you will give their superior products a try. 
Enjoy!
🌶 Taylor & Fongchong 🌶
Red Boat Phamily Reserve Fish Sauce (Small Batch 50°N Classic)
$17.00
Fish sauce does not get any better than Red Boat, and Red Boat does not get any better than the Pham family's Phamily Reserve, the small-batch version with a higher protein content and even richer, umamier taste than the version you find at the supermarket. 

Fish sauce is graded by its nitrogen and protein level, and while most supermarket fish sauces measure 20° nitrogen, Red Boat's flagship fish sauce is 40°N and its Phamily Reserve—named so because it was previously literally reserved just for the Pham family—clocks in at a stunning 50°N.
 
How Red Boat does it: "We use only black anchovies caught off of the crystal clear waters of Vietnam's Phú Quốc archipelago. Our fish sauce is fermented using a centuries-old traditional method in large wooden barrels for a clean, natural umami flavor. We bottle only first press fish sauce as indicated by our classic dark amber color, guaranteeing it is never diluted."

You already know that fish sauce is an integral part of Vietnamese and Thai food, but did you know that parts of coastal China also make frequent use of fish sauce? In particular Chaoshan/Teochew, in southeastern Guangdong province, uses fish sauce alone or combined with soy sauce in its everyday cooking.

And global chefs of all stripes do the same to up their umami game. In his book The Wok, J. Kenji Lopez-Alt recommends using fish sauce not only in every Southeast Asian cuisine but also in "any meaty Western-style stew, like beef stew, chili, or even ragu Bolognese....Chili with fish sauce doesn't taste like fish; it just tastes like extra-tasty chili."
Burlap & Barrel Chinese Trinity (Ground Ginger, Shallot and Garlic)
$29.00
We've known and admired Ethan and Ori, the pathbreaking founders of Burlap & Barrel, for several years now, but we would have filled our spice cabinet with their demonstrably better and fresher spices even if we hadn't. 

So after years of reaching for Burlap & Barrel ginger, garlic and shallot powder from our own cupboard when making Chinese food, we thought it was time to add them to The Mala Market's cupboard. 

There would be little Chinese cooking without the trinity of ginger, green onion and garlic, all of which you will often find in the same dish. While they are generally used in their fresh form, there are times when the dried, ground, concentrated versions are preferred—or when they just really come in handy—particularly in marinades, sauces and braises. You'll find us stir-frying our greens with either fresh or dried garlic and a little shallot powder for an extra layer of oomph. (We find the shallot powder to be the best sub for green onions/scallions in Chinese cooking.)

While B&B does not sell these spices as the Chinese Trinity, they gave us their blessing to offer them as such in a set for Chinese cooking. They come packaged together in a box that tells the B&B story and also makes a great gift. 
Ginger Chicken Kho
When Cuong Pham, a Vietnamese immigrant and former Apple engineer, took over a small, struggling fish sauce factory on Vietnam's Phu Quoc island in 2006, little did he know it would be such a success that all three of his American children would join the Phamily business when they grew up. 

Pham tells the fascinating story of his transformation into a fish-sauce maker and mogul in The Red Boat Fish Sauce Cookbook while also sharing very enticing, multigenerational family recipes. (As a Chinese cooking site, we're not selling the cookbook, but you can get it here.) The first thing I made from the book was ga kho gung, or braised chicken with ginger. I was immediately struck by how similar the preparation of a kho is to Chinese hong shao dishes. Both are braises that start by making a simple caramel to brown the meat in before adding the sauce flavorings—which for hong shao are soy sauce and Shaoxing wine and for kho are fish sauce and black pepper.

One recipe, two very different flavor profiles, showing both how Vietnam was influenced by Chinese cooking over the centuries and how it went its own way by replacing soy sauce with fish sauce as its everyday umami. I read somewhere that it was a natural and necessary swap, since Vietnam has far more fish-rich coastline than it does soybean-suitable farmland. 

As for our own family, we've always been surprised that Fongchong is as crazy about Vietnamese food as she is about Chinese cuisines, seeing as how she'd never had any Vietnamese food before moving to America (as far as she can remember). But it all started to make sense when we had her DNA tested and learned that she has more Vietnamese and Dai ancestry than Han!

Soy sauce flavored her childhood, and fish sauce is in her blood. So we've adopted, and slightly adapted, this Pham family recipe as our own. 
 
Braised Chicken With Ginger

Ingredients
2 pounds bone-in chicken thighs
1/2 teaspoon salt
1/4 teaspoon black pepper
1/4 teaspoon Burlap & Barrel shallot powder (optional)
2 tablespoons palm sugar or white sugar
2 tablespoons neutral cooking oil
1/4 cup thinly sliced ginger
1 tablespoon Red Boat Phamily Reserve Fish Sauce
1 to 3 fresh Thai red chilies (left whole for less heat, or sliced for more heat; we add both)
Cut thighs through the bone into 4-5 large pieces each, retaining at least some of the skin. Mix with salt, pepper and shallot powder (if using) and set aside. 
Add sugar and oil to wok or pan and cook over medium-low heat, stirring constantly, until sugar melts and turns a dark brown, being careful not to burn it. (A well-seasoned wok is ideal, both so the caramelized meat doesn't stick and so the sauce does not cook off.)
As soon as the sugar darkens, add the chicken pieces to the caramel and cook, stirring to coat the chicken in the caramel. When the chicken is starting to brown, stir in the ginger, fish sauce and 1/4 cup water. Cover and simmer over low heat until chicken has firmed up, about 10 minutes. 
Remove lid, add chilies and simmer until sauce is slightly reduced and chicken thoroughly cooked, about 5 minutes. 
50 Hertz Sichuan Pepper Peanuts (Set of 2)
$17.00
Yao Zhao at 50 Hertz is another longtime business friend, and we started carrying his Sichuan Pepper Peanuts as soon as he launched them—just trying not to eat them all before they made it out the door to you. 

Like any founder, though, Yao has continued to tweak and improve the recipe, and he promises this latest batch is even tastier, with less oil and more-crunchy peanuts. 
 
Hot Pot Queen Wild Mushroom Chunky Chili Sauce
$15.00
The reviews are in, and you guys love this mushroom chili sauce as much as we do. It is an umami powerhouse condiment—similar yet distinctly different from chili oil and chili crisp. Its combination of mushrooms, heat and just a tinge of sweet enlivens any milder dish in sight: rice, noodles, congee, tofu and steamed or fried egg are just the start. Plus it's gluten-free! And the jar is literally twice as large as many other chili crisps on the market.