December 2022 Part 2: New Noodles and New Noodle Recipes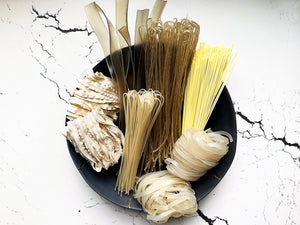 Noodle Diversity 

 
Season's greetings, friends of The Mala Market
Because your desire for noodles seems to be as insatiable as ours, we are continuing to expand our line of regional Chinese noodles. The diversity of noodles across China is truly amazing, and we've added some real stunners this month. As seen above, we're now importing two types each of wheat, rice and sweet potato noodles direct from noodle specialists in China. 

Oh, the things you can do with these! We've got two new recipes for them this month and will continue to roll out noodle recipes from across China in the coming months. 

I know you probably want the noodles for yourself, but if you also want to gift them you still have time. Because we manage our own fulfillment, we can take orders for Christmas delivery to the western half of the U.S. through Thursday, Dec. 15. Orders being sent anywhere in the eastern half of the U.S. can be placed through Sunday, Dec. 18.
Happy Holidays!
🌶 Taylor & Fongchong 🌶
 
Knife-Cut Noodles (Handmade, Sun-Dried Dao Xiao Mian)
$10.00
These knife-cut wheat noodles, or dao xiao mian, are (partially) handmade by noodle obsessives in Chengdu, who use a very high-gluten wheat for chew, repeated natural proofing for fine gluten structure, and eight hours of sun-drying instead of shortcut frying.

These dried noodles bring the look and texture of handmade noodles, with all the ruffly, irregular edges that hold on to sauce. Plus, they're just fun to eat!

Try them in soups, as "dry" sauced noodles or stir-fried chao mian.
Wide Knife-Cut Noodles (Handmade, Sun-Dried Dao Xiao Mian)
$10.00
Originating in Shanxi province, knife-cut—and similarly rustic hand-ripped noodles—are found all across northwest China, particularly in the provinces/regions of Xinjiang, Gansu (capital Lanzhou), Shaanxi (capital Xi'an) and stretching east to Shanxi.

This wide version

 

is a great sub for fresh dao xiao mian or for biang biang hand-ripped noodles. Try them in Xinjiang's

 

da pan ji, or big plate chicken, as the perfect bouncy bed for a festive spicy chicken stew.
 
I used the
wide knife-cut noodle
for these
spicy cumin braised-beef noodles.
Because Fongchong and I haven't been able to travel to China for so long, this past summer we did a noodle tour of NYC and LA., focusing on the handmade noodles of northwest China. 
I'm not gonna lie, the just-made noodles were what pushed all those dishes over the top. So if you have the time and skill to make hand-pulled, hand-ripped or knife-cut noodles on the regular, you should go that route. But if you haven't mastered Chinese noodle making and still want a damn good homemade version of spicy, tingly cumin beef on wide, ruffly noodles, then all you need is some high-quality dried mian in your pantry.

Check out the recipe to see our noodle tour and how easy it is to replicate at home. There's also proof there that a noodle pull with the dried noodles is every bit as sexy as with the fresh ones. 
 
Alkaline Wheat Noodles (Jianshui Wenzhou Mian for Dan Dan Mian, Xiao Mian)
$8.00
You guys absolutely loved these alkaline wheat noodles in your dan dan mian and snatched them all up quicker than we expected. But they are finally back in stock! These are no weak, soft, wimpy noodles, but robust, chewy, springy noods that won't fall apart in your sauce or soup. We've sourced them to be more like the fresh noodle used in Sichuan restaurants, which usually has added alkaline, vs. the typical Chinese dried wheat noodle, which does not. 

You might notice that we were even able to reduce the price on these, since ocean freight costs (if not times) have finally returned to some semblance of normal. Win-win!
Besides dan dan mian, another famous Chinese noodle that always uses alkaline noodles is
Wuhan's reganmian, or hot dry noodles.
Kathy has a new recipe for these, and as per her usual, it is chock full of the fascinating history of the dish as well as the specific techniques that make this simple noodle really shine. 
Reganmian can be vegan to boot (if you sub vegetable stock for beef), with the ample flavor supplied by
stone-ground Chinese sesame paste
, roasted sesame oil, soy sauces and
pickled long beans
. 
Chongqing Sweet Potato Noodles (Glass Noodles, Hongshu Fen, Fentiao)
$15.00
Our new sweet potato noodles are from the same heritage Chongqing company as the previous ones, but come in a much more generous package—800 grams vs 200 grams. We figure that if you're going to pay to ship noodles, you should get a substantial amount for your trouble. This bag holds approximately 12 servings.

The medium, round noodles that we had previously (on the left side of the package) are not the only sweet potato noodle that Sichuan and Chongqing obsess over. This duo also includes a wide flat noodle on the right, which is often added to the pot at the end of a hot pot feast for one last, serious slurp. (In fact, that is so popular that they now sell instant "hot pot noodles" with mala broth and this type noodle.)
Regional Chinese Noodle Collection
$54.00
The addition of new noodles means we've switched up our regional noodle collection to include one narrow and one wide each of wheat noodles, rice noodles and sweet potato noodles. The collection is still priced at a 10% discount off the individual prices in hopes you'll try them all.

See the unwrapped noodles in this collection in the top photo. Such diversity in looks, mouthfeel and taste. 
Wujiang Zhacai (Sichuan Preserved Vegetable), Set of 5
$10.00
The Wujiang brand of zhacai is another favorite that is back in stock after a long absence. We'll let one of this pickle's biggest fans do the talking, as Ruth Reichl has for the second year featured this condiment in her newsletter's gift guide:

"This isn't exactly new, but Ma La Market, one of my favorite on-line sources, has been out of these deliciously spicy preserved Sichuan vegetables for the past year. They are finally back in stock, and I immediately ordered a giant supply. If you have any desire to cook Chinese food at home, you need to know about this great online source for all things Sichuan; Ma La Market has improved my life immensely."
Classic Chinese steamed egg is one of the many many things you can eat zhacai on or with and transform the simple into the sublime. Kathy shares her nostalgic zhengdan recipe:
"It doesn't matter how far removed you are from the mainland in the Chinese diaspora: At some point, a relative made you this Chinese steamed egg dish, and now it reappears in your thoughts and dreams every time you're sick or ailing....
A dressing of Zhongba light soy sauce and fragrant toasted sesame oil complete the savory custard experience. To add some textural interest and crunch to each bite, however, I indulge in a little pork floss and zhacai, pickled mustard stem. The pickled tang cuts through the minimal egg base, and I'd like to believe the added bit of lacto-fermented goodness in my gut goes some way toward healing from pangs, existential or physical. Food is medicine, is it not?"