December 2022 Part 3: Gift Cards and Holiday Recipes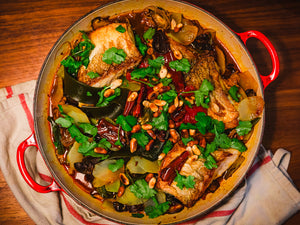 Merry and Bright 

 
Season's greetings, friends of The Mala Market
Gift cards! We've launched gift cards! After many requests for them over the years, we have finally delivered on this way to give the gift of Chinese cooking without having to make all the choices yourself (or make them before the shipping cutoff dates).

With our final newsletter of the year, we also want to leave you with the gift of new holiday recipes. These festive show-stoppers are not your usual Christmas or Hanukkah fare, but they may be just exactly what the end of this unusual year calls for. 

Thank you from the bottom of our hearts for your kind and enthusiastic notes, reviews, emails and orders this year. You keep us going!
 
May the holidays and the new year be everything you wish for,
🌶 Taylor, Fongchong, Kathy and Mary 🌶
 
Mala Market Gift Card
$25.00 - $200.00
Have you ever had the good fortune to sit down to a big tray of grilled fish the way they do in Chongqing? Possibly you have, because this festive shared plate has been popular across China for years and has even made inroads in the U.S. of late. 
Here's how Kathy describes it: 
"Buried between colorful layers of crunch, spice,

 

fermented douban umami,

 

fresh vegetables and

 

sour paojiao, charcoal-grilled kaoyu takes the fiery flavor bomb of Sichuan hot pot and combines it with street food favorite 烧烤 (shāokǎo), Chinese barbecue."
You want that, right? Fortunately, Kathy has come up with a recipe for a homestyle kaoyu that does not require grilling a whole fish, as is the restaurant norm, but instead pan-searing fillets until crispy-skinned and serving in the same sauce-and-veg extravaganza. The best part? Just like hot pot, you can pick your own starring ingredients and go to town.

Refer back to the top photo to see how the cooking/serving dish looks as you present it to your fam. Merry and bright indeed!
 
Perhaps your friends veer more toward minimalist indulgence (vs the riotous dish above). If so, you could present them with one perfect square of 
Dongpo pork
—gelatinous skin, pillowy fat, and tender lean meat all at once—and perhaps they will break out into poetry like Su Dongpo, the 11th-century literati the dish is named after. 
You may have seen recipes for Dongpo pork before, but our contributor Zoe Yang digs deep into the history of the dish and
Su's must-read

 

Ode to Pork
, as well as, centuries later, Yuan Mei's cooking instruction for the dish, which, as Zoe writes,
"... exemplifies the way that Yuan, indisputably the most important food writer in Chinese history, helped shape Chinese food into the utterly texture-crazed cuisine that it is."
Miso Caramel Ice Cream w/ Sesame Swirl
Regardless of how much you indulge, you can always find room for ice cream. So whichever holiday dish you serve, you're going to want to end the meal with this
seemingly subtle but oh-so memorable miso-caramel ice cream with maple-sesame swirl. 
Being something of an ice cream science nerd (I don't think she'll mind me saying so), Kathy has been experimenting widely not only with flavors and add-ins but with the very foundation of ice cream itself. She has followed the lead of two of America's most loved modern ice cream brands—Jeni's (her personal favorite) and Salt & Straw (mine)—in eschewing the usual egg-custard base in favor of ingredients such as corn starch and cream cheese to provide the rich taste and creamy mouthfeel:
"Molten sugar bronzes the quick-simmered milk and cream first; then, the same cornstarch that coats stir-fries in glossy velvet suspension turns this yolkless ice cream thick and creamy and ready-to-sling, straight from the freezer."
A topping of
Chinese roasted sesame paste
 mixed with salted maple syrup takes it over the top.