February 2022: Cantonese Hoisin & 2021 Spice Harvest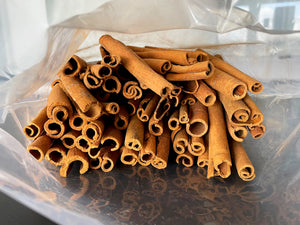 New Year, New Products
Greetings, Friends of The Mala Market!
The Lantern Festival, celebrated on the first full moon of the new lunar year, is about letting go of the past and looking forward, the lanterns illuminating a bright future in the new year. 

We're all for that! And in that spirit, we are welcoming a total refresh of Sichuan spices and chilies from the 2021 harvest and launching another product from our growing line of Cantonese specialty ingredients. We've got several products in the pipeline, and next up is a new take on hoisin, one of America's most-loved Cantonese sauces. 

We've also got two new recipes from Kathy and Mala Mama for Sichuan classics, and a Lantern Festival giveaway of Mala Market ingredients and Ming River Sichuan Baijiu to tell you about. 

Plus, our favorite product reviews are the ones you leave us (thank you!), but if you want to see the published review of The Mala Market we are most proud of ever, read to the bottom!
Happy Year of the Tiger!
🌶Taylor & Fongchong 🌶

P.S. Check back in a week or two for a restock of some other favorites: Yibin Suimiyacai pickle; Sichuan pickled red er jing tiao chilies; mala hot pot soup base. 
 
Guangwei Yuan Hoisin Sauce
$12.00
Our hoisin sauce is made in the condiment's home province of Guangdong and is new to America, as we were looking for a more interesting alternative to the grocery store brands. With the help of Guangdong residents and Mala Market affiliates Chinese Cooking Demystified, we picked out the Guangwei Yuan brand not only for its more lively taste but for its appealing reddish-brown color. The company includes both tomato and red yeast rice in its recipe, which means you can make char siu (Cantonese BBQ pork) with the traditional reddish hue without having to source red yeast rice or red food coloring yourself. 
We like to take The Woks of Life's super popular char siu recipe and use extra Guangwei Yuan hoisin as well as Zhongba light and dark soy sauces instead of the molasses and red food coloring, since these soy sauces also impart a reddish color. No food coloring needed. It won't be the bright red of take-out, but it will be an appealing reddish-brown and umami-rich sticky coating with that beloved Chinese restaurant taste. 

Plus, this hoisin is good right out of the jar, as a condiment for pork-belly bao and lettuce wraps.
2021 Spice Harvest in the House!

Over the past few weeks we have been gradually rolling out the 2021 spice harvest, and now

 

all spices and chilies are officially new stock! 

Don't worry if you recently purchased, because the previous harvest is still going strong, with plenty more shelf life. But we refresh every year when the new harvest arrives—which is getting later and later each year. 

Flooding throughout China in 2021 delayed the maturation and harvest of some spices and chilies—and also affected the size of

 

Sichuan pepper, which is slightly smaller than last year's giant specimens. That delay was compounded by those infamous supply chain issues—our Chengdu team had our shipment ready at the port by October, but they couldn't secure a container, which are in seriously short supply, until December. 

But those troubles are in the past, and per the Lantern Festival, we're looking on the bright side: The new harvest has arrived and your next spice or chili shipment will be even more fragrant, numbing, spicy and delicious than the last. 

(The only spice still out of stock is the black cardamom, as they accidentally sent the wrong product. 😳 In the meantime check out those

 

beautiful new cassia quills

 

in the top photo. 😍)
 
Sichuan Rice-Steamed Ribs

A note from Kathy Yuan, the managing editor of our Sichuan cooking blog:

This recipe for

 

Sichuan-style 粉蒸肉 (fěnzhēngròu), rice-steamed pork, comes straight from my 祖祖 (zǔzǔ), maternal great-grandmother. It's Mala Mama's favorite homestyle preparation:

 

sauced-up, fall-off-the-bone-tender five-spice pork ribs

 

over stupefying proportions of peak season kabocha squash, ready in just over an hour. 

Across South-Central China, just about every province cooks up some version of fenzhengrou, wherein just-toasted rice powder coats the marinated pork

 

before steaming and soaks up all the juices thereafter. Sichuan-style fenzhengrou with its Pixian doubanjiang base is arguably the most popular version today. Though you'll rarely see this dish in restaurants stateside, every Chinese family knows it.

In my parents' time, fenzhengrou was another special-occasion Spring Festival luxury. For a long period, meat was rationed with government-issued tickets allotting just 500 grams (just over one pound) of meat per person, per month. So families would save up their tickets for New Year festivities, to make staples like wind-cured pork belly and indulgences like fenzhengrou. These days, we get to enjoy it whenever we want. I hope you love it as much as we do.
 
Sichuan Hand-Torn Cabbage

Not only would this

 

hand-torn cabbage stir-fry

 

be a perfect complement to the rice-steamed ribs and make you feel like you were dining in a Sichuan farmer's home, but it is also the perfect showcase for our fresh new huajiao. Kathy uses our

 

special grade da hong pao

 

variety, which we call Flower Pepper, as the signature flavor, using an infusing technique that elevates a simple cabbage stir-fry into a 花椒 (huājiāo) tasting experience!

Says Kathy: "Chinese cabbage pairs excellently with premium huajiao. For the first time, I could really taste all the citrusy botanical notes without wondering if I was making it up in my head. If you usually only know good huajiao by how tingly it gets, I highly recommend trying this method so you can better appreciate the whole package!"
 
Soy Sauce Ice Cream

Kunming Tuodong Sweet Soy Sauce

 

is back in stock, and among the many uses for this heritage product of Yunnan is ice cream topping. Seriously! This soy sauce is thick and caramelly and just a bit salty, making it an ideal complement to vanilla, or perhaps coffee or ginger, ice cream. 

Our friends Steph and Chris

 

@chinesecookingdemystified

 

touted this pairing on Instagram a while back and when I saw it I went straight to the freezer and pantry to give it a try myself. Magic! 

As Chris wrote: "The other day someone on the Discord was talking about the idea of soy sauce on ice cream, and lo and behold, there was a hilariously brief Kikkoman recipe for the concoction. A couple whiskeys in, I decided to give it a whirl, but on a whim I decided to reach instead for the Yunnan sweet soy sauce. It's probably more molasses than soy sauce, and it goes phenomenal on top of ice cream.

This is a specialty product, and if you ever want to double check our work @themalamarketllc carries it. It's an essential ingredient in dishes like Yunnan small pot rice noodles and steamed 'ersi' rice noodles. And - if you're looking for another use case - it's absolute fire on top of vanilla ice cream."
 
Sichuan Food + Drink Giveaway

If you're a fan of baijiu, China's famed white liquor, or just curious to try it, this

 

giveaway

 

is the perfect chance to restock your Sichuan pantry essentials and pair them up with Sichuan baijiu.  And since it's the month of love, the haul also includes some Chinese chocolates to share with your loved ones (or not). Enter now thru 2/25, no purchase necessary!

🥃 Heavily spiced Sichuan dishes pair nicely with strong-aroma Sichuan baijiu. @mingriverbaijiu is widely available across the US and is a great example of a classic strong-aroma Sichuan baijiu, distilled from China's oldest continuously operated distillery.

Each batch of  Ming River baijiu is fermented in earthen pits with locally harvested yeast cultures for two months before it is distilled in a traditional Chinese pot still. The spirit then ages for up to two years before a master blender balances the baijiu to achieve Ming River's specific flavor profile.
 

***

 

Although it is the best-selling liquor in the world, no one would disagree that baijiu is an acquired taste—not even the founders of Ming River. One of those founders, Derek Sandhaus, wrote a book called

 

Drunk in China

 

that is both a history of Chinese spirits and a memoir of his dogged attempts to understand and like—and eventually love—baijiu. The book is a highly enjoyable look at Chinese drinking culture both past and present, and I totally recommend it for those interested in Chinese social and culinary history—whether or not you're yet a baijiu convert. 

(The book has a particularly enlightening discussion of qu, the grain-based starter culture, usually wheat, that made all Chinese alcohol—and eventually soy sauce, vinegar, tofu and other fermented foods—possible. "Many, if not most, of the flavors we associate with Chinese cuisine derive from this remarkable wine-making innovation," says the author. As a discovery, qu is right up there with gunpowder.)
 
Take It From Ruth Reichl

In December the legendary

 

Ruth Reichl

 

started a

 

new newsletter

 

on Substack and included

 

this write-up

 

about The Mala Market in one of her first issues (including the photo above). I can't think of anyone whose words would mean more to us personally. Not least among her contributions to the American food scene, she has been

 

championing Chinese food

 

longer, more consistently and more effectively than probably any other big-name food writer/editor of our time in the U.S. (Also check out

 

these menus

 

she kept from grand Chinese meals past.)
 

"Ma La Market, a mother-daughter business owned by Taylor Holliday and Fongchong Havighurst, has pretty much changed my life. Living in a rural area during Covid, and hungry for Asian flavors, I kept thinking how lucky urban people were. They could just order Chinese takeout whenever they wanted.

Out here in the country, we were stuck with whatever I could manage to make. Thanks to Ma La Market (and a few other terrific sources I'll be sharing later), my Sichuan cooking improved by leaps and bounds. Just about everything they sell would make a very welcome gift.

Where to begin? The four products I use most often (after their chiles and Sichuan peppercorns) are the 3-year old Pixian Chili Bean Paste (doubanjiang), which is so so superior to the black bean paste with chiles I'd been using that it has absolutely transformed my version of Mapo Tofu. They also sell real Oyster Sauce (most commercial oyster sauces contain no seafood), which makes almost every savory dish taste better. The minute you toss a couple of tablespoons of their roasted rapeseed oil into a hot wok your kitchen starts smelling like a Chinese restaurant. It has a deliciously toasty aroma unlike any other oil I've encountered. I never want to be without it.

But the product I am most seriously addicted to is their zhaicai, pickled Sichuan turnip greens. One of my favorite lunches is a couple tablespoons of the salty, spicy pickled vegetables over rice. It doesn't hurt that it comes in such beautiful packages (I often send them in place of birthday cards).

Can't decide? Ma La Market has a number of different kits. But be warned: once you start using their products, you're never going back."