January 2022: Our New Regional Chinese Noodle Line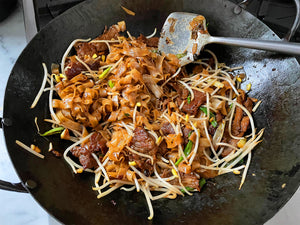 Long Life Noodles
2022 Greetings, Friends of The Mala Market!
Chinese New Year is approaching—falling this year on Feb. 1—and one of the many auspicious foods you'll want to have on your table for the occasion is noodles.* Noodles represent longevity in Chinese culture, a wish that's forefront in everyone's mind this year. 

So it's also an auspicious time to introduce The Mala Market's new line of regional Chinese noodles! You may remember that we sold a couple types of noodles in the past, sourced from other U.S. importers as a way to test your interest. We quickly found that you are indeed looking for just the right dried noodles for your favorite Sichuan dishes, so we set our sights on importing our own line of superior wheat, rice and sweet potato noodles from Sichuan and beyond. 

We tasked our Chengdu team with finding the best of the best of each of our favorite styles, representing Sichuan, Chongqing, Yunnan and Guangdong. Suki and Charlotte made bowl after bowl and wok after wok of noodles, testing and tasting to find the four types that we are finally launching this month, direct from the regions that made them famous.  

And if you need a reminder of just how many ways there are to prepare Chinese noodles, keep reading to find oodles of noodle recipes from both The Mala Market Blog and our expert affiliates.
Happy Year of the Tiger!
🌶Taylor & Fongchong 🌶

*Because of the high number of orders we receive in January, we are currently shipping within about 4 business days. Orders placed now will not arrive by Feb. 1, however you can celebrate the New Year as the Chinese do and extend it through Lantern Festival on Feb. 15. Or, you know, you can eat noodles anytime! 
 
Alkaline Wheat Noodles (Jianshui Wenzhou Mian for Dan Dan Mian, Xiao Mian)
$9.00
Our local Chengdu team suggested these Jianshui Wenzhou-style noodles because like many fresh Sichuan noodles—and unlike most Chinese dried wheat noodles—they include jianshui/kansui, an alkaline lye water, which lends them body and bounce (as well as a yellow color).
These noodles are mid-weight and round, as preferred in Sichuan, and the alkaline in these, as in ramen, is sodium carbonate. They are equally at home as soup noodles, dry noodles or cold noodles. 
Dan Dan Mian

Dan dan noodles

 

in Sichuan are generally made from fresh alkaline wheat noodles, preferred for their springiness, chewiness and staying power in sauce. But most dried Chinese wheat noodles are not alkaline, which is why it took us a while to find a dried noodle that did the dish justice. Try our

 

new jianshui noodles

 

in your dan dan mian and taste the difference! 

Along with dan dan noodles, we also suggest these noodles in other Sichuan favorites: 

Alkaline noodles are also used in Wuhan hot dry noodles, as explained in this recipe from our affiliate The Woks of Life.
Yunnan Rice Noodles (Crossing the Bridge Noodles, Mixian, Mifen)
$9.00
Yunnan province is renowned for its rice noodles, so we have gone straight to the source for these medium-thick, round noodles made simply of rice flour and water. As a general rule, Yunnan and the rest of southern China opt for fresh rice noodles when they can, with the caveat that they must be made by the factory and consumed by the eater within the same 24 hours. Otherwise, diners opt for dried noodles like these.

They are called guoqiao mixian, or Crossing the Bridge Noodles, after the famous Yunnan dish, but they are also of the type used in most all Yunnan mixian soups and salads. The Nanhuyuan company makes nothing but fresh and dried rice noodles, honing its expertise over the decades. 
Xiaoguo Mixian

This new recipe on our blog for the quintessential Yunnan dish

 

xiaoguo mixian

 

(small pot rice noodles) is from our contributor

 

Michelle Zhao

 

(a Kunming  native who is about to open a Yunnan restaurant in Norway!).

The Yunnan breakfast of choice is made with the country's famed rice noodles, which are cooked together quickly with the meat and broth in a small copper pot along with Chinese chives, pickled mustard greens and, of course, chili oil. With Michelle's detailed instructions (and

 

our Yunnan noodles) you can have this soul-satisfying soup any time, any place. 

Our Yunnan noodles are also perfect for Michelle's liang mixian (cold rice noodle salad) and my adaptation of Georgia Freedman's recipe for clay pot mixian. 

Also called mifen, these rice noodles are used just as widely in southwestern China's other rice-centric regions, including Guizhou and Guangxi. Learn more about Guangxi's numerous (and "criminally underrated") noodles, including char siu rice noodles, from our affiliate Chinese Cooking Demystified. 
Chongqing Sweet Potato Noodles (Glass Noodles, Hongshu Fen, Fentiao)
$9.00
I've always loved this description of sweet potato noodles from food writer Robyn Eckhardt, who lived in Chengdu back in the mid-'80s:

"More substantial than rice noodles, not as heavy as wheat noodles, pleasingly elastic, utterly slurpable, sweet potato noodles may just be the ultimate pasta." 

We totally agree! Beloved in both Sichuan and Chongqing, where these noodles qualify for Intangible Cultural Heritage status, hongshu fen are eaten in all sizes. This is a round, mid-weight version called fentiao that is ideal for soups, hot pot and braises alike. 
 
Suan La Fen

Suan la fen

 

is Fongchong's favorite soup noodle because it is sour (from

 

black vinegar) spicy (from

 

chili oil), tingly (from

 

Sichuan pepper oil) and the noodles are the springy

 

sweet potato

 

kind. Plus, suan la fen is usually vegetarian, topped with greens and egg. This Chongqing specialty is one of my favorites as well, not only for the taste but for the easy-breezy quick preparation.

Sweet potato noodles are also perfect for hot pot. Unlike wheat and rice noodles, they throw off little starch to gunk up the hot pot broth and stand up well to broth and sauce, retaining their chewy bite for a long time. Northerners often braise this glass noodle with napa cabbage, as in this homey Beijing recipe from our affiliate Omnivore's Cookbook.
 
Guangdong Wide Rice Noodles (Ho Fun, He Fen for Chow Fun)
$18.00
We asked our Sichuan team to try out various brands of dried wide rice noodles sourced directly from Guangdong to find one that could stand in for fresh noodles. Of course fresh is better, but these dried noodles are miles better and easier to work with than fresh noodles that have been refrigerated.
These semi-wide, flat noodles, called ho fun (or he fen in Mandarin), are made in Shaoguan, a city in northern Guangdong, bordering Hunan. Shiny and semi-transparent, they are made only of rice flour and water according to local traditions and methods then formed by hand into bundles weighing 65-75 grams, or 2-2.5 ounces. This is a giant, 1 kilogram bag! 

Because we almost sold out of the trial run of these noodles as soon as we put them on the site, they are available now only as part of the Regional Chinese Noodle Collection (see below). We have already ordered more! 
Steak Chow Fun

Look at this

 

steak chow fun

 

and tell me you'd turn it down because it's made from dried noodles. I didn't think so! Don't let the fact that you don't live down the street from a source of freshly steamed rice noodles keep you from having chow fun. Our new dried ho fun from northern Guangdong totally scratches the chow fun itch.

This recipe tells you how to work with the dried version and convert others' chow fun recipes as well. Along with our steak chow fun, we recommend Grace Young's beef chow fun recipes from either of

 

her wok cookbooks

 

and Kenji Lopez-Alt's

 

vegetarian version with gai lan

 

from

 

our affiliate Serious Eats. 
 
Regional Chinese Noodle Collection
$49.00
Do you want ALL the noodles? Get the bundle shown here at a 10% discount off individual prices.