January 2023: CNY Recipes and Mala Hotpot Candles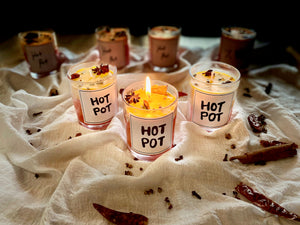 The Scents and Tastes of Spring Festival 

 
Happy Lunar New Year, friends of The Mala Market!
Although the Spring Festival's requisite commensality makes hotpot (and hongbao) a better-known staple of Chinese New Year, the single biggest occasion for Chinese families is 年夜饭 (niányèfàn). Nianyefan, the New Year's Eve family reunion dinner, occurs on January 21st this year and kickstarts China's most important holiday with a celebratory homecoming feast welcoming the largest annual human migration in the world.

A few years ago around this time, my parents and I joined the migration as we traveled to our ancestral homes in Sichuan, for my first-ever Spring Festival in China and their first in 30 years(!). For context, that's like an American abroad not being able to vacation or see family for Thanksgiving, Christmas + NYE combined. For 30 years. 

Unfortunately, that year was 2020. While restaurants shuttered, we gathered around no shortage of homestyle favorites—like this xianshaobai, the Sichuan version of meicai kourou—and still folded hundreds of dumplings together as four generations of family, finally reunited.

In addition to eating together, gifting is another important LNY tradition that symbolizes good fortune for the sender and receiver. For the crafty foodies among us, Zoe Yang's newest recipe contribution for DIY mala hotpot-scented candles is perhaps the ultimate LNY gift of all!

As Zoe says: "They land in that gifting sweet spot, right in the middle of the Venn Diagram of sweet, unique and utterly deranged. Apologies in advance to all my friends, who will be receiving these candles as hostess gifts, housewarming gifts, prank gifts, stocking stuffers and oversize 红包 (hóngbāo) for years to come."
Cheers to more family meals in the new year,
🌶 Kathy & Mala Mama 🌶
Zoe Yang's DIY Hotpot Candles
Your eyes do not deceive you. Zoe Yang (@
jingtastic
)'s latest creative bent resulted in these gorgeous 
DIY mala hotpot-scented candles
, inspired by world-famous Chengdu hotpot chain Xiaolongkan's one-time raffle prize of the same. With its slow-simmered hotpot fragrance base and colorful wax dye, this hotpot candle looks AND smells like the real thing. It's even vegan. Make a batch to impress your hotpot-loving friends, then revel in the sweet, spicy satisfaction of knowing they're basically the only ones in existence.
You'll need our full range of whole spices, dried erjingtiao or zidantou chilies, shiitake mushrooms and Pixian douban to make it happen. Step up your hotpot candle game even further with the help of some freshly restocked Mala Market caiziyou (roasted rapeseed oil), the ultimate fragrant agent in Sichuan hotpot.
"Behold! How it looks just like 火锅低 (huǒguō dī)/hotpot base, with the chili oil layer on the bottom and the beef tallow layer on top and spices peeking through. Consider! How the process of making a hotpot-scented candle is actually incredibly similar to making a hotpot base. Imagine! Your rooms magically filling up with the cozy savory smell of hotpot, at! any! time! I would have paid a LOT of money for this candle but alas, I couldn't."
Sichuan Steamed Pork Belly ft. Yacai 
Creamy, succulent slices of pork belly layered like so many perfect pleats across a steaming bed of 
Yibin yacai
 in traditional Sichuan 咸烧白 (xiánshāobái).
Xianshaobai
is a prayer sung in pork fat (too much lean meat and the magic disappears): classic, class-defying comfort food.
Popularized by coastal regions as 梅菜扣肉 (méicài kòuròu), steamed pork belly over some variation of preserved mustard stem stretches back centuries. But with The Mala Market's shelf-friendly packets of Yibin yacai that don't require soaking and rehydrating like dry meicai, Sichuan xianshaobai ("hanshaobai" in dialect) is not just nolstalgic, it's also more accessible.
Xianshaobai is an important part of Sichuan's 九大碗 (jiǔdàwǎn), colloquially 九斗碗 (jiǔdòuwǎn), translated as "Nine Great Bowls." Jiudouwan gatherings are a rural folk banquet tradition for weddings, births, elderly birthdays and other such commemorative occasions. These originated in fields where a whole village could gather, cook and celebrate together. In Sichuan dialect, "dou" means a large container, so "nine bucket bowls" references the abundance of food at these events. At these banquets, xianshaobai is often the last dish served of the nine main (i.e., meat) dishes. But make no mistake, there could be dozens more side dishes than the titular nine great bowls.
Baked Niangao (Sticky Rice Cake)
There was at least one redeeming point to that cursed 2020 Spring Festival x COVID-19 crossover episode. For instance, my great-aunt, upon tasting my
baked niangao
, declared me marriageable.
"Wah! So pretty, and smart, and can cook!"
Okay, so she didn't say it outright. Mind you, this is coming from the same powerhouse woman who married her eldest daughter off to a doctor-professor, her youngest daughter to a Traditional Chinese Medicine doctor-dean, and her niece (Mala Mama) to a scientist with a coveted Golden Ticket fellowship in the U.S. Trust me, I saw the matchmaking cogs in Yipo's brain churning back to life.
"Baked nian gao is traditional steamed 年糕 (nián gāo)—soft, springy, sweet glutinous rice flour dessert—restyled. An auspicious Lunar New Year specialty and year-round treat now prepared with a fraction of the effort thanks to that staple of Western kitchens, the oven. Make it the night before your flight to Chengdu and serve it straight out of the Tupperware 36 hours later, as I did last year, and even your mainland relatives will marvel in its sweet, chewy goodness."
If you're not the DIY type,
Baisun Candle Co.
 is a Chinese American-owned candle business launched in 2020 by Brandon Leung. Brandon, if you're out there, turns out we have 27 mutual friends and went to high school in the same city. Check out
Baisun
for amazing natural candles in a rainbow of nostalgic Asian scents and shop AAPI for LNY if you can!