July POM: Super Sale on Zhongba Dark Soy Sauce + Soy Sauce Recipes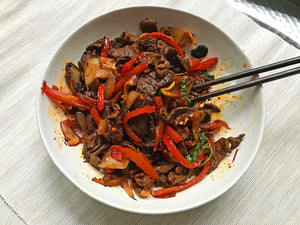 Add a Little Color 
Greetings, Friends of The Mala Market
Zhongba Dark Soy Sauce is the product of the month—on super sale for the month of July—and below we're exploring not only its very frequent appearance in Chinese food but also its versatility and affinity for marinades and grilling. 
Enjoy!
🌶 Taylor & Fongchong 🌶


P.S. Our container with Sichuan ground chilies, dipping chilies and other goodies you've been missing is close to arrival. Barring any unforeseen Customs issues, they should be back in stock within the next couple weeks. Thanks so much for your patience!
 
Zhongba Dark Soy Sauce (Naturally Brewed)
$9.00
💥Zhongba Dark Soy Sauce is the product of the month! Normally $15, it is 40% off this month and this month only.💥
As with the Zhongba light soy sauce, we invite you to do a taste test with Zhongba Dark Soy Sauce and any other dark soy sauce you can find. The difference will be immediately obvious, as most brands of dark soy sauce just taste like molasses, while Zhongba dark tastes like umami-rich soy sauce that happens to be sweet. In fact, you could actually use Zhongba dark on its own as a sauce, something you wouldn't want to do with other brands.

While dark soy sauce's main function is to color foods and give them that appetizing bronzed-meat look, Zhongba also adds an extra layer of flavor. Like all Zhongba soy sauces, it is infused with wild mushrooms for added savoriness. It's frequently used in Chinese braises (like this Xinjiang Big Plate Chicken or this chicken with shiitake and chestnuts) and is also used in some stir-fries (for example, beef chow fun and my Super Sichuan Sauce for Stir-Fries) and—if you're like us—for almost all grilling and roasting (see below). 

Note that while Zhongba light soy sauces have no additives or preservatives, the dark soy sauce includes MSG and a preservative, so please read ingredients before purchasing. (I hope all have heard by now that MSG has been fully exonerated. I wrote my own defense of MSG in 2014, when I started our recipe blog, but the chorus has grown much stronger since then, with the most recent articles explaining why scientists are recommending MSG as a healthier substitute for salt!)
Sichuan Sauce for Grilling
Do you find gray meat enticing? I didn't think so. That's why dark soy sauce is such a great component of a braising liquid or marinade. While this
Sichuan Sauce for Grilling
features spicy, earthy,
aged doubanjiang
and a few other Chinese pantry staples, a must-have ingredient is the Zhongba dark soy sauce. 
After its had a brief time in the marinade, a lean steak (or pork steak, or chicken thigh, or any other grilling meat) has an enticing red-brown hue
before
it even gets a brown char from the fire (as seen in the photo above), and an absolutely gorgeous mahogany lacquer after. Your eyes will eat it up! 
While the Sichuan sauce for grilling has 6 ingredients, this 4-ingredient marinade is our even easier, quicker go-to for everyday cooking: soy sauce, an equal amount of dark soy sauce, a smidge of
roasted sesame oil
and some fresh or powdered garlic. You don't even need an acid like vinegar or lime to tenderize the meat because long-fermented soy sauce like Zhongba is pretty acidic. So that's it! 
And once again, the Zhongba dark soy sauce does its dual taste and visual magic, mixing with the chicken juices to make the most glorious teriyaki-like sauce!
Simply marinate your boneless chicken thighs in the above mixture for 30 or so minutes, then cook in one layer in an air fryer at 375°F for only about 10 minutes, turning the pieces once at the half-way mark. Check for doneness, and continue at same temperature if needed for another minute. They should be roasty brown and super juicy at this point—and, thinly sliced, perfect for a rice bowl or tacos.
(And of course you can make these in a regular old oven too, with a longer cook time.) 
Zhongba 360 Light Soy Sauce (Naturally Brewed 1 Year)
$18.00
You may have noticed that in any recipe where you find dark soy sauce, you usually find light soy sauce. They almost always come as a pair—one providing salt and umami and the other color and sweetness (and in Zhongba's case, more flavor). 

If you are among the very few of our customers who haven't yet fallen for Zhongba 360 light soy sauce, then you'll want to bring these two into your pantry as a couple.