June 2022: Small-Mill Sesame Oil, White Pepper and Zongzi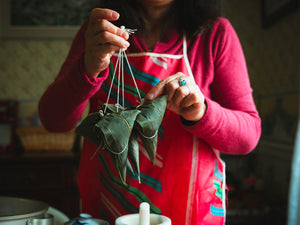 So. Much. News.
Greetings, friends of The Mala Market

How was your month? May was a doozy of a month around here! We launched new products (small-mill sesame oil and Hainan Island white pepper), added new writers (another mother-daughter duo!) and—after more than a year of planning and renovation—we moved all of our far-flung inventory and ourselves to our Forever Mala Market Home. 

Plus, May was Asian American and Pacific Islander Heritage Month and today is Dragon Boat Festival. In celebration, we've got recipes for two unique regional zongzi—the super delicious sticky rice treats wrapped in bamboo leaves—that pay homage to generations of strong and resilient Chinese women through the stories of the writers' great-grandmothers. 
 
Enjoy!
🌶 Taylor & Fongchong 🌶

Above: Mala Mama holds a bundle of freshly made Sichuan zongzi in a photo by Kathy Yuan

P.S. The best zongzi are, of course, homemade, but the zongzi available in Asian stores right now is better than no zongzi. Our friends at Chinese Cooking Demystified take a tour of supermarket zongzi and the different ways to prepare and eat them in this entertaining video.
 
Changzhou's Small Foot Zongzi 
We're so lucky to share step-by-step 粽子 (zòngzi) recipes for two special zongzi shapes from the great-grandmothers(!) of both our Jiangnan and Sichuan contributors. First up, Zoe Yang @jingtastic's Changzhou 小脚粽子 (xiǎojiǎo zòngzi), "small foot" zongzi, so-named for the bound feet they resemble. Neither Zoe nor her mother Iris have seen it outside their family, and the fava/broad bean (蚕豆 (cándòu)/胡豆 (húdòu)) variation is a forgotten-til-now filling that her 太太 (tàitài)—who had bound feet herself—used to make.

"Bound feet, or so-called 三寸金莲 (sāncùn jīnlián), three-inch golden lotuses, were a very, very painful beauty standard that generations of Chinese women were subjected to, including 太太. It certainly arouses mixed feelings, this realization that our matriarch was responsible for making zongzi every Duanwu Jie for her large family, and each one would have reminded her of her forced disability."
This recipe is further proof that context is everything when it comes to home cooking—and that you should never skip the story parts on our blog!
 
Welcoming Iris & Zoe

You may sense a theme in our blog, because after starting it as a mother-daughter effort in 2014, we brought on Kathy Yuan and Mala Mama to contribute their family recipes from Sichuan in 2021 and are now welcoming Zoe Yang and her mom, Iris Zhao, to share their stories and recipes from Jiangnan—the area south of the Yangtze River, including Shanghai and Jiangsu and Zhejiang provinces. They are from Nanjing, specifically, from which they immigrated when Zoe was 6 and where she later returned for culinary school.
I met Zoe on Instagram when I spotted her adorably fluffy kitten Xerxes posing with our Mala Market chilies, but I soon discovered that she is an extremely thoughtful essayist on culture and food (for Bon Appetit and others). Only later did I learn she is a recipe developer—often in cahoots with her mom—and that the two of them would welcome this chance to write together. One could credit social media for this happy connection, but I call it kismet!

(And as a former WSJ editor, I can't help myself—I'm always on the lookout for super talented contributors. Do you and your mom cook?)
Zuzu's Savory Sichuan Zongzi

While zongzi is delicious year-round, it is traditionally made for Duanwu Jie, or Dragon Boat Festival. Every region, and even every town, makes its own distinct version with different shapes and add-ins, which is exemplified in Zoe's vegetarian Jiangnan version with fava beans (above) and Kathy's Sichuan zongzi, which includes cured pork and—you guessed it!—a hefty does of ground

 

Sichuan pepper.

 

Get her great-grandmother's recipe here. 

The folds of these little pleasure parcels are not exactly easy, but both recipes have step-by-step photos and instructions

 

plus really helpful videos of master folders—the moms!

 

I love the fact that Kathy and Zoe are learning these skills passed down through generations of mothers in China and keeping them alive in America. 
 
Cuizi Small-Mill Roasted Sesame Oil (Cold-Pressed)
$14.00
It took us years to find a Chinese roasted sesame oil that we loved enough to import, but finally we found it.
Cuizi Small-Mill Sesame Oil (Cuizi Xiaomo Xiangyou ) comes from Shandong, the home of China's best sesame products, and has inherited a 600-year history of producing sesame oil in a very specific way for superior color, fragrance and taste:
The company developed its own sesame cultivar and has a planting base in an area certified by China's Green Food program as pollution-free. Rather than using just-harvested seeds, it germinates them slightly to promote the production of highly nutritious natural antioxidants such as sesamolin, sesamin and sesamol
The highly roasted sesame embryos are ground by small stone mills at low pressure and low temperature, about 140°F, so as to not destroy the aromatic substances and functional nutrients in the sesame oil. (Large-scale oil extraction in metal equipment uses high pressure and temperatures as high as 500°F)
The sesame oil is then separated from the sesame solids by a natural, water replacement method versus the chemicals used in standard production
Finally, the oil is filtered through a patented technology that uses natural plant fibers for 36 layers of physical filtration to remove any impurities
As scientific as some of this sounds, the basic process is attributed to one Cui Zeshi, who invented the water replacement method in 1408, hence the brand name of Cuizi. The Ruifu Oil Co. picked up the mantle and process in 1984 and carries the China Time-Honored Brand designation for the traditional technique of Cuizi sesame oil, which is also recognized as an Intangible Cultural Heritage of Shandong Province. Ruifu makes only sesame products, a focus that allows it to produce the very best. 
Hainan Island Fermented White Pepper ( Bai Hu Jiao)
$15.00
These fermented white peppercorns are a product of Qionghai, on tropical Hainan Island, the famed source of China's best white pepper. (If we can't visit its lovely beaches, at least we can eat its pepper!)

Used widely in Chinese cuisines, this hot and funky white pepper is a must-have ingredient for Cantonese food and makes frequent appearances in American Chinese dishes as well. This large grinder (twice the size of other brands) holds 4 ounces.
Blank Slate Kitchen Sichuan Chili Oil
$14.00
Look what's back in stock! After a long absence due to manufacturing issues, Blank Slate Kitchen's Sichuan Chili Oil is waiting for you. We know many of you have been waiting for it!
Our New Home

After toiling in a temporary warehouse that was way too small (and dark) for us over the past eight months while our new home was being gutted and renovated, we are now luxuriating in the extra space of our new building (leased, but renovated by and for us). That's Mary (FC's bestie from Myanmar by way of Malaysia) packaging spices on the left and Fongchong packing orders on the right. Besides spice packaging and fulfillment areas, the building also has a large warehouse area for the pallets of inventory, a kitchen and a lovely small retail space for future use. 

Or course we're overjoyed, but what does this new space mean for

 

you?

It means that all of our stock is finally in one place for easy access and that we can store much more inventory and

 

many more products

 

onsite. 

And it means that we'll have a

 

dedicated tasting room, retail and event space

 

in a historic area just outside of downtown Nashville.

Plus, as an added bonus for those who visit us, our friend Aarika Patel has moved her

 

Suraj Spices & Teas

 

retail shop into our extra, adjoining space. Nashville locals know she carries a full range of specialty spices, blends and teas from around the globe as well as Indian meal kits. So you can shop for premium Chinese spices and sauces at The Mala Market and then head next door for a guided tea tasting or to discover any other spice your heart desires.

 

How's that for a rare shopping treat in the South?

 

Or anywhere, for that matter! 

Suraj will be open for business soon, and The Mala Market will open our retail for limited hours later this summer. In the meantime, locals can pick up their orders during an expanded range of hours. 

We'll be sharing more details and photos as the space gets its finishing touches, but we wanted to give you a first glimpse and thank you now for your patience with our move and for the support that made our new digs possible. As we settle in and staff up, we hope to provide you an ever-growing range of heritage Chinese products and the exceptional service that comes from having our eyes and hands on

 

all

 

aspects of the business. 
 

🌶 The Mala Market · 947 4th Ave South · 

Nashville TN 37210 🌶