March PoM: SUPER SALE ON Yaomazi Sichuan Pepper Oil + Recipes that use it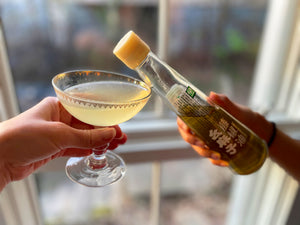 Toasting Yaomazi
Greetings, Friends of The Mala Market
 
March's Product of the Month—the one we've put on super sale for this month and this month only—is Yaomazi Green Sichuan Pepper Oil!
If you haven't had your Sichuan pepper in oil form before, you're in for a treat. Keep reading to see all the ways this super fragrant and tingly oil can put an unexpected crowning touch on a dish, particularly cold dishes, salads, noodles and fish.
In fact, we'd go so far as to say you can't make many a Sichuan liang ban/cold dish/salad/starter without it.
Cheers!
🌶 Taylor & Fongchong 🌶
 
P.S. We'll spare you the torturous details for now, but our latest container shipment is two and half months late and counting, first delayed by China's Covid chaos and now stuck somewhere in Minnesota due to railroad equipment failure. If you're curious just how bad our nation's freight rail system has become, CNN reports here. If you're wanting a product that is out of stock—products we ordered in SEPTEMBER—please keep checking back. Fortunately, the majority of products ARE in stock. 
 
Yaomazi Green Sichuan Pepper Oil (Teng Jiao Oil)
$9.00
Yaomazi Teng Jiao Oil—normally $16—is more than 40% OFF for this month only.

This fragrant and numbing Sichuan pepper oil is made from teng jiao, which is a species of green Sichuan pepper that is translated in English as vine pepper or rattan pepper. Teng jiao has the highest oil content of the Sichuan peppers and is used only in fresh form, right after harvest. 
Yaomazi, China's first, largest and most trusted maker of Sichuan pepper oil, grows its own rattan pepper, harvests it at peak ripeness, puts it in cold storage just long enough to test and clean it, then extracts the oil only a few hours after it was still on the vine to ensure peak freshness and a robust, non-musty fragrance and taste. The pepper oil is then mixed with first-grade, cold-pressed, low-erucic-acid rapeseed oil (a non-GMO canola).
Like extra-virgin olive oil, Sichuan pepper oil is a finishing oil, not a stir-fry cooking oil. It is used in Sichuan cold dishes and salads, added at the finish to "water-boiled" hot dishes and sauces, and preferred anytime one wants a smooth hit of intense flavor without the powder and husk (or when you just want to save time grinding!). 
Yaomazi Teng Jiao Oil is a China Green Food, which means its ingredients are certified chemical- and pollution-free.

Before we get into the meal, let's start off with a cocktail, shall we?
If you're a fan of fancy drinks, then you know that "fat-washing" is one of many culinary touches brought to the modern cocktail. Remember the bacon-fat bourbon cocktail? I personally don't want bacon fat in my precious bourbon, but Kathy made me a believer in a wash of Sichuan pepper oil for a gin martini. It takes the botanicals of gin in a complementary but wholly unique direction. 
I was already a fan of sesame oil in drinks, as I often take the lazy approach and just float a couple drops on top a margarita. But Kathy details the proper way to infuse liquor with oils, including our Yaomazi Green Sichuan Pepper Oil for a martini or gin fizz and our China Time-Honored Brand of roasted sesame oil for a Manhattan. Apologies that the sesame oil is on that MIA container, but check back soon for it, because you definitely want this smooth, cold-pressed, small-mill sesame oil vs the bitter store brands for sipping. 
 

Both green Sichuan pepper and green Sichuan pepper oil are far more popular within Sichuan than without. We can't understand why! We've been delighted by the unique taste and numbing sensation of green Sichuan pepper oil, or teng jiao you, many a time in Chengdu, including at an upscale new-wave restaurant called Ying Garden, which served us this eggplant cold dish. The steamy soft eggplant is smothered in a sauce of roasted green chilies and a bold umami-salty-tingly sauce. (Yes, roasted green chilies that remind one of Mexico are popular in Sichuan!)

We became friendly with the owner and she was so kind as to share the recipe with us. I called it Roasted Chili Eggplant, but one of our regular readers and customers made it several times and shared it on Instagram as Eggplant in Magic Sauce. Her name is way more fitting. 
 
Fava Bean and Radish Noodle Salad 
Fava bean season is coming up, and in Sichuan they'll be harvesting the beans not only to ferment with chilies to create 
doubanjiang
but also to use as the star of fresh spicy-tart Sichuan salads.
I adapted this recipe for
fava bean salad
a few years ago, substituting radish sprouts or pea sprouts for the usual fishmint to make a beautiful green salad. But then I also took it in a new direction by adding bean thread noodles and, wow, it's good as a noodle salad! As usual, you'll need Sichuan flavors including
chili crisp
, Baoning vinegar,
Zhongba soy sauce
and Sichuan pepper oil.  
Classic Sichuan cold noodles
, liang mian, wouldn't be complete without a touch of Sichuan pepper oil. Learn the other secrets to these noodles from a Sichuan cook who's been taking them to American potlucks for decades. 
Mala Mama is famous among the church ladies for her liang mian, and Kathy says it's due to both her made-in-Sichuan ingredients and her very specific method.  
Another take on Sichuan cold noodles, these sesame noodles are dressed with a 
strange flavor

 
sauce.
And what makes them strange flavored? While similar to classic liang mian (see above), these cold noodles bring nuttiness to the party, the sauce being an otherworldly combination of
Chinese roasted sesame paste
(no tahini in Chinese food, please), fiery chili oil, tart
Baoning vinegar
, numbing
Sichuan pepper oil
and the secret flavor weapon: sweet aromatic soy sauce, which is nothing more than soy sauce infused with sugar and spices and reduced to syrup consistency.
Pantry tip:
Keep a jar of this
sweet aromatic soy sauce
in your fridge for both the strange flavor noodles and for a Zhong dumpling sauce. There is no more delicious dumpling in the universe than one floating in a combination of sweet aromatic soy sauce and chili oil topped with a smidge of fresh garlic.  
Sichuan's suan cai yu—a big pot o' fish boiled with pickled mustard greens and spices—is a restaurant classic. Check out
Chef Wang's restaurant version
—though note that he stresses that Sichuanese chefs would never waste all those great ingredients on a dead fish. So unless you have access to a live fish on a Tuesday and mad fish butchery skills, you might want to make this home version instead. Kathy calls this recipe 
Ma's One-Pot Weeknight Suancaiyu
, and it will defnitely scratch the suan cai yu itch.
While suan cai yu features the sour of pickled greens (either store-bought or
homemade
) as its main flavor, it definitely calls for a finishing drizzle of Sichuan pepper oil to complete the Sichuan experience.