May 2019: Xinjiang Big Plate Chicken and Sichuan Pulled Pork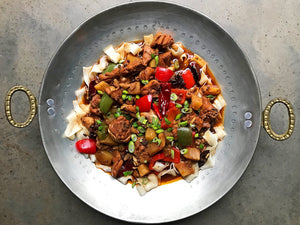 Hello, Friends of The Mala Market!
Those of you who have dropped by our shop recently probably noticed that we are out of stock on several items. Last fall we imported what we thought was enough spices and sauces for a year, but we completely underestimated your love of Sichuan food!

In our defense, we were the first (globally!) to legally import a handmade, 3-year Pixian doubanjiang, and knowing that we'd have to price it as the artisan product it is, we just had no idea how to estimate sales. Turns out many of you were eager to taste it, and then when The Wall Street Journal recommended it in March as one of 50 products with fascinating origin stories, we sold out immediately! 

The good news is that we placed a new order a few months ago, and it is scheduled to arrive within the next couple weeks. We are expecting not only douban reinforcements, but also new stocks of green and Hanyuan Sichuan peppers. Most excitingly, we'll also be adding a new product to the lineup with America's first premium Sichuan pepper oil, made from cold-pressed, non-GMO rapeseed oil and highly potent green Sichuan peppercorns. 

We will send out a brief email at that time to let you know everything has arrived and cleared customs. We apologize for the shortages, but are grateful for the business that caused it. Thank you!

To be clear, we have not run out of two of our most popular products—facing heaven chilies and da hong pao Sichuan peppercorns—so you might want to stock up for this month's recipes, both of which make ample use of the numbing spice. 
 
Until next time, 
🌶Taylor & Fongchong 🌶
A Mother-Daughter Venture
 
Big Plate Love 
This recipe for Xinjiang Big Plate Chicken is such a crowd-pleaser! I mean, who doesn't want a giant tray of spicy chicken stew on top of chewy fat noodles? Our friend and neighbor Sarah Ting-Ting Hou, formerly a restaurant consultant in Beijing, created this recipe from her taste memories of eating it obsessively over the years she lived in the Chinese capital, where it is super popular in Xinjiang restaurants. We love that it features smoky cumin and sweet star anise against a mala backdrop of Sichuan pepper and doubanjiang. 
 
Sichuan-ish Pulled Pork
This is Southern-style pulled pork, y'all, with a crispy "bark" of salt, sugar and freshly ground fresh Sichuan pepper. Slow-roasted until it pulls apart with forks, the crispy, spicy fat mingled with the moist and tender meat makes for a perfect bao, lettuce wrap or taco. The endless uses mean you'll want to make too much of this hands-off recipe. 
 
The Land of Cumin
Our cumin is grown in Xinjiang, the westernmost region of China, where the food is a cross between Chinese and Central Asian influences. This is the cumin used in cumin lamb, lamb skewers (chuan) and in this month's featured recipe, Big Plate Chicken. Fresh and aromatic, this is the local variety of one of the world's most popular spices, some say the most popular, already in use by the Sumerians 4,000 years ago. 
 
Chinese Vegetable Intelligence
Remember that Vegetables of China card deck I told you about last month?  We find them so lovely and useful that we've begun carrying them in The Mala Market. Created by the Chinese food mavens at The Cleaver Quarterly, there's a card for every vegetable in the Chinese market, detailing its names, uses and fun facts. Take them with you to the produce aisles and you'll never be bewildered again. (They also make a fun hostess gift along with a bunch of watermelon radishes or tatsoi.)