May 2021: Chaoshou + AAPI Heritage Month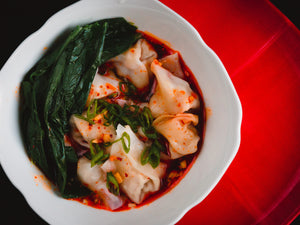 Chaoshou + AAPI Heritage Month 
Greetings, Friends of The Mala Market!
If you've ever slurped down Chengdu-style bowls of mouthwatering hand-folded chaoshou in red oil and wondered how to duplicate them at home, then this recipe—which Kathy spent weeks perfecting under the watchful eye of Mala Mama—is for you. 

Trying to recreate simple, unassuming chaoshou, or Sichuan-style wontons, on your own is a classic example of how you can have all the right ingredients for something and still end up far from the beloved original. If you want authentic texture + hometown flavor, we promise you, traditional techniques are key.

Kathy's Sichuan chaoshou recipe walks you through every step of the humble kitchen magic passed down through generations of master homemakers and street hawkers. The surprise here is that you don't even need to make the wonton wrappers from scratch (most Sichuan home cooks do not), because the secret is in the filling and the sauce. These juicy, aromatic chaoshou float in a hongyou (red-oil) dressing that includes her family's Sichuan chili oil. You'll also want that chili oil for her mainstay daikon-carrot salad (see below).

Perhaps you can make both dishes and reflect, as I will, on how lucky we all are to have people whose ancestors came up with this incredible food as our fellow Americans. May is Asian American and Pacific Islander Heritage month. I kind of feel like every month is Asian American Heritage month in our house, because we are always celebrating the fact that Fongchong is in our family while also helping her maintain strong and active ties to China. But the official nod is more important than ever in a year when we have to worry about her safety amid rampant anti-Asian hate. 

We know many of you are also worried for family and friends. In fact, one of our own in the Chinese-cooking community was a victim, as San Francisco's beloved Wok Shop was recently vandalized. Please keep reading to find out more about how you can help the Wok Shop and SF Chinatown stay strong and safe.   
🌶Taylor & Fongchong 🌶
 
P.S. New in stock is our first-ever Chinese sweet! Straight out of Xinjiang, our large, red, sweet jujubes are a treat. Read more about them below. 
 
No-Fuss Summer Side

NEW POST: This daikon carrot liangban

 

or "cold-dressed" salad is Kathy's family's favorite year-round, no-cook, quick-prep side. It's on the table several times a month, and once you try it you'll know why. A drizzle of Mala Mama's real-deal Sichuan Chili Oil

 

brings it all together.
 
Zhongba 360 Light Soy Sauce (Naturally Brewed 1 Year)
$14.00
A Sichuan red-oil dressing like that used on chaoshou or cold salads would not be complete without a shot of soy sauce, and umami-rich Zhongba is Sichuan's favorite. 
 
Zhongba Handcrafted Soy Sauce (Naturally Brewed 1 Year)
$40.00

An affordable luxury, Zhongba's handmade soy sauce brings the ultimate depth and richness. Use as a dipping sauce or when soy sauce is the main flavor of your dish. 
Xinjiang Hetian Jun Jujube (Hong Zao)
$18.00
Jujube, also called red date or Chinese date, is one of the most important fruits in China and is associated with "a sweet life, a flourishing business, fertility, harmony, and happiness." 

These Grade One Jun jujubes feature the large fruit, sweet flesh, small pits and thin, glossy red skin that define Xinjiang's beloved fruit crop. The redness of the dried fruit indicates sugar accumulation. The redder the date, the sweeter the flesh. These particular jujubes are among the sweetest we've ever tasted! 

Though high quality dried jujubes can be enjoyed straight from the bag, they are even better rehydrated in soups, teas and desserts. For savory dishes, jujubes pair excellently with chicken stocks (including broth for hotpot) and even rice.
Don't Forget Chinatown (SF Edition)


Tane Chan opened

 

The Wok Shop

 

in San Francisco's Chinatown in 1966 and went 54 years without an incident of crime until late last month, when the store was broken into and vandalized. To her it is no coincidence that it would happen now, when anti-Asian hate crimes are on the rise. 

If you've never visited this historic store and community hub, here is an introduction written by the 83-year-old proprietor's friend Grace Young:

"For many beginning and professional cooks, Chan's store is Wok Central, where you go to learn wok wisdom from "Auntie Tane," who is always happy to demystify the ancient cooking utensil. Offering the largest selection of woks in the country, Chan patiently explains which wok is best, how to season it, and what to do if it rusts (don't panic). 

Despite her age, Chan has kept the Wok Shop open throughout the COVID-19 pandemic, fulfilling online orders, seven days a week."

Grace wrote that before the break-in, and now reports that the store is all boarded up until the windows and gate can be repaired. In recent months we have been partnering with Grace  to identify one Chinatown food business a month that we can support through proceeds from our oyster sauce sales. This month we are sold out of oyster sauce but are donating part of our profits from Zhongba soy sauce to Tane and The Wok Shop. 

Tane has also started a GoFundMe, not for herself but for the Chinatown Merchants Association, so that they can purchase and install security cameras throughout the neighborhood. As she explains, "We need to fight back."

 

Donate here. 

If you can get to the U.S.'s Original Chinatown in San Francisco, please visit the

 

Wok Shop at 718 Grant Ave!