June 2023: Knife-Cut Noodles + Mapo Eggplant Noods and other recipes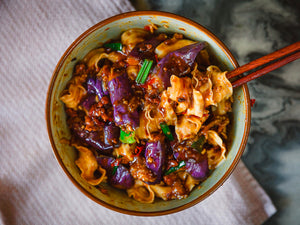 Never Enough Noods 
Greetings, Friends of The Mala Market
Since our previous newsletter was a tribute to gluten-free noodles of all types and sizes, this week's is a gluten love fest featuring our wavy knife-cut wheat noodles! Besides alerting you to a slew of new recipes, we want to let you know that both the regular and wide dao xiao mian have new, resealable Mala Market packaging.

We have four new recipes using the knife-cut noodles, both from Kathy and from regular customers who've made some very enticing videos using these beloved noodles that are good with just about any topping. 
Enjoy!
🌶 Taylor & Fongchong 🌶
Mapo Eggplant Knife-Cut Noodles
See that top photo? And that noodle pull? These are the
mapo eggplant noodles of your dreams
. Just like it sounds, these knife-cut noodles get a saucy topping with the flavors of mapo tofu—doubanjiang, beef crumbles, huajiao—but with the tofu replaced by eggplant.
What's funny is that this recipe started out as Kathy trying to rescue some leftover Chinese-restaurant eggplant that was seriously lacking in flavor. So she did what anyone raised in a Sichuanese family would do and added
Pixian chili bean paste
, a smattering of crispy beef and
fermented soybeans
, and there you go: mapo eggplant! 
When she adapted that dish to a scratch recipe, she employed Mala Mama's
easy tricks for retaining the gorgeous purple
of the eggplant, so it looks as good as it tastes.  
Wide Knife-Cut Noodles (Sun-Dried Dao Xiao Mian)
$10.00
Don't worry! The new Mala Market packaging contains the exact same noodles made by the exact same Chengdu company as the previous batch. We just felt that the previous packaging was impossible to reseal after you opened it, even with a clip. So we wanted to provide you with an airtight package that can be easily closed so the noodles can be stored in the package they came in. 

We hope to never switch from this maker, as Sichuan HuiJi's expertise and "slow noodle" process creates the ultimate sauce magnet with exceptional body and chew.
"You may be familiar with the classic Chinese tomato egg stir-fry, but have you ever tried it with noodles?" asks Kathy. "These kid-friendly tomato egg knife-cut noodles use just a handful of fresh ingredients, making this dish ideal for last-minute meals.
"In the olden days (that is, pre-pandemic price inflation), one could look to the fridge and invariably find at least one egg and a tomato ripe for sacrifice. With egg markups so high now, I'm far more selective about what I'll crack an egg over. Bored quarantine baking = out. Quick, easy ways to stretch a meal = in. These tomato egg noodles have no trouble making the cut."
 
Knife-Cut Noodles (Sun-Dried Dao Xiao Mian)
$10.00
To make these dao xiao mian, the dough undergoes a six-step process that simulates manual kneading and is naturally proofed three times to ensure a fine gluten structure. Finally, the fresh noodles are sun-dried for eight hours vs fried or baked.
This lengthy process is pretty much the definition of slow food. And unlike most "wavy" noodles, the ruffled, irregular edges of these noodles actually affect the texture: the outer-edge ruffles go soft while the thicker inner section retains more chew, for an intriguing dual-texture mouth-feel—the signature of a proper dao xiao mian. 
Quick Sizzling Chili Noodles
We have a new contributor this month, because we have another longtime customer, Matvei Murphy, who's making some irresistible videos using our products. In this one, he very quickly throws together a bowl of
sizzling chili oil noodles
by first making the chili oil directly in the bowl (no need to have any on hand). 
Click the photo above to watch the short video, or jump straight into his recipe:
1 to 1 1/2 bundles regular or wide knife-cut noodles (75 to 100 grams)
2 Tbsp sliced scallions
2 garlic cloves, minced
1-inch piece ginger, minced
1 Tbsp fragrant-hot ground chilies
1 Tbsp
Zhongba light soy sauce
2 tsp
Zhongba dark soy sauce
1/2 tsp
Baoning vinegar
1 tsp sugar
1/4 cup
caiziyou
(roasted rapeseed oil)
Optional garnishes: scallion greens, peanuts, sesame seeds
1. Add the knife-cut noodles to a pot of boiling water and cook 7-9 minutes, or until your preferred texture. 
2. While noodles are boiling, add the scallions, garlic, ginger and ground chilies to an individual serving bowl. Heat caiziyou in a small pan until just starting to smoke (around 450F). Remove from heat and let cool briefly before carefully pouring over the chili mix. Stir well and add soy sauce, dark soy sauce, vinegar and sugar. 
3. Remove noodles from pot, shake well to remove most water, and add directly to noodle bowl with waiting sauce. Mix well and garnish with scallion greens, peanuts and sesame seeds.  
Loaded-Vegetable Ginger Chicken Noodle Soup

Our other video contributor, Peyton Pritikin, used the wide dao xiao mian to great effect in this simple, super-gingery chicken noodle soup. 

I can't decide what I like best about this recipe. Is it the weeknight-friendly use of chicken breasts? The loaded pot of vegetables? Or the heavy dose of both cooked and fresh grated ginger? I think it's the ginger, but you do you when you make it. 

3-inch piece ginger, sliced, plus more for grating as garnish
4-5 scallions, cut in 2-inch lengths
Cilantro stems (1 bunch)
2 Tbsp light soy sauce (preferably Zhongba)
2 Tbsp Shaoxing wine
1 quart chicken stock
2 chicken breasts
2 bundles dao xiao mian wide knife-cut noodles
Roasted sesame oil
4-5 baby bok choy (bottoms cut and leaves separated and cleaned)
4-5 dried shiitake mushrooms, rehydrated
1 carrot cut in half moons
Salt

1.In a pot, combine ginger slices, scallions, cilantro, soy sauce, Shaoxing wine and stock. Bring to a boil on the stove then turn to simmer. Allow the broth to simmer for at least 30 min. While the broth is simmering, add chicken and allow the chicken to poach in the broth for about 30 minutes—the internal temp of the chicken should reach 155. Then take the chicken out and allow it to rest.
2. Bring another pot of water to a boil and cook noodles for 7 minutes before draining and rinsing under cool water to stop the cooking process. Toss the noodles in a little sesame oil so that they don't stick together. Then strain the soup removing the cilantro stems, scallions and large ginger pieces. Add carrots, bok choy and mushrooms and cook until desired tenderness. Add the chicken back and rewarm.
3. Portion the noodles between the bowls, add the soup and then add 1-2 tsp of the fresh grated ginger into each bowl.
 
Regional Chinese Noodle Collection
$54.00
If you love all noodles, whether gluten-free or gluten-full—made of rice, sweet potato or wheat—then this regional Chinese noodle collection will take you on a tour of South and West China noodle styles that are as diverse as they are addictive.

 

The collection is priced at a 10% discount from individual prices.

Here's the short list of recipes you can make with this collection (mostly from our recipe site and a couple from our affiliates):