November 2019 Part 2: 2019 Spice Harvest Has Arrived!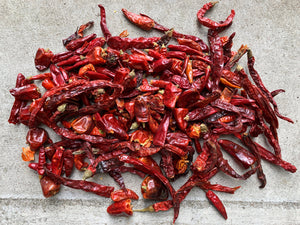 2019 Harvest
Hello, Friends of The Mala Market!
The 2019 spice harvest has arrived! That means that chilies that were ripening in Guizhou fields in September have been dried by the farmers, cleaned and safety-tested by our supplier, shipped straight to us, and are now ready for you incredibly fresh and fragrant. Deep-red and super soft, they are just beautiful. (See the un-doctored photo above.)

Freshly harvested Sichuan pepper is here too, specifically floral red from Hanyuan and lemony green from southern Sichuan. (Our popular red da hong pao will not arrive until December, as we switched suppliers to get a "special grade" that we feel is worth the wait; the da hong pao in stock now is still incredibly fragrant and numbing, with at least another year of shelf life). 

All the warm spices are also here, including cassia bark, star anise and smoky black cardamom for your winter braises. And we're very excited to finally offer a Chinese 5 Spice—deciding after much testing that DIY whole spices are the way to go. Just toast and grind for the always-freshest blend. Smell the holiday season! 
🌶Taylor & Fongchong 🌶

P.S. The FDA is still holding our sauces, determining whether we have to relabel them all with English on the front, even though there is full English on the back. We'll keep you posted on that verdict. Thank you for your patience! 

P.S.S. Our husband/father Craig wanted us to tell you that freshly made, toasty, 5-spiced chili oil is the new smell of the holidays. At least in our house. And maybe in yours!
All the Chilies in China
Ok, these aren't really all the chilies in China, but they are the four main types used in Sichuan. They are all back in stock—including xiao mi la, facing heaven and lantern (from left to right in photo)—but we are most excited about the return of the er jing tiao (bottom in photo), Sichuan's favorite chili. We have been out of stock for quite some time, having not ordered enough last year. In the meantime, our supplier began buying er jing tiao from a different farmer in Guizhou, and these are the popular wrinkled variety, meaning they are a bit smaller but, according to him, even better in taste and longevity.

Er jing tiao is used in chili oil for its fragrance and color and in just about any dish asking for moderate, fruity-raisiny heat. And we have discovered that these recently dried chilies are so fresh that they are easily brought back to life in the (naturally fermented) pickle jar, making the next-best-thing to Sichuan's pickled er jing tiao, which is used in so many dishes. 
Check out this excellent short video by the folks at Goldthread (South China Morning Post). It's titled
Why It's So Hard to Find Sichuan Peppercorns in America
, and the reporter interviews me (via Skype) about my research on that very subject. Most of it is shot during the recent harvest in Qingxi, Hanyuan, where our peppercorns are from. And though she says you can't get them in the U.S., she means other than from The Mala Market, of course! (Subscribe to Goldthread for a steady stream of smart video reporting on China, much of it about food.)
Hua Jiao Harvest
Straight out of Hanyuan and the Liangshan Yi Autonomous Prefecture in southern Sichuan, the Hanyuan and green Sichuan pepper are in the house. The smell is divine and the numbing power is strong. Buy separately or as a set with the da hong pao for three entirely different flavor profiles. The Sichuan Pepper Sampler would make an electrifying stocking stuffer!
DIY 5 Spice
Introducing our brand new DIY Chinese 5 Spice! We know that most of you prefer a freshly toasted and ground spice blend over a previously ground, stale one, but we also know that not everyone wants to buy five different spices to make 5 spice. So we have solved that problem by packing the perfect proportion of Sichuan peppercorn, cassia, star anise, fennel and clove to make the classic blend. All you'll need to do for fresh 5 spice is lightly dry-toast the contents of the bag, grind them to a powder in a spice or coffee grinder, and return to the bag for storage. 
Organic Stone-Ground Chinese Sesame Paste (Zhi Ma Jiang)
$12.00
The Food of Sichuan (New Cookbook by Fuchsia Dunlop)
$35.00