November 2020: Ground chilies; aged soy sauce; Sichuan pepper oil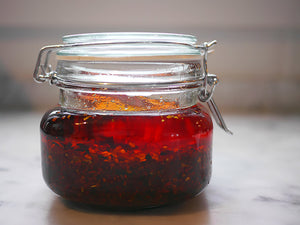 Chilly Calls for Chili
Greetings, Friends of The Mala Market!

We know many of you have been waiting patiently for the return of our fragrant-hot ground chilies, a mix of three chilies toasted and ground specifically for us in Chengdu that is the perfect base for homemade chili oil. Perhaps you like to have your own housemade chili oil on hand at all times, or perhaps you're planning to give your chili oil as holiday gifts. Either way, chili flakes are back in stock!

If you're like me, you have a chili oil collection. My housemade version is heavy on sweet shallots, but sometimes I want a readymade one with more garlic crunch like this one, and sometimes I want the full Sichuan-pepper-multi-spice flavor bomb. 

Our one-of-a-kind Zhongba Handcrafted Soy Sauce is also back in stock, as is the super fragrant Yaomazi Green Sichuan Pepper Oil. You'll want both for the two recipes we're offering up this week. 
Happy fall cooking! 
🌶Taylor & Fongchong 🌶
 
P.S. Coming in the next couple weeks: Gift collections for those who want to learn to cook Sichuan, Yunnan or Xi'an food, plus absolutely gorgeous brass and stainless-steel yin-yang hot pots.
 
Fragrant-Hot Ground Chilies (Sichuan Chili Flakes, Xiang La La Jiao Mian, 香辣辣椒面)
$12.00
Have you missed this as much as we have? The first and most important ingredient for making chili oil, this blend of er jing tiao, facing heaven and xiao mi la chilies is fried and ground into the perfect mix of flakes, powder and seeds in Chengdu so you don't have to do it. It makes a moderately hot and super-red (see photo above) base for your own chili oil creations.

Some ideas for additions:

 

Chinese spices

 

or

 

5 spice; garlic and/or shallots;

 

soy sauce

 

or salt; sesame seeds or sesame oil; msg;

 

preserved black beans...
Three Umami Dumplings
No Sweet Sour's Michelle Zhao gives us a lesson on how to make these
three-umami dumplings with emerald jade wrappers
. (Mine didn't look exactly like this, but I can nonetheless vouch that these are indeed umami-rich and juicy dumplings!)
And of course, you'll want to make a dipping sauce for them from the very best handcrafted soy sauce,
10-year black vinegar
and chili oil. This is the time to pull out the good stuff! 
Zhongba Handcrafted Soy Sauce (Naturally Brewed 1 Year)
$40.00

Take it from our customers: 

This soy sauce is absolutely spectacular and worth every penny. A drop on the tongue delivers layers of flavor; salty, tangy and sweet with deep umami warmth that lingers in the nose.--Adam B.

I have a favorite Japanese soy sauce (Ohsawa aged in cedar barrels) that I like to use for my Japanese cooking. This soy sauce is in the same caliber as that sauce, and actually my new favorite soy sauce.--Kasey M.

It blows my mind. You gonna regret if you don't buy this.--Shotaro U.

This large, handsome bottle would also make a nice gift. Who doesn't love umami?
 
Clams in a Soy Sauce and Sichuan Pepper Oil Broth
Though we couldn't make our annual trip to Chengdu this year, I have a memory full of dishes to try and recreate. I've been trying to perfect this 
clam dish with an amazing broth of soy sauce and Sichuan pepper oil
on and off since summer 2019. Fongchong says I have finally succeeded. 
A sauce this pure with only a few key ingredients is another place to use the premium products in your pantry.  
Yaomazi Green Sichuan Pepper Oil (Teng Jiao Oil)
$14.00
The oil made from fresh green Sichuan pepper is similarly seductive to the fresh pepper but without the need to grind peppercorns.