September 2018: It's All About the Sauce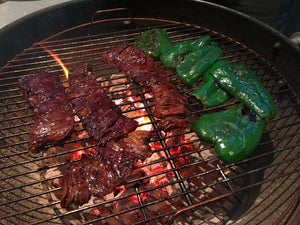 It's All About the Sauce
Happy Mid-Autumn Festival! Also known as the Moon Festival, it is a Chinese holiday devoted to thanks-giving (for the harvest season), family-gathering (from near and far) and moon-gazing (at the full moon appearing on the 15th day of the 8th lunar month, which is today).
 
As with all Chinese holidays, it is also devoted to eating and drinking. Most notably, those Asians who celebrate it are eating mooncakes. This year Fongchong picked out Malaysian mooncakes that are filled with durian paste surrounding yellow egg yolks. And, yes, these particular mooncakes do smell a bit rotten. But I'm suuure they're tasty! (Even if my sample didn't convince me so.)
 
I will celebrate with food made from the handmade, long-aged Pixian chili bean paste we got in last month. Do you have yours yet? Many of you do (thank you!), so here's the latest in our Cooking With Pixian Doubanjiang series. It's an easy, quick marinade for grilling and roasting that's like no other BBQ sauce you've ever had. 

This recipe follows on the heels of one for a Super Sichuan Sauce for Stir-Fry, because we know that even though doubanjiang is the most essential sauce for Sichuan cooking, the backbone of many of its most famous dishes (mapo doufu, twice-cooked pork, "water-boiled" fish, dry pot, hot pot, etc.), sometimes you just want to look in your fridge, grab the douban and make a stir-fry with whatever you have on hand. 

As for the grilling sauce, no, folks in Sichuan would probably not use douban in exactly this way, but, yes, you should, because it totally works! The photo above shows it on skirt steak, but this spicy-salty-umami marinade and grill sauce works just as well on pork shoulder steaks or oven-roasted chicken wings. Try it out while it's still (barely) grill season and let us know what you think.

Douban is not the only new sauce in our store, however, nor the only one that makes Sichuan cooking easier. Last month we added a Szechuan Chili Oil to The Mala Market family. It's our first U.S.-made product, but you'd never know it, because it tastes just like Sichuan. 

We also expanded our housewares line with a beautiful statue of The Kitchen God. Read more below about this god who is near and dear to cooks. He traditionally plays a major part in Chinese New Year festivities, but it couldn't hurt to get a headstart and invite him into your kitchen before the holidays since he's said to up your cooking game. 
Happy Moon Gazing!
🌶Taylor & Fongchong 🌶

P.S. Spice Update: Our shipment of the 2018 spice harvest did not make it onto the plane before the Moon Festival holiday, but we're hoping it will overcome all the hurdles before the whole country grinds to a halt for National Day and Golden Week at the beginning of October. We still expect our three kinds of Sichuan pepper and other spices, including new kinds of chili peppers, star anise, cassia, black cardamom from Yunnan and cumin from Xinjiang to arrive by mid-October. 
Szechuan Chili Oil
This all-natural Sichuan-style chili oil is handmade in small batches by NYT-starred chef Alex Sorenson (whose Blank Slate Kitchen also produces a line of super good, spice-heavy cocktail syrups). I first saw it on the shelf at Kalustyans and was, honestly, a little skeptical. But then I tasted it and found that, wow, it delivers on its name. It's spicy hot, but also quite heavy on Sichuan pepper and warm Chinese spices such as star anise, black cardamom and several others.

Use it as a condiment at table as well as a component of dan dan noodles, cold noodles or other cold dishes. If I'm using it in a cold dish that calls for a lot of chili oil, I like to use both it and my everyday homemade chili oil, which leans toward sweet in its current, shallot-heavy iteration. It's an intriguing sweet-and-spice combo.
The Kitchen God
This beautiful, hand-painted statue is Zao Jun, the Kitchen God. The link between God and humanity, he resides in the kitchen, watches over the family, and reports back yearly to the Supreme God on whether they've been naughty or nice. While he's at it, he also watches over the kitchen and the cooking, guarding against kitchen misfortunes and enhancing the nutrition and deliciousness of food. What cook couldn't use that aid?

Specially made in Guangzhou, this Kitchen God is ready to grace your kitchen altar (or, if you're like us, your dining room or table). He also makes a really cool gift for lovers of Chinese food. 
Sichuan Sauce for Stir-Fry
As mentioned above, we want you to be able to utilize your Pixian doubanjiang as easily as you might soy sauce. It provides a similar bean-y umami as well as spicy heat. Adding a bit to a stir-fry along with just a few other ingredients makes for a flavorful sauce that works in the wok with chicken, pork, beef or tofu. 
Sichuan Sauce for Grilling & Roasting
This Sichuan sauce, which like the stir-fry sauce is also made from Pixian chili bean paste and just a few additional ingredients, works with just about any meat you want to throw on the grill. At the top of this email is a marinated skirt steak, and this is a pork shoulder steak quickly marinated and grilled. Either one makes for an incredible Sichuan taco. 
3 Year Aged Pixian Chili Bean Paste (Yi Feng He Hao Doubanjiang)
$6.00 - $29.00