January 2021: Tribute Pepper and the 2020 Spice Harvest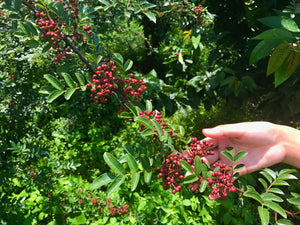 A Tribute to Tribute Pepper
Greetings, Friends of The Mala Market!

The 2020 spice harvest has arrived! And with it comes one of the most exciting things we've ever imported, something we've been working on for three years—Qingxi Gong Jiao, or Tribute Pepper from Qingxi, Sichuan—history's most esteemed Sichuan pepper. 

But first, you may be wondering why the 2020 harvest is arriving in 2021. Well, while Sichuan pepper is harvested in late summer, chilies do not fully ripen until fall. Normally they are picked in September, but China had so much rain in 2020 that many crops were destroyed or delayed, and chilies were not harvested until October. It then takes a full two months, at minimum, for processing, export approval, crossing the ocean, US Customs and FDA approval, trucking to us in Nashville, and repackaging from bulk. 

But it's worth the wait! We have the finest selection of spices and chilies we've ever had. Keep reading for the details of this harvest and our newest Sichuan pepper variety, the elusive Tribute Pepper. 

And that's not all! Almost everything else is back in stock as well, including all the chilies and the longest-aged and most-flavorful Pixian doubanjiang on the market, packaged freshly and exclusively for us in the fall. 
 
Happy 2021!
🌶Taylor & Fongchong 🌶

P.S. Replacements for the few products that have recently sold out will be trickling in over the next month, along with a few new surprises! 
 
On our annual trips to Sichuan, 2017 was the year we finally made a pilgrimage to Qingxi, the hometown of a Sichuan pepper so famed that it is known simply as gong jiao, or

 

Tribute Pepper. That's because throughout the imperial dynasties, Qingxi paid its taxes to the emperor as deliveries of freshly harvested Sichuan pepper, the finest in the land. 

Qingxi Ancient Town was a hub on the Tea Horse Trail (aka Southern Silk Road), and its mountainside location in Hanyuan County, southwest of Chengdu, is ideal terroir for Sichuan pepper (as well as cherries and other fruit). On our walk around the "nine streets and eighteen alleys" of the old town, we were lucky to meet Mrs. Di, pictured here, who graciously gave us a tour of her backyard Sichuan pepper farm. 

We also visited the 830-acre Sichuan pepper planting base and Hanyuan County farmers' coop (the first photo). It was a thrill to see the little pepper berries, just a few weeks before ripeness and harvest. But it was disappointing to learn it was

 

next to impossible to procure gong jiao, both because there is so little of it produced in this small area and also because there are no official channels of export for it. 

But where there is a will, there is eventually a way, and

 

Suki and Charlotte, Mala Market's buyers in Chengdu, made it happen. Suki flew down to Hanyuan during the harvest to personally select the best gong jiao she could find, not trusting anyone else to do it for us, and then worked her magic to get it to us. 

Some of you will recall that we have intermittently carried Hanyuan pepper, but it turns out our first supplier was stretching the definition of Qingxi a bit for the spot where his Hanyuan pepper grew, and also his pepper frequently arrived with so many seeds we didn't even sell it, opting instead to take the loss.

We have no such problem with this shipment, which is pure Qingxi and is hand-sorted twice to remove almost all seeds. The Hanyuan variety is smaller than da hong pao, our other red variety, however, and it does retain a tiny percentage of seeds regardless of effort expended to remove them. 

Now don't get me wrong, we—like the people of Sichuan—also love

 

da hong pao Sichuan pepper, which is grown in Gansu province, and the tip-top grade of that variety that we are calling

 

Flower Pepper

 

in our shop. I cannot really choose a favorite, because they are just so different. Hanyuan Tribute Pepper is more floral while da hong pao/Flower Pepper is more woodsy, but both are citrusy and super numbing. And according to Suki, a Chengdu native, onetime cook and longtime specialty-food trader,

 

you will not find a better version of either, even in Sichuan itself. 
 
Sichuan Tribute Pepper (Hanyuan Sichuan Pepper, Qingxi Gong Jiao)
$17.00
Handcrafted 3-Year Pixian Chili Bean Paste (Yi Feng He Hao Doubanjiang)
$20
The one and only, the fermented soul of Sichuan cuisine, Pixian douban in its finest form. What gochujang is to Korean food, with its sweet chili heat, doubanjiang is to Sichuan, with a salty chili kick. And we know many of you also use it in dishes that range far beyond Chinese because it is an umami powerhouse. We are the exclusive U.S. agent for this product, which means we are the only importer that gets it freshly packaged directly from the company. 
Sour and Spicy

This recipe for

 

suan la mian, sour and spicy wheat noodles, from our contributor Michelle of No Sweet Sour, seems like the perfect way to start the year, with its tomato-based broth and spicy pork tenderloin topping. Yes, you may have to use hot-house tomatoes at this time of year, but it may be just the spark of color you need in your bowl and your life right now. (And you can always revisit the recipe later with summer tomatoes.) Plus, the recipe includes an ingenious way to cook the noodles. 
 
Er Jing Tiao Chili
$14.00
Another beloved product that was out of stock longer than we wanted it to be, er jing tiao is back in the house. Try it to see why this long, fruity, moderately hot chili is Sichuan's favorite.
Zhacai (Sichuan Preserved Vegetable), Set of 4
$10.00
It's our first time to import zha cai, Sichuan's most well-known pickle condiment, and we'll likely never run out again! If you haven't tried this slightly spicy pickled mustard tuber on your rice or congee bowl, stir-fried with pork, or crowning your noodles, now's your chance. Or, if you're not convinced your need four packets of tasty pickles, place an order of $50 or more and get a free packet as a thank-you from us and a chance to try it out.