April 2021: Sichuan Pickled Peppers and Caiziyou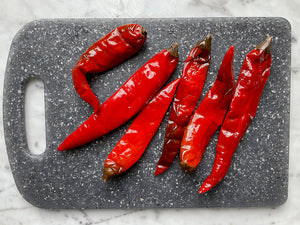 Patience Rewarded 
Greetings, Friends of The Mala Market!
I scream, you scream, we all scream for caiziyou and pickled peppers. Ok, it doesn't exactly rhyme, but you do scream for both of these products and they are both newly in stock! 

Caiziyou, or roasted rapeseed oil—the toasty cooking oil providing the quintessential Sichuan flavor foundation to stir-fries and chili oil—has finally returned after selling out at lightning speed the last time we had it. In a sign of the times, I placed a giant order for it in November, and what would normally be a 2.5 month wait between the to-order bottling in Sichuan and the delivery to us in Nashville stretched past five months. You can blame COVID and total utter chaos in both the shipping and trucking industries—not to mention a two-month stint in the care of a Customs & Border Protection that loves to pick on Chinese food shipments. 

Also arrived on that slow boat from China: facing heaven zi dan tou chilies, perhaps the most useful, everyday chili for Sichuan food. That means all the pantry collections that feature them are also back in stock. So it's a good time to look again at our Super Sichuan and Starter Xi'an collections. 

As for the Sichuan pickled peppers, we were able to source some fresh and lovely specimens for the first time, from another importer, and this elusive ingredient is at least temporarily in stock. And while we were at it, we threw in some pickled long beans, just because they make such a fine accompaniment to a pork mince for a rice or noodle topping. 

We're trying a little experiment this month where we break up our usually jam-packed newsletter into shorter letters, some, like this one, featuring product news and others featuring new recipes. 

So keep an eye out for Kathy and Mala Mama leaking all the secrets to perfect Sichuan wontons in chili oil. And Kathy and I will both bring on some cold dishes for spring, hers featuring that caiziyou-based chili oil and mine featuring the pickled er jing tiao peppers. 

 Thank you for your patience!
🌶Taylor & Fongchong 🌶
 
P.S. Please read to the bottom to see Grace Young's choice of Chinatown restaurants to receive part of our April oyster sauce proceeds.
Roasted Rapeseed Oil (Caiziyou)
$18.00
It's baaaack! The traditional Sichuan cooking oil that is toasty, roasty and bordering on nutty, imbuing your dish with flavor from the get go.

You know rapeseed oil as canola, but this version made in Chongqing is different in key ways. Made from non-GMO seeds that are roasted to accentuate the flavor, it is expeller pressed instead of chemically processed. Unlike highly refined oils such as canola that are bleached and deodorized to produce a neutral oil for North American tastes, caiziyou retains its natural color, fragrance and taste.
Pickled Er Jing Tiao Chilies (Sichuan Pickled Chilies, Pao La Jiao)
$8.00
This is it! Perhaps the most elusive Sichuan ingredient: pickled er jing tiao chilies, or pao la jiao, made in Chengdu.
Use the pickled form of Sichuan's favorite chili in place of chili bean paste in yu xiang dishes (pork, eggplant, etc) as is often done in Sichuan, or in dishes like fish stew with pickled cabbage and chilies or pickled-pepper beef noodles or as a sauce ingredient for cold dishes. Anywhere you'd like a little pickled pepper punch!
Send the Rice Down
This stir-fry

 

from our blog archives uses the pickled yardlong beans, pickled er jing tiao chilies and a whole lot of fried garlic cloves. Serve this savory, tart, garlicky mince with rice and, perhaps, lettuce cups.
 

Because our friend

 

Grace Young, the iconic Chinese cookbook author, introduced us to

 

Megachef Oyster Sauce

 

and suggested we carry it, we are now donating $1 from every bottle sold to help her help Chinatown. Grace spends part of almost every day in the Manhattan neighborhood, visiting restaurants and assessing the situation. So every month Grace will select a Chinatown restaurant in serious need of short-term assistance to receive our donation—directly from us to her to the business owner (no fees attached or deducted). 

Our April restaurant was Pasteur Grill and Noodles. Here is Grace's note about why she chose it:

"A few days ago, Tony Chung  whose parents own Pasteur Grill and Noodles, one of Chinatown's oldest Vietnamese restaurants, invited me to watch their chef stir-fry their signature

 

Shaken Beef. It was exciting to see the beef stir-fried in the flaming wok and also to smell the heavenly aroma of the chicken and beef stock that had been simmering for seven plus hours for their famous pho. 

What I will always remember from this visit was Tony's pride speaking about his parents and the restaurant. "My parents work so hard. Everything is cooked with such care maintaining high standards for both our food and service." 

During COVID his parents have been faced with so many challenges, laying off half their staff and taking on more work themselves. The restaurant closed in March of 2020 for lockdown and was one of the few restaurants to reopen for takeout in May, when Chinatown was a ghost town and there was hardly any business. It's been over a year of constant struggle but as Tony said, "We have to keep going." There is a mountain of rent debt and other bills to be paid and business is still down. Their location on Baxter Street is adjacent to the courts, but with all the courts still closed they are missing the customers they used to get from jury duty and court employees. 

I for one will be back soon for a bowl of their spicy beef pho, made by Tony's mom. The broth is fragrant with lemongrass, citrus, star anise, fennel seeds, cardamon pods, cinnamon and cloves." 

If you can get to Chinatown, please visit

 

Pasteur Grill and Noodles here!