August 2020: Fermented Bean Umami Is Back!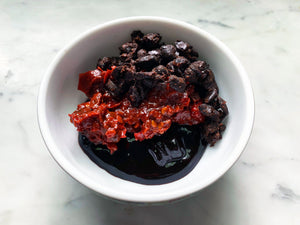 Fermented Bean Umami
Hello, Friends of The Mala Market
Fermented bean umami is back! We have received a new shipment from Juan Cheng of products that were scooped from their earthenware crocks or fermenting "pools" and packaged freshly for us in June. 

The shipment includes red-oil broad bean paste, which is a lighter and brighter doubanjiang; our very popular Sichuan-style fermented soybeans (douchi); and sweet wheat paste (tian mian jiang), another wonderful stir-fry base.

Used separately in many Sichuan dishes, all three fermented pastes famously come together in twice-cooked pork, the sauce mix for which is pictured above. You can mix and match these three pastes to make all kinds of super flavorful stir-fries, marinades, simmer sauces and stews.  

This is just the first of five shipments coming in this late summer and early fall, the importing gods willing. Arriving later in August are a fresh batch of stone-ground sesame paste, roasted rapeseed oil, Sichuan pepper and chilies. Thank you for your patience! 
 
Stay safe and cool,
🌶Taylor & Fongchong 🌶
 
Pixian Red-Oil Broad Bean Paste (Hong You Doubanjiang)
$12.00
This briefly aged broad bean paste is mixed with fermented chilies and oil to make red-oil douban. With a lighter, brighter taste than super-aged douban, it is used in stir-fries when you want a redder dish or relatively less-intense taste.
Recipe:

 

Red-oil bean paste is ideal in the classic Sichuan dish

 

yu xiang pork
 
Sichuan Fermented Black Beans (Preserved Soybeans, Douchi)
$9.00
You know these from Chinese dishes with "black bean" sauces. Those dishes are often made with Cantonese-style douchi, but we invite you to try black beans the way they are made in Sichuan—fermented in big crocks with liquor and spices, both of which are there merely to complement the soybeans, not as tastes of their own. The resulting beans are soft and plump, almost a paste, and they do not need to be rehydrated. In fact, they should not even be rinsed before use, no matter what the recipe says (since most recipes in English are written with dry Cantonese beans in mind).
Sichuan Sweet Wheat Paste (Sweet Flour Sauce, Tian Mian Jiang)
$9.00
Also from the Juan Cheng brand is our sweet wheat paste, or tian mian jiang, which is exactly what it sounds like: fermented wheat flour. This silky black sauce is used most famously in

 

twice-cooked pork

 

and as the dip for Peking duck, but it's also a versatile stir-fry or simmer sauce. See video below for inspiration.
 

This video tutorial for making Sichuan "sauce-cooked" beef is from our friends at Chinese Cooking Demystified, and the sauce in question is tian mian jiang (see above). This recipe is proof that with sweet wheat paste in your cupboard, you've always got sauce for an easy and tasty homestyle dish.

Did you know you get a discount on every Mala Market purchase when you're a

 

Patron of Stephanie & Chris

 

for as little as $5 per month?
 
In news from our partner, the Juan Cheng Pixian Douban Factory recently upgraded and expanded, installing this state-of-the-art "intelligent sunshine drying field" with more than 700 fermentation strip pools. The roof is made of retractible skylight panels so that even the mass-produced doubans (such as the red-oil douban above) can be made in the traditional way, leaving the douban open to the sun and elements to help feed the fermenting pastes with local Pixian County beneficial microbes. 
When we were last at the factory two summers ago, this drying roof for the company's handmade doubanjing was purely industrial, but they have now added a viewing platform (to the right) so that tourists can see the magic too. This is where our 3-year Yi Feng He doubanjiang is made in the same way it has been since 1853. (Yi Feng He is what the company was called before it was renamed Juan Cheng, so they retain the old name for the traditional douban.)

From the company: "There are more than 4,000 earthen crocks in the traditional drying yard. Here, craftsmen who inherit ancient techniques carefully maintain each jar of douban day after day, and use a special wooden pestle to move the sauce from top to bottom, from outside to outside. The inner layer is stirred evenly to help release the irritating volatile components produced during the fermentation process. The fresh air introduced during the stirring process is conducive to the growth and metabolism of microorganisms and ensures the stability of quality."
And just for fun, here I am speaking at the corporate event celebrating the new facility. (Never did I ever think I'd be doing something like that!)
 
Customer Spotlight: Nomz
Who wouldn't love to have this freshly made Taiwanese beef noodle soup delivered directly to their door? If you live in New York you can, along with Nomz's other classic Asian soups, made by young chef-entrepreneurs in small batches with wholesome ingredients, in recipes inspired by their Asian moms.
This month,
Nomz
is running a competition of sorts—a Beef Battle—between its tomato-beef shank noodle soup and a newcomer beef noodle soup kicked up a notch with The Mala Market's handcrafted
 

3-year doubanjiang
. Buy one of the traditional beef soups on their site and get a free spicy version when you use the code GOTBEEF at checkout. Then cast your vote on which beef noodle soup should take a permanent place in their lineup. I know which one I'm voting for!
Nomz
soups are also available in a growing number of NY and NJ
stores
.