December 2018: Pantry Collections and Gifts for fans of Sichuan and Yunnan food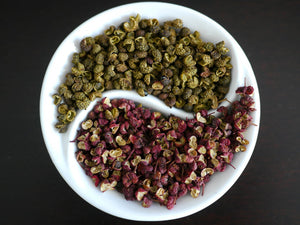 Happy Holidays and Spicy New Year
Hello, Friends of The Mala Market!
There's still plenty of time left to order Chinese ingredients, the Starter Mala Collection or a Complete Sichuan Pantry Kit for your spice-loving loved ones. We're busy packing up your orders, taking breaks only to make and eat Yunnan province's oh-so-wonderful mixian noodle soup to keep up our strength. 

We'll keep this short and ask that you place orders for non-food items by the end of day December 16 and food items by end of day December 19 for guaranteed delivery by Christmas, according to UPS and USPS.

There's good food ahead, so keep reading for a Christmas discount!
Warmest Wishes,
🌶Taylor & Fongchong 🌶
Yunnan Mixian
New on the blog are two recipes for making Yunnan's most loved dish: its mixian, or rice noodle soup! If you're not familiar with it, think Vietnamese pho with more pickle and more spice. We have been happily cooking from Georgia Freedman's newly published Cooking South of the Clouds: Recipes and Stories from China's Yunnan Province, the first English-language cookbook traveling all corners of China's most diverse province. We've also worked with Georgia over the past few months to source most of the ingredients you need to cook these divine recipes. Here's a short shopping list:
Yunnan-Style Fermented Mustard Greens
To make the Kunming-style mixian above, which usually features spicy, salty, sour greens with a real mustard bite, you'll want to start your ferment about a week ahead. Of course you can also buy suan cai, or pickled mustard greens, as they are popular throughout China and Southeast Asia. But you really should make your own Yunnan-style, with Sichuan pepper and chili flakes; they are the easiest and one of the tastiest naturally fermented pickles I've ever made. This blog post also includes an interesting interview I did with Georgia about what makes Yunnan food unique in China and how she collected the recipes for her cookbook. 
Complete Sichuan Pantry Collection
For the first time, we are offering one pantry collection that includes almost every specialty item needed to cook the most-loved dishes of Chengdu and Chongqing along with a pack of nine recipe cards to guide the beginner. With the addition of only Shaoxing wine (or golden sherry), Asian toasted sesame oil (available at any grocery) and fresh ingredients, the Complete Sichuan Pantry Collection of full-size spices, sauces and pickles will allow you to make a giant Sichuan feast—many times over. 
The hottest gift this season? Homemade chili oil
Sichuan, Yunnan and other great Western Chinese cuisines make frequent use of chili oil, as does just about anyone who likes Chinese food and heat. So why not do as our friend Mala Matt does every year and make up a few batches for all your neighbors and friends? Matt uses our Sichuan chili flakes, Sichuan peppercorns (both red and green) and spices including Chinese black cardamom in his special concoction, which he once wrote about for Bon Appetit. The photo above of a batch in progress shows just how much he loves mala. 

And speaking of, Mala Matt (aka Matt Gross, an intrepid food and travel journalist) is kicking off a Kickstarter campaign very soon to fund a documentary series in which he'll track the global past and present of chili peppers. I know this is a subject near and dear to many of you, so check it out on Facebook here.