February 2020: Sichuan Flower Pepper and Mild Chili Flakes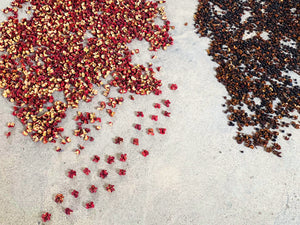 Flower Power
Hello, Friends of The Mala Market!
Do you know superior Sichuan pepper when you see it? As customers of The Mala Market, you probably do, but can you spot the very best? Above is a photo of the highest-quality da hong pao we've ever been able to get our hands on. It may be the most beautiful Sichuan pepper you'll ever see, while on the right is Sichuan pepper I bought in a Chinese market in the U.S. that is no doubt the worst example you'll ever see.

Keep reading for more details on what makes our newest Sichuan pepper "special grade" and why we've translated the name for this one directly from the Sichuanese name for Sichuan pepper: hua (flower) jiao (pepper).

Also new in the store is Facing Heaven Mild Crushed Chili, a chili flake for those of you love the taste of Sichuan but prefer the heat on the low side. 

While the weather outside's still frightful, we've got recipes for Sichuan-style red-braised pork riblets and for a hand-torn flat cabbage with Chinese sausage. The latter is what I made for my girl on Valentines Day, which in our house is better known as  Family Day: Feb. 14, 2011, is the day we first met Fongchong and she became part of our family. No matter how long she's an American, she'll always deem a big plate of stir-fried cabbage as the real treat on any food-laden table. 

Speaking of families, we're sending solidarity and support to all those families in China and elsewhere affected by the coronavirus. Several of you have kindly inquired about the affect of the virus on our business. The answer is that we're not sure yet how big the affect will be. Our suppliers in Sichuan are mostly back at work this week, and we're moving forward with a large order—though it will take longer than usual to get to us. In any event, we're sticking with them through this difficult time, and we hope you'll stick with us.
Be Well,
🌶Taylor & Fongchong 🌶
 
Sichuan Flower Pepper
The Sichuanese do not call Sichuan pepper "Sichuan pepper." They call it hua jiao, which means flower pepper, and when you see a perfect specimen of the numbing spice you understand why. The best of the best Sichuan pepper opens into three heart-shaped sections for the appearance of a six-petaled flower. Our new Sichuan Flower Pepper, a special grade da hong pao, has been hand-sorted to include a high percentage of flower-shaped pepper, so we've translated this one literally! 

What to look for in the best Sichuan pepper:
Large seed pods, fully opened into a flower
Deep red color
No seeds or twigs
From most recent harvest
Not heat-treated or irradiated
If all these boxes are checked, you can be fairly certain that you will get an immensely flavorful and potent Sichuan peppercorn. Use Flower Pepper when you want to wow both the tastebuds and the eyes. They look particularly good in dishes like stir-fried greens or Chongqing chicken, where their large size makes them easy to spot and eat around. (They also look great floating in a cocktail.)
***
Here's a recent Ruth Reichl haiku from Instagram about our da hong pao Sichuan pepper: "Just opened this package of Sichuan peppercorns. The fragrance! Leapt into the air."
Facing Heaven Crushed Chili
We've said it before and we'll say it again: The la in mala, which refers to chili heat, is far from the only flavor in Sichuan food. So if you can't stand the heat, you do not have to get out of the kitchen! This chili flake made solely from facing heaven chilies will make a mild but tasty chili oil for Sichuan cooking and eating. 
 
Hand-Torn Flat Cabbage With Chinese Sausage and Garlic
This stir-fried cabbage is inspired by a show-stopping version Fongchong and I had in Chengdu last summer. While developing this recipe for Family Day, I discovered a new (to me) vegetable that is also now part of the family. Have you met Taiwanese flat cabbage?
 
Red-Braised Ribs and Radish
There's more to Chinese food than stir-fries! If you're not red-braising this winter, you're missing out on the best of Chinese comfort food. In Sichuan, the "red" comes not just from soy sauce, as elsewhere in China, but from Pixian chili bean paste, which provides an added depth of flavor and tinge of heat.  This red-braised rib dish is definitely where you want to use your 3-year douban vs. the younger stuff. 
 
Hey, Canada! 
We heard you! So many of you want to order from The Mala Market, but we've had a hard time figuring out how to ship to Canada efficiently. We think we've finally sorted it out, and we welcome your orders. Just add your address during checkout and the cart will quote the actual price for shipping via our two countries' postal systems. Packages under 4 pounds (1.8 kg) will ship USPS First Class (by far the most affordable option), while those 4 pounds and over will ship Priority Mail. There's no denying that international shipping is both expensive and relatively slow (think weeks, not days), but it is possible. 

For other international readers, if you'd like us to ship to your country at the going rate just let us know and we'll try to make it happen. 
Production vs. Expiration
Much to our alarm and regret, we are hearing that some of you are seeing the 2019 date stamped on the packaging of some of our products and thinking they are expired. As is Chinese custom, the date stamp is the day the product was manufactured. It is not the expiration date. The best-by date is on the English label of these products. We also explain this in the card we insert with every order, but we apologize for any continuing confusion. Some day we will convince the producers that that dating system doesn't work in the U.S. Until then, here are the products affected: