June 2023 Part 2: Introducing Ninghuafu Shanxi Mature Vinegar + Sweet-and-Sour Recipes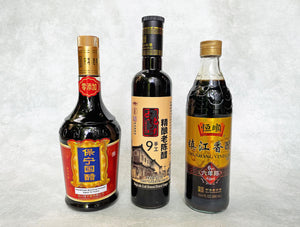 A New Acid Trip 
Greetings, Friends of The Mala Market
This month we are welcoming a Shanxi mature vinegar to our lineup. It is the third of China's Four Famous Vinegars —along with Sichuan's Baoning and Jiangsu's Zhenjiang—that we carry in a premium, super-aged version. 

As usual, we're bringing you several new recipes that show off our featured product, including a Xi'an beef potsticker recipe that we got from Fuchsia Dunlop's Every Grain of Rice—a cookbook we are adding to the shop to celebrate its 10th anniversary because it is a classic that never goes out of style. 

Come explore with us the vital role that black vinegar plays in Chinese cuisines. This letter is a little longer than usual, because we've got so much good info on the vinegars and their use. Vinegar is the acid in Chinese food, and one you can't do without. In fact, we'd say you should try all three, and we've got a collection for that! 
Enjoy!
🌶 Taylor & Fongchong 🌶
 
P.S. Our
mouthblown-glass paocai pickle jars
are back in stock, but we also want to let you know that we'll be debuting larger ceramic crocks in the same style later this summer. 
Ninghuafu Handcrafted Shanxi Mature Vinegar, Aged 9 Years
$23.00
Shanxi mature vinegar is one of the Four Famous Vinegars of China and is the northernmost of the four, making it a favorite for noodles, dumplings and bao in the wheat-dominate north. It is said that no matter the noodle or broth, a Shanxi native will dip into the giant tubs of chili oil and local vinegar at the noodle shop to top off their bowl. It also has an affinity for the North's beef and lamb dishes. 

It has the strongest flavor profile among the famous four and is recommended for dishes with long cook times, as it can stand up to the heat in braised and steamed dishes.

Like the other famous vinegars, it undergoes completely natural fermentation, enabled by the unique wild yeasts, molds and microbes in its environment—nearly 1,000 kinds of microorganisms. (Talk about terroir!) Distinct among the vinegars, it includes roasted grains, which darken the color and give it a slight tinge of smoke.

Shanxi province lays claim to the earliest vinegar making in China, dating it to the Western Zhou Dynasty (c.11th century-771 BC), with the brewing production method in place by 1368. The Mala Market is the exclusive importer of the premium Ninghuafu brand, which has its own storied history. It was founded in 1377 as the vinegar workshop in service to King Ninghua's mansion, or fu. 

All Shanxi vinegar is "mature," or aged, and our top-of-the-line handcrafted Ninghuafu is aged for a full 9 years. Pay attention to its deep red-brown color, strong fragrance, and the balance of sweet and sour, mellow and intense taste. 
Jiujiu's Sichuan Sweet-and-Sour Spareribs
Usually served at room temperature,
Sichuan's tangcu paigu, or sweet-and-sour spareribs
, are distinctly different from the Chinese American version you're used to, which reflect the coastal palates of Southeast Chinese immigrants who brought tangcu flavors over from provinces like Jiangsu, Zhejiang and Shanghai (province-level municipality). 
Sichuan sweet-and-sour ribs are darker, louder and more intense, and when Kathy first had her uncle's vinegar-blackened, syrupy-sweet pork in China, she recalls, "it was of a kind I'd never tasted in my mother's economical, health-conscious cooking. I didn't know ribs could be like this, glazed and decadent and sour-bright from the tang of aged vinegar."
These tangcu ribs are also an instructive lesson on vinegar choice in Chinese cooking.

 
It stands to reason that, in general, the local vinegar or the regional famous vinegar would have the right flavor profile for local dishes. But it's also true in the modern era that cooks are able to choose the best vinegar from across the land for the cooking job at hand. So while one might expect Kathy to choose Sichuan Boaning vinegar for this Sichuan dish, or even an aged Zhenjiang vinegar from the home of sweet-and-sour food, she instead opts for Shanxi mature vinegar due to its stronger flavor, which will still shine through even after being cooked down into this irresistible glaze—resulting in ribs that are tangy and sweet without being cloying.  
China's Famous Vinegars Collection
$59.00
This Famous Chinese Vinegars Collection includes our entire vinegar line with a 10% discount because we want you to try them all! 
Granted, three bottles of premium Chinese vinegar may be too much for your average cook, but if you are an aficionado of regional Chinese cuisines or a vinegar and fermentation obsessive, then this collection is for you. And, yes, they all taste distinctly different from each other!
China actually has Four Famous Vinegars, and this collection includes the most famous three, including Sichuan's Baoning vinegar, Shanxi's Ninghuafu mature vinegar and Jiangsu's Zhenjiang vinegar. (All that's missing is Fujian's red yeast rice vinegar, coming to The Mala Market sometime in the future.)
These vinegars make a literal tour of the country and its cuisines, from Sichuan in the west to Shanxi in the north to Jiangsu in the east. Each company has been making vinegar (as various entities) for hundreds of years, and each bottle is their top-of-the-line commercial offering, aged from 6 to 10 years. The Mala Market is the exclusive U.S. importer of the Sichuan Baoning and Shanxi Ninghuafu aged vinegars. 
 Characteristics of China's Famous Vinegars:
"Black vinegars," with a deep red-brown hue
Made from a mix of grains in a process with dozens of steps
Completely natural fermentation from wild microorganisms specific to their locale
No additives or preservatives
Long aged, from 6 to 10 years
China Time-Honored Brands, in production for hundreds of years
Non-GMO, Vegan
Infinite shelf life
This Collection Includes:
Baoning Handcrafted Black Vinegar, Aged 10 Years, 24 ounces: Representing southwest China, Sichuan's Baoning vinegar is unique among the famous vinegars in being an herbal vinegar. It is called so because its qu, or fermentation starter, is made from dozens of herbs and spices used in Traditional Chinese Medicine. It does not take like medicine, but it does have a distinctly savory taste and is less sweet than its fellow famous vinegars. It has a bill of six grains, and the lead grain is wheat bran. Use it in Sichuan food and other Southwest cuisines, and particularly in Sichuan sauces for cold dishes.  
Ninghuafu Handcrafted Shanxi Mature Vinegar, Aged 9 Years, 17 ounces: Representing China's north, Shanxi mature vinegar is sorghum-based and is the most robust of the famous four. It includes roasted grains, which darken the color and give it a slight tinge of smoke. This vinegar is recommended for dishes with long cook times, as it can stand up to the heat in braised and steamed dishes, but in Shanxi it also goes straight into the bowl as a topper of any broth or noodle. Being Northern, it has an affinity not only for wheat noodles, dumplings and bao, but also for beef and lamb. 
Hengshun Zhenjiang Handcrafted Vinegar, Aged 6 Years, 20 ounces: Still often called by its old name of Chinkiang in the West, Zhenjiang is the most famous of the famous vinegars in the U.S. because Eastern exporters in Jiangsu province got a head start. Ninety percent of China's vinegar exports are Zhenjiang, but the majority of those are the cheap supermarket version, aged for 6 months. This premium version is aged 6 years, and the difference is eminently noticeable. Glutinous rice is the lead grain in this bold and every so slightly sweet vinegar, making it very versatile across Chinese cuisines. 
Western recipes always call for Zhenjiang vinegar because for decades it was the only Chinese black vinegar widely available outside China. But now you have so many options, and we highly recommend matching the vinegar to the cuisine and type of dish you are cooking. Then again, we also recommend just using your favorite in whatever way you want!
Fish Vendor's Shanghai Smoked Fish
Speaking of the universally beloved flavor of sweet-and-sour, we've also got a tangcu recipe from Shanghai—just not one you're expecting! Our contributors Zoe Yang and her mom Iris Zhao recently returned from a trip to Shanghai and their hometown of Nanjing, in Jiangsu province. Jiangsu is also the home province of Zhenjiang vinegar. All home cooks there can whip up a sweet-and-sour dish, but Zoe tells a different tale:

"Shanghai smoked fish (熏鱼, xūn yú) is a favorite in my family—on the rare occasions when we go out to eat, it's a must-order. On one such occasion years ago, I vividly remember my dad telling me to eat up because this dish is very special and difficult to make: 'It's smoked! We can't do that at home.' Somehow, I never questioned this, and so no one in my family ever tried to make smoked fish. 
I hope you're not discouraged yet, because this is the part where I tell you that everything my parents led me to believe is a lie. In reality, smoked fish is:
Not smoked
Dead easy
Fast. Like, weeknight fast. 
I would not have learned these gospels if I didn't see the truth with my own eyes in China recently. I was strolling through a market—my favorite activity—when I came upon a stall that advertised made to order smoked fish. As in, the fish went from swimming in a tank to boxed up in a takeout container in 15 minutes. I was astounded. How?
It turns out that in a classically Chinese case of liberal metaphor, the "smoked" in smoked fish refers to a mere invocation of smoke—the flavor you get when you deep-fry fish until it's chestnut-brown and wizened, and then soak it in a sweet-sour (糖醋, tángcù) marinade. The flavors in the marinade—soy sauce, sugar, Shaoxing wine, Zhenjiang black vinegar—are classic Jiangnan, and when they're balanced, it's all very elegant. But that elegant flavor belies how downright lazy this dish is."
 
My own foray into using the new Ninghuafu vinegar revolved around these beef potstickers. I know from eating boiled dumplings in Beijing and steamed bao (xiaolongbao, shengjianbao) in Shanghai, that black vinegar is often the dumpling dip of choice and, in fact, the only one provided. For meaty dumplings this makes total sense, as the vinegar complements and cuts through the fatty richness. 

So I thought testing Ninghuafu out in its pure form as a dip with beef dumplings was the way to go. And that's when I found this intriguing potsticker, or guotie, in Fuchsia Dunlop's Every Grain of Rice. Fuchsia learned how to make these unusual open-ended beef-and-chive potstickers from cooks in the Muslim Quarter of Xi'an. And since Xi'an is the capital of Shaanxi province, which is next door to Shanxi province and has a similar cuisine, Shanxi vinegar should be a natural match. 

The subtitle to Fuchsia's 2013 cookbook is Simple Chinese Home Cooking, and this recipe is indeed pretty easy. I made it even easier by forgoing the homemade dumpling wrappers and using thin, soft gyoza wrappers. I have adapted the filling a bit as well, adding the freshly ground huajiao and cumin so beloved in Xi'an and the rest of Muslim China and adding dark soy sauce to make the beef an appealing brown color. She also mentions that these could be stuffed with other meats or just veg, but the fatty beef and abundant Chinese chives are hard to beat. We love these!

The Shanxi mature vinegar does indeed make a bracing contrast to the beef potsticker, but we also couldn't help ourselves from adding a bit of premium soy sauce and chili oil to the mix. 
 
Every Grain of Rice (Classic Cookbook by Fuchsia Dunlop)
$30.00
While thus far we've carried only new books at The Mala Market, we know that with cookbooks new is not always better. So this month we begin adding classic cookbooks that all Chinese food lovers should own, starting with 2013's Every Grain of Rice. 

Some of you may already own and love Every Grain of Rice, but for those who missed this book when it was published a decade ago, it's not too late! The book remains as relevant and enticing as the year it was written. (See the Xi'an potstickers above and the Sichuan sesame cucumbers below. Wouldn't you like to feast on that meal sometime soon?)
Since completing an advanced cooking degree in China in the 1990s, Fuchsia Dunlop has written meticulously researched, authoritative cookbooks on the foods of Sichuan, Hunan and Jiangnan, teaching home cooks and chefs alike the intricacies of those cuisines. Master the recipes in those books and you could open your own regional Chinese restaurant.
But Fuchsia has also turned her attention to Simple Chinese Home Cooking, which is the subtitle of Every Grain of Rice. This books ranges all over China—from Guangdong's salt-and-pepper squid to Chengdu's fresh spring rolls to Beijing's zhajiang noodles—but goes heavy on the food of Sichuan, the Chinese cuisine the author first mastered and for which she is best known. The Sichuan classics are here—and not just the spicy ones—but while some of those recipes may remain unchanged from her previous books, most of the recipes here are streamlined, with fewer ingredients and fewer steps.
You'll still need a basic Chinese pantry and a specialty Sichuan pantry to cook them, but you'll do it quicker and more easily. And you won't miss out on the history of the dish and the personal details of where she ate it and which chef in China taught it to her over her many years living and visiting the country, because that is all still included. 
Most notable about the book is the predominance of easy and inventive vegetable dishes, such as stir-fried cucumber and wood ear, and romano green beans stir-fried with douchi. In fact, the book is full of recipes where vegetables are the main attraction and meat plays a supporting role because that has always been how people eat at home in China. 
We think of this cookbook as a grand tour of China where you have access to the kitchens of the best chefs and home cooks across the land, while Fuchsia's single-cuisine cookbooks get into the nitty-gritty in a way you could only if you lived in a single place and studied its cuisine longterm. Which suits you best? For us, the answer is both!
Sichuan Cucumber, Three Ways
Back in 2016, I put together this collection of Sichuan cucumber salads with a little help from Every Grain of Rice, where Fuchsia mentions the sesame-yacai variation in a footnote to her recipe for Smacked Cucumber in Garlicky Sauce. 

Check out the book for the cucumber in garlic sauce, because this post delves into three lesser-known cucumber treatments that all involve chilies: hot-and-sour cucumber, mala cucumber, and sesame cucumber. Make one or make 'em all—tis the season!