January 2023 Part 2: Introducing Sichuan Furu, Fermented Tofu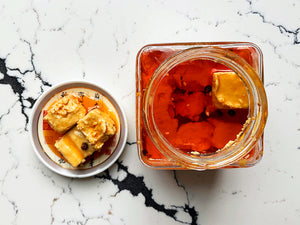 Happy Rabbit Year 
Lunar New Year Greetings, friends of The Mala Market

It's our Big Year, as they say in Chinese. I am a rabbit (1963), Fongchong is a rabbit (1999), and her dad and I adopted her in the first week of a rabbit year (2011). All of which is why we had a large leaping rabbit painted in the showroom of our new building. This art is not unrelated to Sichuan food either, because the Sichuanese are the biggest rabbit-eaters in the world. 

Are you a rabbit, too? Ironically, the Year of the Rabbit is not a lucky year for rabbits, who are deemed to have offended Tai Sui, the celestial gods controlling the mortal world, and could experience many challenges and life changes.

Uh oh. We'll try not to let that affect what we have in store for you this year, as we refresh our stock and continue to bring in new specialty products. (Don't worry about us. Our Chengdu colleagues said they are sending us red underwear to ward off any bad luck we might experience as rabbits.)

Speaking of new, this month we are launching a very exciting new condiment: Sichuan fermented tofu, popularly called furu. Keep reading to see why this heritage product is the super versatile Chinese cheese you need in your life. 
Xin Nian Kuai Le!
🌶 Taylor & Fongchong 🌶
 
P.S. Our latest shipment of spices was greatly delayed due to the Covid outbreak in China, but has finally arrived in port and should be with us in the next few weeks. Hello, 2022 harvest huajiao! 
 
Jiajiang White Fermented Tofu (Fermented Bean Curd, Furu)
$15.00
Fermented tofu, also known as preserved tofu, fermented bean curd, jiang doufu, doufuru or simply furu, is yet another in the vast Chinese cupboard of ultra-umami condiments. You either already love it or soon will—that is if you like a slight tinge of aged funk on your savory, salty treats. 
Fermented tofu is also called Chinese cheese, as it is similar in texture, look and even flavor to soft aged cheeses like feta and blue cheese. Just as microbes turn dairy into cheese, they also turn tofu into a creamy, flavorful spread. 
We are proud to introduce to the U.S. Sichuan's most storied brand of furu, Jiajiang, which was founded in 1861. Jiajiang refers to Jiajiang County, which is part of greater Leshan City in central Sichuan. Having stood the test of time, Jiajiang Furu is now a Sichuan Famous Brand.  

While the Jiajiang Qingjiang Brewery makes several versions, we chose the mild "fresh-fragrant" flavor, with just a hint of chili and huajiao heat that doesn't detract from the taste of the fermented bean curd—which tastes creamy, salty, boozy and tangy from fermentation, but not overwhelmingly so. (Don't confuse sweet-smelling furu with "stinky tofu.")
Chinese Greens With Furu Sauce
Furu is a product and flavor that Fongchong introduced me to not long after she became my daughter, pulling it off the grocery shelf on one of her first shopping trips in the U.S. While many Chinese eat it spread on steamed bread, she mostly eats furu as an accompaniment to rice or congee—or as a topping for Italian red-sauce pasta! 
Others put that umami to use in marinades, sauces or hotpot dip. My favorite traditional use is as a tangy sauce for Chinese greens. Taiwan and Guangdong bestow this treatment on ong choy/kong xin cai, or hollow-stemmed water spinach (The Woks of Life recipe). But I cannot always get my hands on that green, so here I am using the furu sauce on yu choy/you cai, the most common green in Sichuan. It also works with bok choy—and even romaine lettuce (Made With Lau recipe).

But don't stop with greens! Furu makes a tasty sauce for all manner of vegetable, such as stir-fried cauliflower (Serious Eats recipe), deep-fried potatoes (see below) and steamed eggplant.
 
If Carbonara Were Chinese

Besides the traditional uses, fermented tofu is one of those ingredients that cooks love to employ in untraditional ways. Chinese tofu cheese can indeed stand in for dairy cheese, as Kathy found when she used it in place of Pecorino Romano in a pasta carbonara. 
"Whereas some dishes have no business being called a 'Chinese version' (see: zhájiàngmiàn as 'Chinese bolognese,' dumplings as 'Chinese pierogi'), this dish is literally carbonara with Chinese ingredients. From the noodles (dried alkaline wheat noodles with great springy heft) to the guanciale sub (classic Chinese pork sausage) to the ground pepper (white instead of black) and, finally, the fermented tofu that makes this dairy-free carbonara so special, you could serve this dish to a Chinese person and not be questioned... until they found out about the just-set egg, maybe."
 
Yunnan Fried Potatoes in Furu Sauce
No ketchup or mayonnaise needed when you've got furu in the house! These fried potatoes go straight from the wok into a bowl of furu sauce, where they are tossed with aromatics to create a potato like no other you've ever had. The photo above doesn't really do it justice, as you can't see the furu clinging to the crispy spuds or taste the tang. Everyone in this house found it irresistible. 
This recipe comes from
Chinese Cooking Demystified
, who modeled it after a popular street snack in Kunming, the capital of Yunnan Province. Steph says that the aromatics can change according to whim, but the furu is what makes these special. 
You need to be a
Patreon subscriber of CCD
to read their entire book chapter on furu, its making and uses, but they have generously allowed us to share this recipe here. 
Make sauce by combining ingredients until smooth in a large bowl:
1 piece white fermented tofu, smashed
1/2 tbsp
soy sauce
1/2 tsp
black vinegar
1 tsp
roasted chili flakes
1/8 tsp salt
1/8 tsp sugar
1/8 tsp MSG
Prep the aromatics of your choice:
1 clove garlic, minced
2 fresh red Thai chilies, minced
1 scallion, minced
cilantro (or mint), minced
1/4 tsp toasted sesame seeds
1/8 tsp ground Sichuan pepper
Cut 400g (apx. 1 pound) of potatoes into 1 1/2 inch pieces, using a roll cut or bias cut to make angled sides. Soak potatoes in water for half an hour, strain, and pat them dry. Deep-fry the potatoes at a medium temp until they are golden. (Preferably in a wok, as it requires less oil.) Remove potatoes from the oil, strain well, and add them to the bowl of furu sauce. Mix well, then add the aromatics and mix again.  
Second Sister Rabbit Cubes
Tradition doesn't call for eating rabbit to celebrate a rabbit year, but what can we say, we have rabbit on the brain. So here is a great recipe for a cold rabbit dish that explains why Sichuan loves rabbit so much. 

Chengdu's famous Erjie Tuding is based off a Sichuan 凉拌 (liángbàn)/cold-dressed dish traditionally eaten in the fall. It belongs to our reader-favorite Cooking with Pixian Doubanjiang recipe series. There are several variations of Sichuan's cold-dressed rabbit, but the most famous is Chengdu's 二姐兔丁 (èrjiě tùdīng), "Second Sister Rabbit Cubes."

Colorful, crunchy, chewy and chilled, it features—in addition to little nuggets of bone-in rabbit—ground huajiao, ground chilies, sugar, sesame seeds, douchi (fermented black soybeans), roasted peanuts, scallions, sesame oil, 3-year Pixian doubanjiang, lajiaoyou (Sichuan chili oil) and Zhongba 360 light soy sauce. In other words, Sichuan in a sauce! 
 
This is Fongchong and her cousin Will eating spicy rabbit heads in Chengdu a few years back. This super popular snack is another reason Sichuan consumes the majority of the world's rabbit meat. 
If you want to eat rabbit heads (or any other snack) on the streets of Chengdu yourself, contact our friends at
Chengdu Food Tours
. As China opens its doors again, it may just be possible in 2023!