July 2020: New! Xinjiang BBQ Shao Kao Spice and Sichuan Pepper Grinder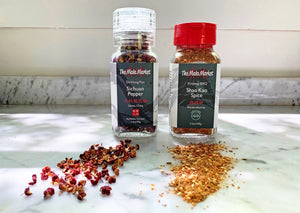 Hot New Summer Spices
Hello, Friends of The Mala Market!
If you've ever eaten Xinjiang-style Chinese BBQ, or shao kao, then you know that the liberally applied, cumin-chili spice blend is what makes the skewers so very tasty. We have wanted to bring you this Shao Kao Spice for a couple of years, but were holding out for the perfect blend, knowing we wanted it to taste just like the blends used in China, but also wanting it made here in the U.S. in small batches, since ground spices are best when freshly made. 

Finally realizing we would never find time to produce it ourselves, we talked our customer and friend Travis Post into making it for us using Mala Market spices. Travis is now the chef-owner of Plenty of Clouds, a Sichuan- and Yunnan-inspired restaurant in Seattle, but when he was the chef at NYC's Yunnan Kitchen, Pete Wells said he couldn't guess what all is in Travis's shao kao spice, but "whatever is in it, the blend is hard to resist." We could not agree more! 

We are also getting a little help from our friends on our recipe blog this month, where we are thrilled to welcome Michelle Zhao as a regular contributor. Michelle, who posts recipes on Instagram as No Sweet Sour, grew up in the Yunnan capital of Kunming eating the foods of the province's many ethnic minorities. She now lives in Norway, so she knows the challenges and rewards of making real Chinese food outside China. See her first recipe below, for the world's most gorgeous root vegetable. 

In another long-awaited product launch, we are welcoming our da hong pao Sichuan Pepper Grinder to our hua jiao product family. You might be skeptical, but don't be. It totally works! 

And lastly, here are the ETAs for our upcoming shipments. If you're wondering why it's so staggered, it's because all products are made to order. Because we buy directly from Chinese food producers instead of through middlemen, they don't send readymade inventory but produce and/or package their products specifically for us. They may all finish production at different times—especially with COVID delays—but we try to get each product on the ocean as quickly as possible after it's made.
Early August: red-oil doubanjiang, fermented black beans (douchi) and sweet wheat paste
Late August: Sichuan flower pepper, green Sichuan pepper, facing heaven chilies, er jing tiao chilies, Chinese spices, roasted rapeseed oil (caizi you)
Early September: Sichuan pepper oil, Zhongba handmade soy sauce, sweet-potato glass noodles
Late September: our new line of hot pot and dry pot sauce bases and gorgeous high-quality hot pots in stainless steel or brushed brass
Late October: 2020 spice harvest, including all Sichuan pepper and chili varieties
Stay safe and cool,
🌶Taylor & Fongchong 🌶
 
As we launch our

 

Mala Market Shao Kao Spice, we are finally posting a recipe/procedure for Chinese BBQ on our blog. While we are using the Xinjiang-style spice blend, we did more of a

 

Sichuan-style shao kao, adding chicken parts and lots of vegetables to the traditional Xinjiang lamb skewers. 
 
Shao Kao Spice (Xinjiang Style Chinese BBQ Blend)
$13.00
Featuring cumin grown in Xinjiang and chiles from Guizhou, backed up by premium Sichuan pepper, sesame, black cardamom and other Chinese spices, along with umami-heavy mushroom powder and just the right amount of salt. Use it for Chinese BBQ skewers, Western grilled meats, "Chongqing" oven-roasted wings and even stir-fried cumin lamb. Freshly handcrafted in small batches by Chef Travis of Seattle's Plenty of Clouds. 
With its fresh crunch and sweet, potato-like taste,

 

lotus root is ideal for a salad

 

with chili oil and

 

vinegar

 

dressing. Michelle Zhao of No Sweet Sour brings us this recipe and memories of summer fun, local dishes and lotus harvest at a lake in Yunnan. Our new

 

Sichuan Pepper Grinder

 

will make this salad a breeze to make. 
 
Sichuan Pepper Grinder ( Da Hong Pao Hua Jiao, 大红袍花椒)
$16.00
We predict this product will blow your mind like it has ours, because it may not be tradition to use a pepper mill for Sichuan pepper, but it totally works! And because it's quick, convenient and no-mess, you're far more likely to cook or finish a dish with it. It's also ideal when you're feeding some people who love the numbing spice more than others.

The adjustable cap on this large glass grinder makes both a coarse and medium grind. There's no need to toast our potent Sichuan pepper to coax out flavor or insure safety, but the removable cap allows you to toast the peppercorns and return to bottle if you wish.