June 2019: Introducing Premium Sichuan Pepper Oil (Yaomazi Rattan Pepper Oil)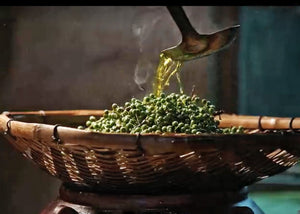 Restocked and Ready
Hello, Friends of The Mala Market!
EVERYTHING IS BACK IN STOCK! 
 
The slow boat from China has arrived and we are welcoming back our handmade, 3-year Pixian doubanjiang, as well as Hanyuan Sichuan pepper, green Sichuan pepper and er jing tiao chilies. That means our pantry collections are also back in stock, including the Starter and Super Mala collections, the Premium Sichuan Pantry Collection and the long-absent Sichuan Pepper Sampler. 

Plus, we are welcoming a new member to The Mala Market family: America's first premium, cold-pressed Sichuan Pepper Oil, made by Yaomazi, China's largest and most esteemed maker. 

We were biting our nails on this shipment, since it was on the ocean and due to land in port right as the trade war ramped up and Trump increased tariffs to 25% on Chinese sauces, among many other products. Our shipment arrived into the NY port just one day before the increase and hadn't cleared customs, but, fortunately, the new tariffs apply only to shipments leaving China after that date, not those in transit. We dodged a trade war bullet. For now. 

We want to thank you for your patience over the month-plus while our cupboard was nearing bare. It's hard for a boot-strapped start-up to know how much inventory to bring in at any one time, but we're learning! There's always a trade-off between bringing in products via air at super-high cost or by ocean at super-slow speed. We will continue to use air after the fall harvest but will opt for ocean for the spring shipment so that we can keep costs and prices down. 
Happy summer to all, 
🌶Taylor & Fongchong 🌶
The Mala Market
A Mother-Daughter Venture
 
P.S. Fongchong and I will soon head to NYC for a long-planned business (read: eating) trip to celebrate her graduation from high school. We hope you'll stock up soon, as we will be closed from June 10-24. Any orders placed during that time will be filled as quickly as possible upon our return. 
 
Sichuan Pepper Sampler
This Sichuan pepper sampler includes da hong pao, our red best-seller, along with Hanyuan, historically the most famed red variety, and green Sichuan pepper from the Yi autonomous area in southern Sichuan. We offered this collection briefly after the fall harvest, but when we realized that the Hanyuan pepper was inconsistent in quality, with some of it failing to open fully and disgorge its brittle seeds, we opted not to continue selling it. We now have a replacement shipment that has been more carefully processed to include many fewer seeds. This set is designed to introduce you to the surprisingly different tastes of the different species of this magical numbing berry. 
 
Sichuan Pepper Oil
We are very excited to introduce you to the wonderful ingredient that is rattan pepper oil. I find that it provides that missing flavor so ever-present in Chengdu and Chongqing but hard to duplicate outside Sichuan. Though we are calling it Sichuan pepper oil out of expediency, this oil in reality is made from teng jiao, or vine pepper, which is most often translated in English as rattan pepper. It is a distinct species from both the red and green Sichuan pepper you find in dried form. Because of its ultra-high oil content, it is used only fresh (or frozen) and to make rattan pepper oil (see top photo). It is infused into premium, cold-pressed, non-GMO rapeseed oil within hours of being picked from the vine to ensure the strongest and freshest flavor for the oil.

If you've only tasted Sichuan pepper oil made from dried peppercorns, the fresh fragrance, taste and potency of this oil will be a revelation. There's a reason many of Sichuan's famous restaurants use Yaomazi rattan pepper oil. And now you can too!
 
Spring in the Land of Abundance
Jordan Porter from Chengdu Food Tours takes us on a Chengdu market tour in pursuit of seasonal vegetables, both farmed and foraged. Can you spot fava beans, bamboo shoots, dandelion greens, purslane, fish mint and amaranth greens when you see them? I've seen most of them both in Sichuan and in my local Asian market. Read on to learn how and why Sichuan cooks abide by the rhythm of seasonal produce. 
 
Sichuan Fava Bean Noodle Salad
Inspired by Jordan's wonderful photo of fava beans above, and after seeing them for years in my local Asian supermarket and not being sure what I'd do with them, I finally took the plunge to make a classic Sichuan fava bean salad, adding my own stamp with pea sprouts and radish. Then I went a step further and turned that salad into a fava bean glass-noodle salad. The magic ingredient (besides fresh favas)? Rattan pepper oil, of course. Recipes for both salads (vegan, incidentally) can be found here. 
 
3-Year Pixian Chili Bean Paste
This is Sichuan Pixian Douban Co.'s premiere doubanjiang, the version that has been hand-stirred daily for three years in the same process used since 1688. We are the exclusive authorized importers of this product and are very excited to have it back in stock so that more people can try the intense umami-chili flavor that is unlike anything else out there in the cooking sauce world. Take it from The Wall Street Journal. 
 
Er Jing Tiao Chili
Sichuan's favorite chili is back in stock! This long red beauty is prized for its fragrance, color and moderate heat. It's a vital component of chili oil if you are grinding your chilies from scratch, and it also adds a lovely flavor to soups and braises.