June 2022 Part 2: Sichuan Pepper Sampler (and How To Grind It)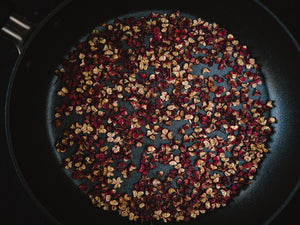 Back by Popular Demand
Greetings, friends of The Mala Market

What's summer without some sizzle? We're bringing back the long-absent Sichuan Pepper Sampler—a collection including all three of our primo varieties—to up the sizzle factor in your summer cooking, grilling and cold dishes.

Get them while they're hot, because the dog days of summer are the only time the pace slows enough around here to pack these little bags en masse. So just think of Fongchong and Mary kicking back, sipping a Sichuan smoky plum juice (recipe forthcoming!) and leisurely packaging these cuties especially for you and your summer thrills. 

Did we mention that eating spicy makes you sweat, cools you down, and helps you beat the heat? Keep reading for some hot toothpick lamb and some cool Sichuan noodles that are great recipes to show off your new Sichuan pepper. 
 
Enjoy!
🌶 Taylor & Fongchong 🌶

P.S. We have a container arriving very soon with restocks of noodles, spices and hot pots.
 
Sichuan Pepper Sampler (Szechuan Peppercorns)
$32.00
Can't decide which Sichuan pepper to try? Want to have three different and distinct flavor profiles to choose from for making Sichuan dishes? Then this collection of three varieties of top-grade Sichuan peppercorns may be the answer. Included in the Sichuan Pepper Sampler are 1 ounce each of red Da Hong Pao, Green Sichuan Pepper and the rare red Tribute Pepper. (About 1/2 cup of each type.) 
The most famous red hua jiao, as Sichuan pepper is called in Sichuan, is grown in Hanyuan County, Sichuan, in a village called Qingxi. It is also known as gong jiao, or Tribute Pepper, because it was the favorite of the emperors, demanded in tribute (tax) through the centuries. There is still much more demand than supply of gong jiao in China, so we are privileged to be able to source it. Tribute Pepper boasts fresh citrus and floral notes.
Also widely loved in Sichuan nowadays is Da Hong Pao, or big red robe, which is large, bright-red and virtually seed-free, with a warm and woodsy flavor.
Green Sichuan pepper, which is bright and lemony, has become wildly popular in Sichuan and Chongqing over the past couple decades. It is a good match for fish, chicken and vegetable dishes and is almost always found in hot pot.
Though the three varieties of hua jiao have distinctly different tastes, they are generally interchangeable. There are no hard and fast rules about which Sichuan pepper goes in which dish—that is entirely up to you!

Don't dally! This is (most likely) a summer-only special.
How to Grind Sichuan Pepper

Need an intro or refresher on

 

how to toast, grind and otherwise prep hua jiao? Kathy's got you covered with this step-by-step. She's also got a good explainer about the source of the sizzle and numbing sensation in Sichuan pepper. 
 
A Sichuan Master Chef's Toothpick Lamb

Have you ever had the famed toothpick lamb at L.A.'s

 

Chengdu Taste

 

or Sichuan Impression? Or perhaps at another of the ever-growing list of stellar Sichuan restaurants in our land? If you have, you probably wish you could make these crispy lamb nuggets adorned with a cumin–chili–huajiao spice mix at home. If you haven't, believe me, you want to make toothpick lamb at home.

The problem was, I had never seen a recipe for toothpick lamb in any Sichuan or Chinese cookbook—until recently, when one of our longtime readers and customers gifted us a cookbook by a Sichuan master chef that includes it. Finally I could make this much-missed dish at home. I eventually made it so many times, in fact, that I was even able to figure out how to streamline some of the cheffy steps to make it more time-friendly. However, there's one chef secret to this dish that I would never dispense with. Check out the recipe to see what that is. (Hint, hint: It's a very good use for your

 

homemade chili crisp!)

 
Ma's Sichuan Cold Noodles

If there's one dish Kathy's mother is known for at potlucks, it's

 

spicy Sichuan 凉面 (liángmiàn), "cold noodles"

 

in translation. Though a deceptively simple dish, it can easily go wrong with the wrong technique or ingredients, which is why, Kathy says, "over many years of Bible study potlucks, the people began craving Ma's liangmian. On the occasions she's tried bringing anything else, or opted to sit out, the churchwomen have spoken out. Where are the noodles?!"

Learn Ma's secrets and be the hit of your own potluck or, alternatively, make and serve the liangmian Chengdu-style in individual serving bowls. Either way, the combination of The Mala Market's cold-pressed, small-mill Cuizi roasted sesame oil and Yaomazi's famous first-grade, cold-pressed tengjiaoyou (green Sichuan pepper oil) make this dish sing.
 
Shout-Outs

Wherein we repay some product love sent our way:
Thanks to Eric Wareheim. You may know him from the comedy duo Tim & Eric, but to us he is the endearingly goofy gourmand in

 

Master of None. In any case, he recently authored a cookbook,

 

Foodheim, that the food cognoscenti loved, and it includes an American-style BBQ sauce that goes heavy on the Sichuan pepper!

 

Get his book

 

and try the tickle sauce on your next grilling adventure. 
Thanks to Andrew Zimmern, a longtime customer and supporter of The Mala Market. He has a newish Substack newsletter called Spilled Milk that's shaping up into a really interesting community where he shares his food and travel tips and takes reader questions. Recently, he dished on his secret ingredients, featuring

 

his favorite oil for wok cooking: our caiziyou

 

(roasted rapeseed oil). Check out the discussion and subscribe to his newsletter at the same time.
Thanks to The Woks of Life, whose recent recipe for a gorgeous, jewel-colored

 

scallion fried rice

 

called for both the caiziyou and our Yaomazi green Sichuan pepper oil. 
And thanks most of all to customers like you and Hua Z., who left this review: "Appreciate that Mala Market carries authentic Sichuan ingredients. Bought quite a few of them and they bring me right back to my hometown."