March 2019: Sichuan beef noodle soup and other new recipes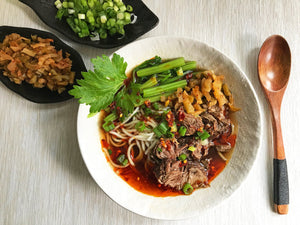 Dreams of Green
Hello, Friends of The Mala Market!
Longer days are almost here again, and Fongchong and I are headed to Los Angeles for a much-needed vacay during her spring break. So I'm writing mainly to let you know that orders placed during the week of March 11 will not be shipped until the week of March 18. If you think you'll need any Sichuan necessities before then, please order before March 11. Otherwise, we will ship as soon as humanly possible after our return.

We'll be visiting our old stomping grounds in the San Gabriel Valley to taste for ourselves the latest and greatest in Sichuan and other regional Chinese cuisines in America. Besides loads of inspiration for our own cooking, hopefully we will also return with another in our series of Great Sichuan Restaurant Recipes. 

In the meantime, here are two new recipes on our blog. The Itty Bitty Baby Bok Choy in a Vinegar-Oyster sauce primes you for the season to come with bright green freshness and a tangy umami sauce. While the Sichuan Red-Braised Beef Noodle Soup is meant to soften the cold reality that most of us still face in early March. 
Spring forward!
🌶Taylor & Fongchong 🌶
A Mother-Daughter Venture
 
Gilded Bok Choy 
These itty bitty baby bok choy are perfect for stir-frying, since you can merely cut them in half vertically without trimming the bottom and eat the whole tender thing. I normally just stir-fry greens with a garlic and Happy Wife sauce. Stop at that point and you've got a very tasty dish. But when I'm feeling more-ish, or when my other dishes are mild-flavored, I'll gild the bok choy with this tangy umami sauce. You'll have to read the recipe to see what Happy Wife—not to be confused with Angry Lady sauce—is. But I'll tell you that the tangy-umami part comes from oyster sauce, Zhenjiang vinegar and traditionally brewed Chinese light soy sauce. 
 
Sichuan Beef Noodle Soup
This new recipe tackles two burning questions (pun intended). How should the spicy soup for Sichuan niu rou mian, or beef noodle soup, be made? With a standalone spicy broth or with a broth that's poured over spicy ingredients in the serving bowl, as is the norm in Chengdu and Chongqing restaurants? And should the beef be slow-simmered in a soup pot or quick pressure-cooked in an Instant Pot? I give instructions for both types of cooking procedures, but you'll have to read the piece to see which pot I preferred. (Can you tell I want you to read these recipes?) 
 
Add a little smoke
These spice nuggets are Chinese black cardamom (tsaoko or cao guo). They are grown in Yunnan and smoked during the drying process, so they have this incomparable taste and smell of smoke over camphor. We add them to all of our noodle soups, including the beef noodle soup above, pork rib noodle soup (pai gu mian) and Yunnan mixian (rice noodle soup with ground pork). Add some to your pantry here. 
 
Indispensable Ingredients
You're going to want this famous-brand Zhenjiang vinegar from eastern China aged for 6 years (or the 1-year version) for the bok choy recipe and maybe even as a hit of tang in your beef noodle soup. Made from rice, it is similar to Baoning, the famed Sichuan vinegar made from rice and other grains. (There's no good version of Baoning in the U.S., but we're working on it!) 

You might also want a hit of chili oil in your niu rou mian—as you do in many Sichuan dishes. We've got the perfect Sichuan chili flakes for making your own and/or a very numbing-and-spicy artisan-made Sichuan Chili Oil in our shop. 
 
Zhacai for the win!
While vinegar and chili oil are optional in an already very flavorful beef noodle soup, a pickle is not (IMHO). Unlike yacai, which is a fermented mustard green used as a cooking ingredient in many famous Sichuan dishes (dan dan noodles being the most beloved), zhacai is more of a condiment, a preserved mustard tuber meant to be eaten on top of and beside other dishes. Put it in your soup! And in your congee. And anywhere else you like. This Chongqing pickle is really a perfect example of the dry-brined type of preserved veg popular across China.