March 2023: Spice Harvest + Restocks!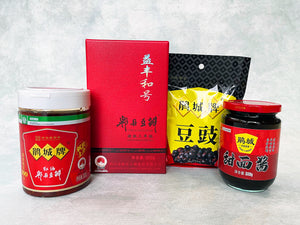 Fresh Spices, Full Shelves
Greetings, Friends of The Mala Market

The container has landed! And with it a new harvest of spices and a restock of some favorite sauces, as well as some all-new goodies we'll roll out in the coming weeks. It took three months longer than it was scheduled to, delayed first by the December Covid chaos in China and then by a freight rail breakdown in the U.S. But at last it has arrived and the shelves are full!
 
We truly appreciate your patience,
🌶 Taylor & Fongchong 🌶
 
It's always with great anticipation that we get our first look at the new year's harvest of hua jiao. We can count on them being fragrant and highly potent, but some years they are larger than others—depending on the weather and growing conditions that year. 
I'm happy to report that this year's bounty is a beauty. 
Here's a reminder of our single-origin Sichuan pepper offerings:
Sand Ginger (Sha Jiang)
$10.00
New to our lineup of xiang liao, or "fragrant things," is sand ginger! Because you asked for it!

Sand ginger, or sha jiang, is in the ginger family of plants and is one of four species of galangal (Kaempferia galangal). Like ginger, sand ginger is a rhizome, and this dried, sliced version has an intense peppery smell and taste with a camphorous overtone.  

Sand ginger's peppery bite complements the other well-known Chinese spices and can be added to your spice mix for braises, hot pot and chili oil for another distinctive layer of flavor. If your recipe calls for sand ginger powder, simply grind the slices in a spice grinder for a fresh and fragrant powder superior to pre-ground.

Sand ginger is prized for both culinary and medicinal uses. Ours is sourced directly from the southern Guangdong city of Yangchun, which is an important production base of herbs for Traditional Chinese Medicine.
Chinese Spice Collection (Star Anise, Cassia Bark, Sand Ginger, Smoked Cao Guo)
$36.00
Also back in stock are all of our other single-origin Chinese spices, used in braises, soups and chili oil.

We've combined four of the most intriguing into a collection (with a new lineup) that is priced at a 10% discount off individual prices:

whole Chinese 5 Spice is also back. 
 
Use sand ginger or any of the above spices when you make these tea-soaked eggs that are as gorgeous as they are delicious. How do you get that marbled look for your spiced soy-sauce tea eggs? Let Kathy show you her family's method. 
 
Hainan Island Fermented White Pepper ( Bai Hu Jiao)
$15.00
Another thing you asked for was an additional packaging type for our fermented white pepper from Hainan Island. We launched this pepper in a

 

handy glass grinder jar, but many of you asked for a

 

larger package without the grinder. This new package holds 6 ounces, which will bring that inimitable heat and funk to so. many. meals. Enjoy! 

(If you were frustrated by the grinder, don't forget that you must lift up on the adjustable grinder top to get a coarse grind and full flow. This solves the problem for most people.)
 
Beer-Braised Pork Trotters With Dried Tofu Skin
While this dish of
beer- and spice-braised pork trotters
 feels super homey, since Kathy suggested the recipe I have started to notice it proudly featured on the menus of multiple
upscale Sichuan restaurants
. Pigs' feet are beloved by many, but you do need to know all the tricks for properly choosing, cleaning and prepping them.
After that, as Kathy says, "they practically cook themselves: A novice cook could achieve these results. Braised pork trotters melt into a mouthgasm with only patience and fire."
All you need is a collection of spices such as the ones above,
Zhongba light
and
dark soy sauces
and pork trotters—which she explains how to buy from either a Chinese- or English-speaking butcher. 
Or if you prefer to eat higher up on the hog, try my
Sichuan red-braised ribs
.  
Cuizi Small-Mill Roasted Sesame Oil (Cold-Pressed)
$14.00
Cuizi is a

 

China Time-Honored Brand

 

of roasted sesame oil made in Shandong Province and is far and away tastier and smoother than your typical supermarket sesame oil. It is 100 percent sesame (not a blend) and is stone-ground on a small mill to retain flavor, fragrance and nutrients. 

Here's why you can taste the difference:
The company developed its own sesame cultivar and has a planting base in an area certified by China's Green Food program as pollution-free. Rather than using just-harvested seeds, it germinates them slightly to promote the production of highly nutritious natural antioxidants such as sesamolin, sesamin and sesamol
The highly roasted sesame embryos are ground by small stone mills at low pressure and low temperature, about 140°F, so as to not destroy the aromatic substances and functional nutrients in the sesame oil. (Large-scale oil extraction in metal equipment uses high pressure and temperatures as high as 500°F)
The sesame oil is then separated from the sesame solids by a natural, water replacement method versus the chemicals used in standard production
Finally, the oil is filtered through a patented technology that uses natural plant fibers for 36 layers of physical filtration to remove any impurities
Pixian Red-Oil Broad Bean Paste (Juan Cheng Doubanjiang)
$14.00
This fresh, young douban in red oil is the go-to for Sichuan stir-frys, while the soulful 3-year aged douban is generally used in braises. But you can also use the two versions interchangeably, according to your own preferences.

As long as your chili bean paste is from Pixian (the old name for the Pidu district of Chengdu), then your Sichuan cooking will taste legit! And as long as you've got one from the Sichuan Pixian Douban Co, then you're using the original,

 

China Time-Honored Brand. 

Also back in stock: Sichuan Pixian Douban Co's douchi and tian mian jiang, or sweet wheat paste. Here is our full line-up from this master of fermentation, along with the main ingredients: