November 2023 Part 2: Hotpot Season and New Hotpot Bases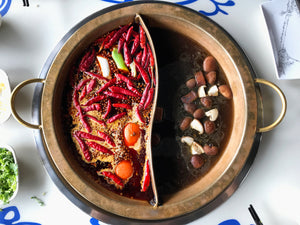 Hotpot Season 
Greetings, Friends of The Mala Market
In our house, we don't call the Friday after Thanksgiving "Black Friday," we call it "Hotpot Friday!"

Can you think of a better contrast to the Thanksgiving meal than mala hotpot? It's on the other end of both the flavor and effort spectrum. And yet it's still a communal meal, meant to be enjoyed by a small crowd of friends and family gathered around the pot. 

Just in time, we're introducing two new hotpot bases, each of which has two soup flavors that are perfect for the yin-yang hotpot.

Truth be told, if you order now, your order may not arrive by Hotpot Friday. But that's OK—the day after Christmas is also a hotpot day! 
Enjoy,
🌶 Taylor & Fongchong 🌶 
P.S. We've got a giant holiday surprise in the works. On or before December 1, we will launch a
Sichuan Heritage WOK
that is unlike any other on the U.S. market! Watch this space, or visit our site directly in December.  
Double Flavor Hot Pot Base: Spicy Mala + Porcini Mushroom
$9.00
If you usually eat your hotpot from a yin-yang, double-compartment pot—like our custom-made stainless-steel hotpots—so you can have not one, but two hotpot broths to choose from when dipping, then you will love the convenience of this hotpot base. 
The De Zhuang Double Flavor line of hotpot bases gives you two bases in one bag. This bag features a spicy mala broth for one side of the pot and a savory porcini mushroom broth for the other side. 
We love this combo (see one we ordered in Chengdu in the top photo). The mala, or numbing and spicy, side is true to the flavors of Chongqing, where mala hotpot was born and where this brand is from. The mushroom side is full of natural tasting umami and is a delightful choice for mushroom lovers and/or spice-avoiders. Together, they can feed a whole tableful of people with diverse tastes from one pot. 
Double Flavor Hot Pot Base: Green Mala + Tomato
$9.00
The De Zhuang Double Flavor line of hotpot bases gives you two bases in one bag. This bag features a spicy green mala broth for one side of the pot and a savory tomato broth for the other side. 
This unique combo is for hotpot connoisseurs. Rather than the usual red mala soup, a green version of mala that is very popular in Sichuan and Chongqing features green chilies and green Sichuan pepper. Because it uses green Sichuan pepper and does not include doubanjiang, it is a bit lighter-bodied and more numbing than the usual red mala soup. On the tomato side, think tomato soup but lighter and more brothy—pure, non-spicy umami. 
Note that while the mala broth is not the spiciest in the De Zhuang arsenal, it is indeed very chili-hot and Sichuan pepper-numbing, like they like it in Chongqing. You've been warned! 
Soup Base for Mala Hot Pot (Sichuan Hot Pot, Mala Huo Guo, Mala Tang, Chuan Chuan Xiang)
$11.00
We've carried the Lui Po brand of mala hotpot base for a few years now, and customers agree with us that it is one of the best on the market. Made by one of the current most popular hotpot chains in Chengdu, it is intensely numbing and spicy, yet not overwhelming for spice lovers.

This generous bag is enough for a large single-compartment pot by itself, or if you have a pot with a center divide, you can fill the other half of the pot with a mild mushroom, herbal or bone broth.

The second little bag is a dry dip. Put some in a small bowl and use it to dip ingredients after they've come out of the pot. (We love this spicy dip with ingredients from the mild side of the pot.)
Yin-Yang Hot Pot (Heavy Gauge Stainless Steel)
$145.00
We're fully stocked again with our premium stainless-steel hotpot. We have these custom made in Sichuan by a company that makes hotpots for restaurants. This smaller version of their pot in a heavy-gauge, triple-layer stainless steel is perfect for home use, feeding 3 to 6 people comfortably. 

Say goodbye to dented pots, wobbly handles and leaky dividers with this serious piece of cookware. Here's what the NYT's Wirecutter said when they recommended this pot:  

"A gorgeous split hot pot: This beautiful pot is pricey, but for any household that makes a communal meal often—or entertains with it—this piece is a worthwhile splurge."
If you're new to hotpot, check out our Deep Dive into Making Sichuan Hotpot on our newly redesigned recipe site. Even if you are using a readymade hotpot base instead of making it from scratch, these recipes have useful info for putting together a hotpot feast. 
Jiajiang Fragrant-Hot Fermented Tofu (Fermented Bean Curd, Furu)
$15.00
We sold out of our initial batch of this Sichuan Heritage fermented tofu in a hurry, so we brought it back. 

Please note that we moved from a mild flavor to xiang la, or fragrant hot, which is the medium-spicy level. The creamy, salty, boozy and tangy fermented tofu is now bathed in a contrasting chili oil with significant spicy heat. Although we loved the mild flavor, we realized that the numbing and spicy chili sauce is what makes the Sichuan version of furu stand apart from those made in other parts of the country. 

Use this as a condiment with rice, steamed buns, eggs, etc. Another delicious idea recently came to us from a reader named Michelle:

"I am half-Chinese and grew up devouring fermented bean curd.... My favorite way to eat the tofu is to spread it on what I call 'crunchy rice'– the crispy, stuck-together rice that you get at the bottom of the rice pot if you let it burn a bit. If I had a desert island dish, it just might be that."
Zhongba Handcrafted Soy Sauce (Naturally Brewed 1 Year)
$40.00
We have one customer who gifts his top clients this tall, dark and handsome bottle of handcrafted soy sauce every year. He just sends us their names and mailing addresses and we do the rest, sending only one invoice to him. 

Simply reply to this email if you'd like to do the same for your holiday gifting (5 or more bottles) and introduce your colleagues to the best soy sauce they've ever tasted.