October 2020: Worth the Wait! New Spices and New Home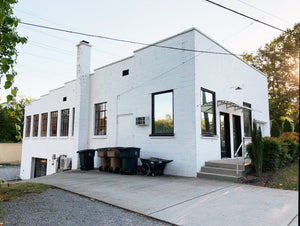 Season of Plenty
Greetings, Friends of The Mala Market!
Thank you for your patience over the past couple of months. We had planned to send you this celebratory email saying everything is back in stock in mid-August, when four large shipments bulging with fresh Sichuan spices and sauces were due to complete their long journey from Chengdu to Nashville. 

But agencies including Homeland Security, Customs, USDA and FDA had different plans for many shipments coming into port from China over the past couple months. I will not bore you with the details of paperwork, exams, fees and destruction incurred, but I will tell you that I've never been happier to see the shipments begin to roll up to the warehouse. 

And it's even more exciting this fall, because they are rolling up to our own, small but mighty and beautiful warehouse. Up until now, Fongchong and I have worked from our guest bedroom and rented warehouse space. But now we have our own facility for packing spices, storing inventory and fulfilling orders. Plus there's even room for a small retail space (by appointment only at first) and, eventually, pop-ups and hot pot parties. (Because, how fun would that be?)

[Attention Nashvillians, and those passing through: You can now order online and pick up at the Market to bypass shipping charges. We probably won't have time to set up a proper retail space with tastings until the new year.]

For some 80 years, the white concrete building lined with 16 magnificent windows was home to a small bread factory. I'll hold its fascinating story for another time, but this business founded by two sisters in the 1930s is now home to a mother-daughter team carrying on the tradition of a small family business with big dreams. 

Yes, it was scary to sign a lease during a global pandemic and U.S.-China trade war, but as you can see from the photo, we just couldn't let this building—which is literally four blocks from our home—get away. 

We hope to provide you ever better service now that we have full oversight of the business—from the minute the products get off the truck to the minute they leave for your house. And, in general, we've got an exceedingly short supply chain, as these products are procured directly from the farmers and factories and closely managed until they get on a truck by our two women buying partners in Chengdu. 

Read on to see what has arrived. Plus, we've got recipes for Yunnan Cold Mixian from our contributor No Sweet Sour and Wuhan Hot Dry Noodles from our affiliate Omnivore's Cookbook.
 
Thank you for your support! 
🌶Taylor & Fongchong 🌶
 
P.S. Still held hostage, but coming soon: organic sesame paste, handmade soy sauce, fragrant-hot ground chilies and some special surprises...
 
Liquid Gold
Liquid gold is back in stock! And it was no small feat to get it here.
This is caiziyou
, Sichuan's super fragrant and flavorful roasted-rapeseed oil. And perhaps the missing ingredient to your Sichuan dishes. Thanks in large part to our friends at YouTube channel
Chinese Cooking Demystified
, many more cooks are learning about this secret-weapon cooking oil and how to use it. See their video on our site to understand the central role this taste plays in Sichuan food. 
The Freshest Chilies
Another favorite back in stock!
Er jing tiao
is Sichuan's favorite chili and this shipment contains some real beauties. When you see chilies that are brittle, fading and discolored, they are OLD. When you see chilies like this that are ruby red, soft and pliant, fruity fragrant and sweet-hot, they are FRESH. These long, slim chilies are a must-have for Sichuan chili oil and used in many other dishes as well.
And the ever-popular and versatile facing heaven chili is also back in stock. We are renaming it slightly to reflect the fact that "facing heaven" simply denotes how the chili grows facing upward toward heaven. Many varieties of chili grow facing heaven, so now we'll be more specific that ours are
zi dan tou, or bullet head, facing heaven chilies
.
Whatever you call them, zi dan tou are the perfect, moderate size and spice level for most Sichuan recipes.  
Green Hua Jiao
Did you know that
green Sichuan pepper
tastes totally different than red? And that it is just as popular in Sichuan and Chongqing as red is? Give a taste, and you'll understand why. 
Also notice the little bubbles all over the surface of the peppercorns. They hold the oil that makes Sichuan pepper both fragrant and numbing. If you don't see those all over your green Sichuan pepper (and to a lesser extent red), then it is inferior, underdeveloped or machine over-processed, flattening the bubbles and releasing their oil before they get to you. Ours are machine sorted only once, then hand-sorted twice to reduce seeds and twigs while keeping flavor at full force.  
50 Hertz Sichuan Pepper Oil
$14.00
The oil made from green Sichuan pepper is similarly seductive to the fresh peppercorns. You may have recently heard of 50 Hertz Green Sichuan Pepper Oil when a New York Times reporter recommended it as "an oil that tingles and transforms." The company sold out immediately after that, but has now restocked with a fresh new lot infused from the most recent Sichuan pepper harvest. You know how we feel about Sichuan pepper oil—so easy to use and surprisingly good on so many things—and this one from Chongqing is a winner. 
Yunnan Cold Mixian
The weather may be turning, but cold noodles are still in rotation because the use of the word "cold" here does not mean chilled. It simply means that the noodles are cooked first and then topped with warm or cold meat or veg. Chinese pantry ingredients including
soy sauce
, sesame paste,
vinegar
and chili oil are then added directly to the bowl to make the all-important sauce. This recipe for
Yunnan cold mixian
on our blog, from Michelle Zhao of
No Sweet Sour
, also gives you a pro tip for how to prepare dry rice noodles with the light, bouncy texture that
Yunnan
is renowned for.  
ZinDrew Garlic Chili Oil
You can never have too many chili oils, and this crunchy, garlicky chili oil would make an excellent addition to your collection. You do have a chili oil collection, don't you?
ZinDrew Chili Oil
 was created in L.A.'s San Gabriel Valley by Andrew Lee for his wife, Zin, and we're excited to be the first retailer outside the SGV to carry it. Different than 
Sichuan chili oil
, which goes heavy on Sichuan pepper and other spices, this versatile sauce brings the flavor through loads of crunchy garlic bits.  
Sichuan Flower Pepper (Special-Grade Da Hong Pao Sichuan Pepper, 大红袍花椒)
$16.00
We sell the best of the best da hong pao Sichuan pepper as Flower Pepper—the direct translation of the Sichuanese word for Sichuan pepper. This superior grade peppercorn has been hand-sorted to include only the largest open peppercorns, their fully open pod resembling a six-petaled flower. They are as beautiful to behold as they are numbing and flavorful. 
 
Wuhan Hot Dry Noodles
This recipe for
Wuhan's famous re gan mian
, or hot dry noodles, comes from Mala Market affiliate Maggie Zhu of Omnivore's Cookbook. It is also a sesame-paste-based cold noodle, but this
Hubei
cold noodle is entirely different from the Yunnan cold rice noodles above, using alkaline wheat noodles and Chinese pickles.  
Chinese Spice Collection
$36.00
Sichuan's most popular non-numbing spices are also back in town. Get ready for braising season with these fragrant spices grown in Xinjiang and southern China. 
A nonprofit called Welcome to Chinatown is raising money to save Manhattan Chinatown's businesses from imminent demise. They need our help!

 

Donate here.