September 2021: Sichuan Pao Cai Pickle Jars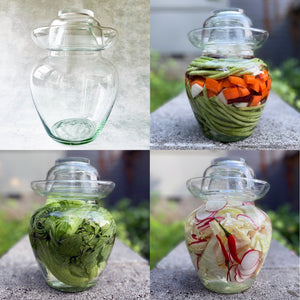 Pickles the Chinese Way
Greetings, Friends of The Mala Market!
Where to start when describing the joys and benefits of making pickles the Sichuan way? 
Pickling vegetables through natural fermentation vs adding vinegar results in a tart, crunchy veg that tastes like a sour version of itself
The probiotic health benefits are off the charts, with fermentation boosting gut health and vitamin absorption while, according to the

 

most recent research, reducing inflammation
The design of the narrow-necked, wide-shouldered Chinese pickle jar with a water-moat sealing system makes lacto-fermentation a breeze. Plus you can keep an eye on your beauties while they ferment!
You always have the pickles in your jar at the ready for

 

side dishes,

 

noodle toppings and

 

stir-fries
🌶Taylor & Fongchong 🌶
 
P.S. Make sure you read to the bottom of this newsletter for two easy and unique treats from Kathy's Sichuan kitchen. Bet you've never seen her pickled-chili-cornmeal crisp before!
 
Sichuan Pao Cai Pickle Jar (Chinese-Style Jar for Natural Fermentation)
$56.00
This artisan-made, hand-blown Chinese pickle jar is as functional as it is beautiful. The hot glass is literally blown by mouth from the end of a hollow tube into a mold to form an incomparably clear, slightly green glass. At 2.5 liters (10 cups), it's the ideal medium size for home pickling. 

Designed thousands of years ago to be the ideal form for naturally fermenting vegetables, this shape has two inherent advantages:

1) The narrow opening and wide shoulders of the jar help keep the contents below the brine—which is key for mold-free natural fermentation—without the use of weights

2) The moat around the opening holds water that makes a natural seal, allowing the carbon dioxide released during fermentation to escape while sealing out unwanted oxygen and contaminants

Plus, as a bonus of this design, the top can be turned over and used as a pickle serving bowl!
Sichuan Pickle Recipe

We have been testing and refining our Sichuan pao cai recipe for years, and in this newly updated and expanded blog post we give a

 

thorough introduction to natural fermentation

 

based on those many trials and occasional errors. 

In the top photo of this newsletter, you can see several common vegetable combinations for the Sichuan pickle jar. As the vegetables naturally ferment, the water will cloud and take on the color of the vegetables. My lovely pink brine above comes from red radish. Here I am harvesting the last of the cabbage and celtuce from my brine to go with dinner and replenishing the jar with Chinese cauliflower, which will be ready to eat in a week or so.

 

As in Sichuan, a good pickle brine can go on for years, being constantly replenished!
 
Pickled Chili Crisp

Speaking of fermenting, here is a super intriguing recipe from Kathy's Sichuan family that you've probably never seen. We are describing

 

zhalajiao as a sort of pickled chili crisp

 

that you stuff into bao, spoon over rice or add to stir-fries for a little extra crunchy zing. It is nothing but fresh chilies fermented with salt and coarse cornmeal—a traditional way of preserving chilies in the Sichuan countryside where Kathy's dad is from. Other southwest areas of China have similar recipes using rice flour or other grains, but corn adds another layer of sweet, earthy flavor and crunch to the spicy chilies. 

Zhalajiao will also look really enticing in your new pickle jar! 😉
 
Baked Nian Gao

Mid-Autumn Festival is coming up, beginning Sept. 21. If you are not up for the major project that is making the holiday's traditional snack, mooncakes, then we've got another sweet and extremely easy idea for your celebration. It's a dessert usually made for Lunar New Year, but it's a welcome treat on all other holidays (and non-holidays) as well. 

Kathy's recipe for

 

nian gao makes a sweet and chewy rice cake—think blonde mochi brownie—but instead of the traditional multi-hour steaming process, her recipe calls for baking nian gao in the oven. The best thing about this (gluten-free) recipe is how flexible it is, allowing all kinds of add-ins or toppings—walnuts!

 

jujubes! sesame seeds!—and even easily going vegan. Just pour it all in the pan, pop it in the oven, and soon you've got warm and gooey, sweet and chewy dessert bars!