September 2022: Shaoxing Wine and Drunken Chicken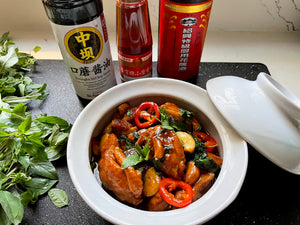 You Asked For It!
Greetings, friends of The Mala Market
Here it is! Your most-requested product that we've been missing: Shaoxing wine! Though it took us a minute to determine Shaoxing to source, we have now filled this last major gap in the Chinese pantry. To be exact, this is a Shaoxing Huadiao Rice Wine for Cooking.

In dishes like the one pictured above, Taiwanese Three Cup Chicken, which uses 1/2 cup of rice wine, this Shaoxing will sing! I made the above according to Serious Eats' recipe, which was written by Taiwanese American food writer Cathy Erway. The other "two cups" in this beloved dish are soy sauce and toasted sesame oil. Of course it's not really a cup of each, despite the recipe's name, but her ratio of 1/2 cup Shaoxing wine, 1/4 cup soy sauce and 1/4 sesame oil is spot on. (My only tip is not to cover it as instructed while it braises in the wok so that the sauce reduces to more of a saucy glaze.) 
Below, you'll find two classic recipes from the Zhejiang region that show why Shaoxing wine is an integral part of the Chinese kitchen. Plus a bonus recipe that kicks off our new column called Freestyle Sichuan Pantry (Sichuan onion burgers, anyone?).
🌶 Taylor & Fongchong 🌶

P.S. There's some good news out of Chengdu, finally, as the Covid lockdown has ended and our colleagues are able to resume all the hands-on management they do for our annual spice-harvest shipment. They also report that the drought and earthquake did not decimate the Sichuan pepper and chili crops that we all rely on! The chili harvest wraps up this month, and the spices will be on their way—natural disasters and supply chain permitting. 
 
Shaoxing Huadiao Rice Wine for Cooking
$15.00
Liaojiu, or cooking wine, is an everyday, indispensable ingredient in Chinese cuisines, used in almost all dishes with meat or fish as a marinade and/or sauce component. Shaoxing Huadiao Rice Cooking Wine is considered the best liaojiu in the supermarket.  

The city of Shaoxing has been making wine for millennia in eastern China's Zhejiang province, and its huangjiu, or yellow wine, is considered the pinnacle of the country's traditional winemaking. It's a rich but mellow, slightly sweet and nutty wine that pairs exceptionally well with China's other frequently used sauces, particularly soy sauce.
Guyue Longshan is one of the oldest and largest makers of Shaoxing wine and has multiple categories and brands. Huadiao jiu is the designation for the finest medium-dry Shaoxing wine, which was traditionally aged in earthenware crocks with etched decoration called huadiao.
This Huadiao is 16% alcohol and 1.5% salt, allowing it to be sold as food vs wine. We know that many of you had your hearts set on us selling a quality drinking Shaoxing wine, but after literally years of research and planning, we are carrying the top-quality salted version. And here is why:
Much to our disappointment, most states will issue permits allowing direct shipment of wine to their residents only to wineries or businesses with a wine manufacturer's license. And some states don't allow it at all. Plus, there are countless licenses, filings and taxes in each state, along with special delivery arrangements with the carriers, making it, all in all, a bridge too far for an online specialty food shop. 
But most importantly, Chinese Americans and many cooks in China stock their pantries with cooking wine they buy at their local supermarket! It took some doing, but several Chinese cooks I know (including Bill at The Woks of Life, our recipe developer Kathy, and Suki, our buyer in Chengdu) convinced me that

 

the Western rule of cooking only with a wine you would drink just does not apply in China, where wine's main function is to dispel the gamey, fishy or funky aspects of raw meats and fish. Or to lend a subtly nutty-sweet backdrop to sauces that will be salted anyway.  
So, if you want to drink Shaoxing wine, do look for the oldest and best one you can find at a big-city liquor store, but if you are cooking with it, don't sweat the salt! We are here for you with one that will be plenty good for most Chinese cooking. 
Shaoxing wine is made from glutinous rice and it includes wheat, because almost all Chinese sauces are brewed with a wheat-based starter (daqu fermentation). This huadiao also has added caramel (for color), but is not cut with additional spices, ethanol or additives, as lesser liaojiu brands often are. 
Drunken Chicken
The most famous dishes featuring Shaoxing wine are the "drunken" ones, which are a whole category of food in Shaoxing wine's hometown. The most-loved drunken ingredient is chicken, which is poached the Chinese way—aiming for gently cooked chicken flesh and tight skin—then soaked in a Shaoxing wine broth until it's sauced.

Despite her Jiangnan family not having its own recipe—she blames the Methodists who converted them into teetotalers sometime in the late 1800s—Zoe Yang created this slightly simplified version of Drunken Chicken for us. 

"Drunken Chicken, prepared simply and eaten cold, is an everywoman dish—something to throw on during the dog days of summer, altogether too easy to warrant mythmaking. But as we know, the simplest things demand the most care. Not counting salt and sugar, there are a scant four ingredients—chicken, Shaoxing wine, ginger, green onion—needed to make excellent Drunken Chicken, so the quality must be high and the technique, tight."

Zoe also delves into the history and making of Shaoxing wine and does some testing of the dish using both salted and un-salted wine. Read the story for her verdict! 
 
Hong Shao Rou
Another famous dish from the Jiangnan area is this Shanghai hong shao rou, or red-braised pork belly. It depends heavily on Shaoxing wine for its glossy, sweet and sticky glaze, creating a pork belly treat that is both decadent and comforting at the same time. 

My favorite recipe for Shanghai-style red cooking comes from Kian Lam Kho's book Phoenix Claws and Jade Trees. It calls for deeply caramelizing the pork belly in sugar before adding the spices, wine and soy sauces. Hong shao rou is usually served with rice, but we also like it stuffed into bao, as pictured above, and topped with tart cucumber pickle. 
 
Pickled Er Jing Tiao Chilies (Sichuan Pickled Chilies, Pao La Jiao)
$9.00
Back in stock! 
Pickled Yardlong Beans (Sichuan Pickled Cowpeas, Pao Jiang Dou)
$10.00
Back in stock!
Soup Base for Mala Hot Pot (Sichuan Hot Pot, Mala Huo Guo, Mala Tang, Chuan Chuan Xiang)
$12.00
Back in stock!
Freestyle Sichuan Pantry

Cumin Sichuan Pepper Onion Burger on a Sesame Seed Bao!

You've got a pantry full of superior Chinese ingredients, right? Why not put them to use occasionally in other cuisines and dishes? Besides the obvious—like

 

Sichuan ground chilies

 

being a boost to any dish that needs some deeply red and fragrant heat—other Sichuan ingredients can bring new life to old favorites. 

Chicago chef Peyton Pritikin got us to thinking about this. She and her mom, Mary, have been longtime customers of The Mala Market, and in return we have long admired Peyton's cooking videos on Instagram. She often cooks traditional Sichuan fare, but as a trained cook she also often riffs on Sichuan flavors and creates something wholly original. And why not? 

In her first reel made for us, the flavors are Xinjiang-inspired for the burger and Sichuan-inspired for the cucumber pickles with an Oklahoma-inspired onion burger and freshly steamed, super-sized, sesame-seed bao as burger buns. We think this mash-up smash-up is brilliant!

See her short reel showing how to make this dish on our Instagram page. 


Cumin Sichuan Pepper Onion Burger on a Sesame Seed Bao
(makes 2 6-ounce burgers) 

3/4 pound 80/20 ground beef 
1 Tbsp ground cumin 
1 1/4 tsp Sichuan peppercorns, ground 
2 tsp Sichuan ground chiles 
3/4 tsp Zhongba soy sauce 
1 Tbsp Shaoxing wine
2 tsp molasses 
1/2 tsp salt
1 Vidalia onion, julienned 
1 bunch watercress 
2 Tbsp mayonaise 
Pickled cucumbers and steamed bao (or other bun or bread of choice) for serving
Combine ground beef, cumin, Sichuan pepper, ground chilies, soy sauce, Shaoxing wine, molasses and salt and allow the meat to marinate 30 minutes or up to 2 hours. 
Divide the meat into 2 patties. Heat a 12" cast iron skillet over medium high heat and add the patties. Add onions on top of the meat and gently press the onions into the meat. Cook for 3-4 minutes, then flip so that the onions are cooking in the rendered fat and cooking into the meat. Cook for another 3 minutes then take off the heat and allow the burgers to rest.
Slice the bao buns and toast the inside of the buns in the rendered fat left in the skillet. Brush both sides of the buns with mayo, then add a handful of watercress, the burger with onions and then the pickled cucumber and the top bun. 

Pickled Cucumbers 
1 English cucumber, seeded and sliced thin
1 Tbsp Zhongba soy sauce
1 Tbsp Baoning or Zhenjiang vinegar
2 tsp sugar 
1" piece of ginger, minced 
1 garlic clove, minced 
1 tsp Cuizi sesame oil 
Combine all ingredients, cover and let sit for at least 30 minutes refrigerated.
To make the burger-size bao, see Peyton's reel showing how to do so on Instagram @pritieats
***
Speaking of Sichuan burger mashups, check out the new Shake Shack in Chengdu, a head-turning bamboo-covered space where you can get "Chengdu chili fries" and Sichuan pepper beer with your burger!