May 2020: Return of the Handmade Soy Sauce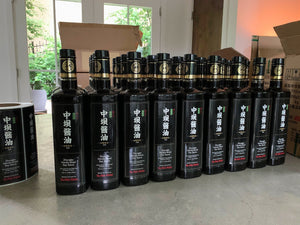 Comfort Food
Hello, Friends of The Mala Market!

I hope you are staying safe and sane. I know this finds many of you cooking Chinese food because you have been ordering like mad. I agree that it's the perfect time to learn to cook, or expand your repertoire of, regional Chinese dishes. Perhaps spicy Sichuan food is your comfort food. Or maybe you were in pursuit of the world's best oyster sauce or America's only handmade, long-aged Chinese soy sauce.

Whatever the reason you are hoarding Chinese specialty ingredients, we are grateful and we are here for you, packaging products and shipping orders as quickly as possible. Because we have pros doing most of our fulfillment now, order processing times are only slightly longer than usual, though please know that it can take several days to get orders out when we get a surge and that the carriers are also slower than usual. 

The combination of surging demand and greatly slowed supply coming from Sichuan means we have run out of a few products. But fortunately, Sichuan is back to work and a large shipment that finally left China at the beginning of April arrived in port in NY this week. So if all goes smoothly on this side of the supply chain, we should have all of our sauces—as well as some new ones!—back in stock within a week or two. Fingers crossed! 

What's in that shipment, you may ask? Our best-selling aged doubanjiang for one, plus all-natural soy sauce aged 360 days, and our first shipment of Sichuan's famed Baoning vinegar, including an incredibly exciting and complex 10-year brew. We will send out an email as soon as they are ready for order. (Spices will not be replenished until summer.)

Like everyone else, we've been cooking more than usual. Keep reading to see what recipes we've been obsessed with recently. And please keep sending us photos of your obsessions, by email or social media. It's been a joy to see you soothe yourselves with homemade chili oil and mapo tofu. 
 
Happy Mother's Day from your favorite
mother-daughter Sichuan food business!
🌶Taylor & Fongchong 🌶
 
Noodles on Fire
Despite the name Burning Noodles, these craveable but elusive noodles from Yibin, Sichuan, are not burning hot. Savory, nutty Yibin Ran Mian have been a goal of mine for years, and finally I found a recipe that tastes like the ones I've had in Sichuan.

It comes from our new collaborators Stephanie Li and Chris Thomas of the YouTube cooking channel Chinese Cooking Demystified. Their Ran Mian video is just one of dozens that serve up Chinese cooking instruction with a helpful helping of science and history. They cook in China and speak in English, so their channel is ideal for those of us outside the country who are eager to learn about Chinese food as it's cooked in China.  

Our collaboration with Steph and Chris was kindled over our mutual love of er jing tiao chilies and caizi you, Sichuan's roasted rapeseed oil. As do most traditional chefs and home cooks in Sichuan, Stephanie and Chris use caizi you for nearly all their Southwest China recipes. But though it is indispensable to Sichuan flavor, caizi you has been almost totally unavailable in the U.S. So we joined forces to promote this essential but little known ingredient, with us importing a test run of the oil and them producing an explainer video about caizi you. 

They did such a good job of selling caizi you to their many followers that we unfortunately sold out of that first shipment quickly. But we have reordered, because it appears that you love this singular taste as much as we do. It is the missing taste of Sichuan food in America, so we're excited to provide it. (Should arrive sometime this summer.)

Caizi you is one of the main ingredients of Burning Noodles, but you can substitute with Chinese peanut oil or even neutral oil until the caizi you is back in stock. The other major ingredients are nuts (preferably walnuts) and Yibin Suimiyacai pickles, and we are happy to report that we have scored a giant delivery of the yacai pickles indispensable for this dish as well as for dan dan noodles and Sichuan dry-fried green beans. 

We're betting you'll love Chinese Cooking Demystified as much as we do and want to support Steph and Chris on Patreon as we do so they can continue to make videos about foods from all corners of China. For just $5 a month, you get additional recipe content, a direct line to them for questions and an ongoing 10 percent discount on ingredients at The Mala Market. 

If we have to be in a lockdown, it could be far worse. We're lucky to live in a time where we can still access hyper-regional dishes like Yibin ran mian from our homes via video and its ingredients through ecommerce. Let's remember to be grateful for what we do have.
Yu Xiang Everything
We've been experimenting with pickling er jing tiao chilies, the chili of choice for pickled peppers and pepper paste in Sichuan, as they are the ideal substitute for doubanjiang when you want a lighter, brighter touch of chili or for those who eat gluten-free. 

Case in point is this plate of yu xiang zucchini, made with our pickled er jing tiao, ginger and garlic in a sweet-and-sour sauce of aged Baoning vinegar and sugar. You can yu xiang almost anything in this irresistible sauce. 

Unfortunately, by the time I got this newsletter out the door, we had unexpectedly sold out of the er jing tiao chilies. But I suggest substitutes in the yu xiang recipe for use until our next chili shipment arrives this summer.
Food Safety
I've got two college students (Fongchong and her friend Grace) cooped up in our house with unexpected time on their hands, so they've been packaging spices many of their waking hours. It has always been necessary to wear masks and gloves to package our red-hot products, to avoid inhaling all that chili dust, but it is even more so now for your safety. 

A couple of you have written us with worries about Chinese imports, so I'd like to share what the experts have to say about it. This well-researched info is from an article by Kenji Lopez-Alt in Serious Eats called Food Safety and Coronavirus: A Comprehensive Guide:
 
"Does Chinese food pose a greater risk than other food? What about imported food and goods?
There's no indication of additional risk associated with imported foods or other products. Viral load decreases on all products with time—whether that's a plastic toy or a bunch of bananas. The increased transportation time for imported goods means that it's far more likely to be contaminated by the person unloading the shipping container or stocking the grocery store shelf than anyone at its point of origin.
While it is true that COVID-19 originated in China, all indications show that the transmission to other countries has been person-to-person, which is why efforts by authorities ranging from state and local governments to the WHO are focused on limiting person-to-person contact, not the movement of goods."
Sichuan Pepper Oil (50 Hertz)
$12.00
This bottle of fresh and tingly Sichuan Pepper Oil is new to our shop, giving you a choice between our larger bottle made by the well-known Yaomazi brand and this smaller-size bottle of small-batch product. It was hand-selected by our friend Yao Zhao, a Chongqing native on a mission to get you to sprinkle Sichuan pepper oil on your pasta, pizza and salads. Try it! 
Further Reading & Viewing
Many of your recently discovered The Mala Market through an article in
 

Food & Wine praising the virtues of Megachef Oyster Sauce
. The magazine promises "this oyster sauce will make any stir-fry instantly delicious. Rich and deeply satisfying, Mega Chef is your new secret ingredient for instant flavor." While experts universally praise it, they have had a terribly hard time finding it over the past few years, so we have sourced it and will continue to supply you via ecommerce well into the future. 
In a first for Fongchong and me, we have been featured in a glossy spread in
EatingWell
magazine. They tell our mother-daughter story
in honor of Mother's Day
and share their favorites of Sichuan recipes we've developed over the years for our blog. (FC's favorite is the sour-and-hot noodle soup,
suan la fen
.) I wish we could share the article with you, but it is available only in print, not online. Check it out if you're a subscriber. 
The Mala Market also got some love in this extremely useful Eater guide: 
Stock Your Pantry With Ingredients from Around the World, Care of These Online Shops.
We are happy but not surprised to see  some of our collaborators and customers nominated for James Beard Awards. Big congratulations are in order to Grace Young for her video 
The Wok Therapist
; Fuchsia Dunlop for her cookbook
The Food of Sichuan
;  Milk Street for their cookbook 
The New Rules: Recipes That Will Change the Way You Cook
;
and
Brandon Jew of 
Mister Jiu's
for Best Chef California. 
Please check out
Grace Young's recent video interviews with restaurant and shop proprietors in Manhattan's Chinatown
. It's necessary viewing about one of the communities most devastated by the outbreak of COVID and accompanying racism and hate crimes. It's "the end of Chinatown as we know it," says Grace. She points to ways to help, especially in episode 3 and upcoming episode 7.