August 2018: Welcoming First Premium Aged Pixian Bean Paste to the U.S.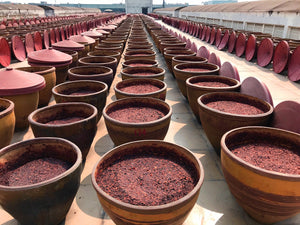 Handmade 3-Year Pixian Bean Paste Has Arrived!
Most of you who cook Sichuan food are familiar with Pixian chili bean paste, since it is rightfully known as the soul of Sichuan food. You've discovered that the best available Pixian doubanjiang—a combo of fermented fava beans and Sichuan chili peppers—comes in a red foil pouch under the name Juan Cheng Pai.

But what you may not know is that Juan Cheng Pai is Sichuan Pixian Douban Co.'s starter douban. It is yi ji, or first-grade douban, aged for one year. What has just arrived at The Mala Market is that company's premium douban, the top-of-the-line, "superfine" version. Its Yi Feng He Hao brand is a small-batch, three-year-old, completely handmade product that has never made its way to the U.S. before. 

Sichuan Pixian Douban Co. traces its founding to 1688 and the Yi Feng He Hao brand to 1853. (I have attempted to further untangle the convoluted history of Pixian douban here, for those of you as curious as I about the 300-year-old process.) Nowadays, the bulk of douban manufacturing has been slightly modernized, but the longer-aged douban is still made the traditional way.

Yi Feng He Hao is aged in 3-foot-tall earthenware crocks (versus long troughs for younger douban) and stirred every day for 1,000-plus days by hand (versus by machine). While the company lavishes attention on all of its douban, the 3-year (and non-marketed 6-year) have helicopter parents who plan their hourly schedules: Sunny outside? Remove the crock's top and let the douban soak up the Sichuan heat and humidity that give it its inimitable terroir. Rainy? Rush out and replace the lids, one by one. 

We are the first and exclusive importers of the 3-year Pixian doubanjiang. We visited the factory in April, the douban was packaged to order last month from the crocks pictured above and sent directly to our store, and now it's ready to be shipped directly to you. 

We hope you'll try it, and do let us know what you think. Your mapo tofu and twice-cooked pork will thank you!

🌶Taylor & Fong Chong 🌶
 
P.S. Our first customer feedback came in an email last night: 
"I just wanted to say that the new 3-year aged chili-bean paste is AMAZING! I made some mapo tofu tonight and it was worlds better than using the standard stuff." ~~Peter O., Somerville, MA
Aging to perfection...
The aging douban pictured just above has been recently hand-stirred, revealing that the beans and chilies break down over the years, but never completely. This pure form of spicy, salty, natural umami includes only broad (fava) beans, er jing tiao chilies, salt and wheat flour (to help with fermentation). It includes no additives or preservatives and the ingredients are grown by the company itself without chemicals—earning its doubans China's Green Food designation. 

A little bit goes a long way in providing deep umami and light heat. You can stir-fry or braise just about anything in chili bean paste, varying the amount of douban to your desired effect. One tablespoon per dish will suffice for just a hint of douban's distinctive flavor; two tablespoons is better if you want to feature the taste of douban (as in twice-cooked pork and mapo doufu); and you might use even more for dishes like water-boiled beef, mala crawfish, or hot pot.
 
Starter Mala Collection
$45.00
We've updated our Starter Mala Collection to include premium 3-year chili bean paste along with premium Sichuan peppercorns, facing heaven chilies and fragrant-hot ground chilies. It comes with three recipe cards to get you started, and there are loads more on our

 

blog.