April POM: Super Sale on Facing Heaven Zi Dan Tou Chilies + Recipes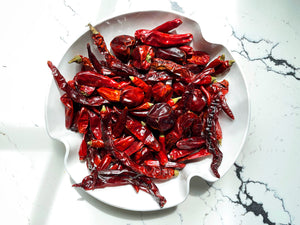 Chiliheads Rejoice
Greetings, Friends of The Mala Market
April's Product of the Month—the one we've put on super sale for this month and this month only—is zidantou chao tian jiao, aka bullet-head facing heaven chiles.
Get 'em while they're hot and 40% off! 
These are the go-to, workhorse chili of Sichuan, with the perfect level of heat for classic Sichuan dishes. We're also revisiting some of those classic recipes to demonstrate the various ways that dried chilies are used in Sichuan cooking and how to get the most from them. 

Enjoy the heat!
🌶 Taylor & Fongchong 🌶
 
Facing Heaven Zi Dan Tou Chili (Chao Tian Jiao)
$7.00
Chao tian jiao, or facing heaven chilies, are so called because they grow upward toward the sky. There are many types of facing heaven chilies, but these zi dan tou, or bullet head, chilies are the most popular in Chengdu nowadays. 

Normally $12, they are 40% off during the month of April. 
Sichuan Dried Chili Collection
$45.00
For the first time, we've gathered up all our chilies into one collection with a built-it, ongoing 10% discount off individual prices. 

Chilies are the

 

là to Sichuan pepper's má,

 

and Chinese cooks know the best Chinese chilies are grown in Guizhou province, which has the ideal temperatures and climate and wide swaths of land far from big-city pollution. 

When shopping for chilies, you'll know you've got your hands on fresh peppers from a recent harvest if they are a deep-red color without faded, yellow spots; soft and pliable instead of dry and crisp; with a hot but fruity fragrance. 

In Sichuan, chilies are chosen according to their properties and functions, with valued characteristics beyond heat. Take your pick for stir-fries, and mix and match any or all of them to make your ideal ground chili blend for chili oil and chili crisp.
Sichuan Hand-Torn Cabbage Stir-Fry

Kathy's recipe for Sichuan hand-torn cabbage is the perfect place to start in learning how to stir-fry with ma jiao (numbing pepper) and la jiao (chili pepper). 

"There are two ways to approach blooming the aromatics," she writes. "The usual route is to add the Sichuan pepper, dried chilies and sliced garlic to hot oil all at once as restaurants do (the fresh garlic will help  prevent the huajiao and dried chilies from burning at such high heat). An alternative option is to add the huajiao first to cold oil, then strain them from the oil once it heats up and starts to smell fragrant. At this point, you would proceed to add the garlic and dry chilies and stir-fry as usual, reserving the huajiao for garnish.
If you dislike picking around the peppercorns, you can also leave them out entirely once they have flavored the oil. However, I think the strain-and-garnish method is the best way to preserve and showcase the brilliant red color and six-petaled flower shape of our special-grade da hong pao Sichuan pepper. In my experience, the slow cold-oil start infuses that tingly, citrusy flavor through the oil much better than the 2-minute flash fry in the usual method." 
 
Chongqing Chicken With Extras
When I first created this recipe, in 2017, I called it Chongqing Chicken Like It's Made in Chongqing because I had recently returned from a trip there and was trying to replicate an incredible la zi ji, or chicken with chilies, as it's also known, I had experienced. In truth, this pumped-up version of Chongqing chicken was probably just one restaurant's version, as everyone seems to make their own tweaks to the dish, but it is my favorite Chongqing chicken—especially this
newly updated and revised recipe
.
While normal la zi ji is simply small bits of fried chicken in an avalanche of chilies, huajiao and aromatics, this version has two irresistible bonus ingredients. The first is small bits of
zhacai, the pickled mustard condiment
that originated in the Fuling district of Chongqing and is ubiquitous in the city. And the second is little bits of fried
chicken skin

 
that were a very deliberate addition in the original. If you like that sort of thing, then I don't have to convince you how special this rendition is. 
I like to use moderately hot
deng long jiao, or lantern chilies
, for this dish, both cut in half to set a few seeds loose in the dish and create heat, and left whole so that the dish looks closer to the ideal: a big plate of chilies with some chicken bits hidden among them. (You can of course cut down on the number of chilies even more than I did if you're not trying to shock and awe your diners.)
This recipe for the misleadingly named "water-boiled beef" exemplifies another frequent treatment of dried chilies to create intensified flavor. Shui zhu is a whole category of dishes where a tender poached protein such as beef steak, pork loin, fish or tofu swims in a sea of red mala soup. What takes it over the top however, and makes it both visually and aromatically stunning, is the crowning touch: A big pile of minced dried chilies and Sichuan pepper is placed on top of the soup and doused with hot oil, which sends the mala into a frenzy of bubbly, toasty, chili goodness. 
This dish calls for an abundance of chilies, so in
this newly updated and revised recipe for shui zhu niu rou
 I use a combination of mid-hot
zi dan tou
and slightly milder, fruity er jing tiao to moderate the heat. (The recipe was published so long ago,
Sichuan's secret weapon roasted rapeseed oil
 was not even available in the U.S., but now that we import it, caiziyou will make your shui zhu dish legit.) 
Pickled Er Jing Tiao Chilies
While most Sichuan dishes rely on dried chilies, some call for pickled chilies, and specifically pickled er jing tiao. We sometimes have these pao lajiao available in our shop, but they are difficult to source, so we often do not. Rather than use another pickled red chili, such as the way-too-hot Hunan salted chili more widely available, we prefer to make our own.
There's no chili similar to er jing tiao in the U.S., so over the years we have found that the best substitution for a pickle made from fresh jing tiao is our
dried er jing tiao
. They are such soft, plush dried chilies that they plump up nicely in the pickle jar in just a couple days.
Note that these are
naturally fermented chilies
, not vinegar pickles, and are left in the brine only a few days, as they are not meant to be super sour. They are not exactly like fresh pickled chilies, but they retain the same taste and function when cut up for cold dishes such as
wood ear salad with pickled chili
and stir-fries like
fish-fragrant pork slivers
.