January 2019: A Chinese New Year collaboration and giveaway with Stir-Fry Guru Grace Young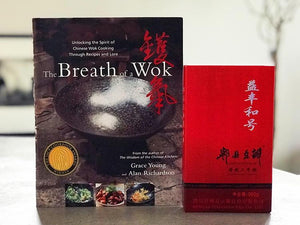 Happy Year of the Pig!
Hello, Friends of The Mala Market!
The Year of the Pig starts February 5, and we're here to help you gear up for the celebration. 

Preparations for Chinese New Year begin with cleaning the house from top to bottom and offering some treats to the Kitchen God. We can't (and don't want to) help you with that first one, but we can supply a Kitchen God, the deity who watches over cooking and family from his perch in the kitchen altar and reports back yearly—a week before the Lunar New Year—to the uber god on how you've spent your year. 

Aside from the eavesdropping, we can all use a little good cooking karma, which KG also provides. Although the Kitchen God tradition is waning and it's difficult to find one in China nowadays—much less one as lovely and carefully made as the one above—a friend of The Mala Market had these specially made from vintage ceramic molds to bring the tradition back. 

Let the Kitchen God watch over you in 2019 as you make all the classic Sichuan pork dishes below or partake in the merriment of hot pot with friends and family. 
Xin nian kuai le!
🌶Taylor & Fongchong 🌶
 
Piggy Recipes: Sichuan BBQ Spareribs 
The Year of the Pig puts us in the mood for pork, China's tastiest meat.  One recipe we'd never tackled was Chinese pork ribs, so we asked our friend Grace Young, an expert on Cantonese cooking methods among many other things, how she prepares the classic Cantonese barbecue spareribs we all know and love. She not only suggested a recipe but then adapted it to create a Sichuan version, drawing on ma (Sichuan pepper) and la (Pixian chili bean paste) flavors to develop a slightly sweet-and-spicy and wholly addictive BBQ sauce for these oven-roasted treats. 
 
Great Book Giveaway!
Most of you know that Grace Young is America's Stir-Fry Guru, having written three award-winning cookbooks that focus on stir-frying and all the other things you can do with a wok. In 2018, her classic The Breath of a Wok  went into its 11th printing, an impressive and rare accomplishment these days.

There are many reasons for the book's staying power. It is the most thorough guide you'll find to the purchase, use and care of a wok, helping you achieve "wok hay," or wok qi, the life force a properly used wok imparts to the food. The recipes and tips she gathered from both master chefs and Chinese home cooks help you understand, as Grace writes, why today "the wok remains the center of family life in much of China. It is the iron thread that connects two thousand years of Chinese culinary history."

Because we want you to make the Sichuan spareribs above as well as the recipes from Grace's masterpiece, we're doing a giveaway! Grace will send two lucky winners a signed copy of The Breath of a Wok and The Mala Market will send them a box of premium, handmade 3-year Pixian doubanjiang. 

All you have to do is follow both @stirfrygrace and @themalaproject on Instagram (if you haven't already) and tag a friend who loves Chinese food on the post about this giveaway. I'll do a random pick to choose a winner on Chinese New Year, February 5, and we'll announce the winners and message them on Instagram that day. (U.S. addresses only, please.) Good luck! 
 
Hot Pot Is Made for Celebration
In China, they'll be celebrating the lunar new year for a couple weeks, a time of family gathering and feasting. One of the easiest and more entertaining ways to gather and feast is with hot pot. We are, of course, partial to hot-and-numbing Sichuan mala hot pot, which will warm you up in a hurry during a frigid February. We've got all the ingredients you need to make a hot pot that tastes like it would in Chengdu or Chongqing, and we also carry this gorgeous copper pot for dining in style. A superb heat-conductor that will gleam for generations to come, it's a splurge that's totally worth it for true hot pot fans. Limited quantities are back in stock! 
 
Piggy Recipes: Twice-Cooked Pork
We cannot celebrate the Year of the Pig without mentioning—and eating—Sichuan's favorite pig dish, hui guo rou, or twice-cooked pork. While dan dan noodles or gong bao chicken may be the most popular Sichuan dishes in America, twice-cooked pork is everyone's fave in Sichuan. I say this not just from observation over years of eating there, but also because of a tidbit I read last year that validated my hunch. The Los Angeles Times held a Sichuan Summit and invited several top Sichuan chefs from Chengdu and Los Angeles to participate in a panel discussion. When Jonathan Gold asked them their personal favorite dish, they unanimously chose hui guo rou. 

Why? Well, I think it's because there's no way to top fatty pork in a sauce of three types of fermented bean products: Pixian doubanjing, Sichuan sweet wheat paste, and preserved black soybeans (douchi). Amiright? 
 
Piggy Recipes: Yu Xiang Pork
Yu xiang pork is another classic Sichuan pork recipe. It uses some of the same ingredients as twice-cooked pork, but tastes totally different—still umami-spicy from the Pixian chili bean paste but more sweet and tangy from the sugar and Zhenjiang vinegar. When I first worked on this recipe, celtuce was harder to find in the U.S. and I substituted celery. But now that it's more widely available, try this dish with celtuce, woodear mushroom and lean pork and you'll be hooked.