November 2021: DIY Chili Crisp Kit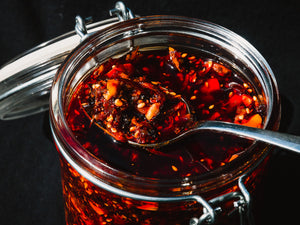 DIY Chili Crisp Kit
Greetings, Friends of The Mala Market!
What is the condiment of the year? Chili crisp is the condiment of the year!

We lost track of the number of new chili crisp brands to hit the market during the pandemic, but we say the more the merrier, because they are all different and all tasty in their own way. 

But you know what? Yours will be even tastier! That's because chili crisp is infinitely customizable, and yours will be customized to your taste. All you need are the basic—and still for the most part secret—ingredients that make Sichuan chill crisp unique, and then you're off to the races creating your own personalized version with everyday add-ins such as garlic, shallots and sesame seeds.

Kathy and I spent weeks and weeks testing chili crisp recipes. She pored through the Chinese Internet for inspiration and info, and we both relied on Sichuan taste memories and tested the heck out of both ingredients and methods until all our friends and families said, That's the one! (As a funny aside, Kathy's Sichuan-American family tested the various batches head-to-head on mantou, or steamed buns, while we tested ours on tortilla chips—chili crisp is a cousin to, and probably inspiration for, Mexican salsa macha, after all. It's equally good on both!)

We were aiming for a Lao Gan Ma-like sauce, of course, since it is the original and best chili crisp. But as great as it is, after you've eaten it on everything for a decade (as Fongchong has), you're looking for a variation, a new take on the OG. 

Fortunately, The Mala Market has the hard-to-source ingredients that are must-haves for mala chili crisp, and we have bundled them into a kit that also includes our well-tested recipe and our favorite jar for storing chili crisp or chili oil. This functional beauty holds 17 ounces, so your creation will not only be better and fresher, it will be significantly bigger than store-bought chili crisp and chili oil, which ranges from 5 to 8 ounces. Plus the kit makes two 17-ounce batches of chili crisp or aromatic chili oil (with leftovers)! 

Ready to make your own chili crisp? Perhaps you have a friend who'd like to show off their chili crisp chops as well? Then this is the perfect gift for you or them. 
🌶Taylor & Fongchong 🌶
 
P.S. We have a limited number of these kits for their launch, but will quickly restock if needed. 
 
DIY Mala Chili Crisp and Chili Oil Kit
$69.00
We have bundled the hard-to-source ingredients that are must-haves for mala chili crisp, and you'll just add easily sourced aromatics and nuts to create your own unique crisp.
The star ingredient, roasted rapeseed oil, or

 

caiziyou, is an essential component of Sichuan gastronomy. There is no substitute for its fragrance or use. Caiziyou's high adhesive quality also means chili oil produced with it clings better to all your noodle, chaoshou and liangban (cold) dishes. 
Our Chengdu-made fragrant-hot

 

ground chili blend includes the chilies Chengdu locals use for fragrance, color and spice: er jing tiao and facing heaven zi dan tou. The addition of xiao mi la kicks the heat up another notch.
Whole five spice, including cassia bark, star anise, fennel, clove and our beloved single-origin Sichuan pepper, is used to infuse the oil.
Additional

 

huajiao

 

is included in the kit—this is mala

 

chili crisp, after all, and you'll need ground Sichuan pepper to provide the numbing power.
Sichuan Pixian Douban Co.'s

 

fermented black soybeans

 

bring an irresistible umami.
The large Bormioli Rocco glass storage jar with latch lock is the prefect shape and size for storing chili sauces.
Meticulously tested, step-by-step instructions for chili crisp are printed on a large recipe card.
Aromatic Chili Oil 

If you're scratching your head about the difference between chili crisp and chili oil, the short answer is that chili crisp is meant to be chock full of chili flakes, aromatics and assorted other crunchy flavor-bits, while chili oil has a much higher proportion of oil to solids. Chili crisp is used mainly as a condiment, while chili oil is used as both a condiment and a component of sauces for noodles, dumplings and salads. 

There are as many different recipes for making chili oil as there are cooks, but Kathy recently shared the very particular method that Sichuan chefs use to extract the best possible taste, fragrance, color and heat from just two ingredients: roasted rapeseed oil and ground chilies. 

Her new recipe is a variation on that foundational one that calls for flavoring the oil with aromatics to create a

 

xiangla hongyou, or aromatic chili oil, while adhering to the temperature and timing dictates of simple chili oil. 
 
Xiao Mi La Chili
$12.00
Xiao mi la, our smallest and hottest chili, is back in stock, after a long absence. In fact, the 2021 harvest of all four of our chili varieties has arrived!

 

They are fresh, soft and pliable; blemish-free and deep red; and deeply, fruity fragrant. 

If you like to toast and grind your own chilies for chili oil, we suggest a mix of

 

facing heaven zi dan tou

 

for heat and color;

 

er jing tiao

 

for fragrance and color; and

 

xiao mi la

 

for more heat. But some chefs, like Sichuan's Wang Gang, use

 

lantern chilies

 

(deng long jiao) for fragrance instead of er jing tiao. (Here is his great chili oil video tutorial.) Experiment to find your own blend and proportions. 
 
Second Sister Rabbit Cubes

I was so excited when Kathy proposed this recipe, as I've eaten it often both in Chengdu and at L.A.'s Chengdu Taste, where it has made quite a name for itself, despite its funny name. 

One of the best uses for aromatic chili oil is Sichuan liangban, the category that includes cold-dressed dishes and salads such as

 

Second Sister Rabbit Cubes. The great majority of these dishes, which start a meal or even stand in as a light meal, are dressed in a savory, spicy sauce built on

 

aromatic chili oil. Less common, Mala Mama's rabbit liangban features not just aromatic chili oil but also 3-year aged Pixian doubanjiang and fermented black soybeans—a triple whammy of flavors that turns out to be just right for rabbit.
 
Complete Sichuan Pantry Collection
$130.00
This collection is a

 

perennial bestseller

 

for a reason: It features premium, full-size versions of every specialty ingredient needed to cook classic Sichuan food. It includes products exclusive to The Mala Market and nine of our well-tested, beautifully printed recipe cards for the most-loved dishes of Chengdu and Chongqing. 
 
Mala Market on the Move

Oct. 31 was a bittersweet day for Fongchong and me, as we moved out of our first-ever Mala Market building. Last September, during the height of the pandemic, we took a leap of faith and signed a lease for this 1930s mini warehouse lined with 16 large windows that was two minutes from our home. It was a glorious space even after we filled it to the rim with pallets of Sichuan products. But within mere months we realized that it was too small; that we had to keep overflow pallets in someone else's warehouse; and that we'd be forced to move if we wanted to grow.

So months ago we signed a lease for a much larger space—enough room for a spice packing studio, fulfillment center, warehouse and

 

retail shop—close to downtown Nashville. But the buildout is taking much longer than expected (of course). So this month we made the move to a temporary space and will move to our new home in the new year.

We're taking another leap of faith, because

 

you,

 

our loyal followers and customers, have made us believe we should and we

 

can. Thank you for your love of Chinese food and your faith in us to bring you the best ingredients for it!