October 2021: Hot pots, Baoning vinegar and Sichuan pepper ice cream!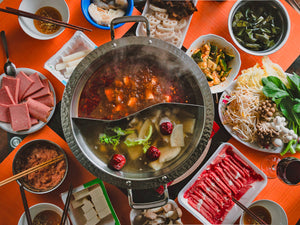 Fall Refresh
Greetings, Friends of The Mala Market!
By now you've probably heard how completely and utterly messed up the global supply chain is, but we at The Mala Market are thanking our lucky stars—and our ace Chengdu export team—that our shipments continue to arrive and that we miraculously have very few products out of stock. (Of course, we've paid six times the pre-Covid price to get them here, but that's a whole other story...)

Right now we are celebrating the return of our custom-made stainless-steel and brass hot pots just in time for real hot pot weather. We also got a new shipment of Baoning vinegar that—hallelujah!—no longer leaks, a new shipment of Yaomazi Sichuan pepper oil that is stunningly fragrant, and a trove of organic sesame paste that is fresh, creamy and easily stirrable. 

By next month, another large container should arrive with new products we'll add to the store in time for your holiday cooking and gifting. So if excellent homemade Chinese food is in your plans, you know where to go!
See you at the Market!
🌶Taylor & Fongchong 🌶
 
P.S. Our apologies that the Sichuan pickle jars we introduced last month sold out so quickly. That was a delightful surprise, so we'll replenish as soon as possible and hope to get them here by the new year. 
 
Yin-Yang Hot Pot (Heavy Gauge Stainless Steel)
$139.00
Are you and your home more stainless or brass? This stainless pot is heavy, substantial and perfectly formed, unique but subtle in design...
Yin-Yang Hot Pot (Handmade Brass)
$119.00
...While this brass pot is about the slightly imperfect feel of a handmade object that will positively glow over a fire and gain its own warm patina with use and age
Sichuan Pepper Ice Cream

So it may sound odd, but believe me when I tell you that this

 

Sichuan pepper ice cream

 

is surprisingly, ridiculously good. We think of Sichuan pepper, or hua jiao, as powerful and spicy and numbing. Which it is, when delivered straight, or in oil or broth. Yet when it is infused in cream, hua jiao—which translates as flower pepper—shows its softer side, becoming floral and subtle (but in no way shrinking) and beguiling. 

While I topped this batch with our beautiful

 

da hong pao Flower Pepper, I suggest making the ice cream base with the gong jiao Tribute Pepper,

 

which is more sweetly floral than the da hong pao variety and a magical addition to desserts. Then—if you want to go for ultra, uber great—you can add our optional

 

brown-sugar sesame paste swirl. Swoon. 
 
Baoning Handcrafted Vinegar, Aged 10 Years
$25.00
We have a new shipment of Baoning handmade vinegar from Sichuan that is leak-free! The manufacturer solved the problem with the cap, and neither the 3-year Baoning blend nor this 10-year aged version should leak during transit to you. Thank you so much

 

for your patience with this vinegar over the past few months and for agreeing with us that a little leak was a small price to pay for such a uniquely tasty vinegar—fermented from six grains and a Traditional Chinese Medicine starter according to a millennium-old recipe, for a savory and complex brew. 
Hot and Sour Potato Stir-Fry

As simple and homey as this dish is, we never eat at a Sichuan restaurant without ordering it. And that is even though we make it at home all the time. Because it is just that satisfying. If you've never made or tasted this beloved Sichuan potato treatment, know that is nothing like the Western treatment of a spud. The potato slivers are really just barely cooked, stir-fried with Sichuan pepper and chilies until no longer raw but still crisp, then tossed with a bit of black vinegar for a hot-and-sour spark. 

This is Kathy's family's rendition of

 

suan la tudou si, and Mala Mama recommends using the

 

3-year Baoning, which is a bit more tart than the smooth 10-year, for this dish, 
 
My Shanghai (Cookbook by Betty Liu)
$30.00
It is a momentous day when we add a new regional Chinese cookbook to our store. This ode to Shanghai cuisine was actually published late last year, but then it immediately sold out its first run and the publisher didn't get it back in stock for many months. But we waited patiently, because it's rare when an English-language cookbook focusses on just one of China's extremely diverse regional cuisines instead of trying to make the author an expert on all of them. 

While we at The Mala Market are no experts on Shanghai food, we do carry a very high percentage of the ingredients that are used to make it, so we are grateful that blogger and photographer (and surgeon!) Betty Liu has shown us the way in this book. Her recipes come from both her and her husband's parents and extended families in Shanghai and the neighboring provinces of Zhejiang and Jiangsu. They include

 

xiao long bao soup dumplings, red-braised pork belly, scallion-oil noodles and drunken chicken, to name just a few delectables.