October 2022: 6 Yr Zhenjiang Vinegar and Update on Brick & Mortar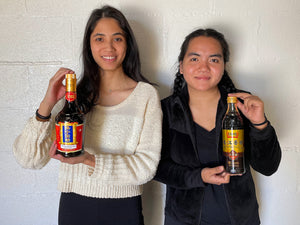 Baoning vs Zhenjiang

 
Greetings, friends of The Mala Market
I've been drinking a lot of vinegar recently, trying to discern and put into words the differences among the Four Famous Vinegars of China. I've tried them by dipping and licking my fingers, taking sips, and even adding to sparkling water as a drink—because I do love a good vinegar drink, just like many folks in parts of China. 

To be clear, I am drinking vinegar, not chi cu, or eating vinegar, which is a Chinese metaphor for jealousy. Though if you're a vinegar lover, you may chi cu when you know I've been comparing a 6-year Zhenjiang, a 9-year Shanxi and a 10-year Baoning—the best of the best of Chinese vinegars. 

Along with Baoning, the pride of Sichuan, we are again carrying an aged version of eastern China's well-known Zhenjiang (Chinkiang) vinegar. (Above, Fongchong and Mary take a break from packing your spices and orders to be our spokesmodels for these two.) By the end of the year, we'll add northern China's Shanxi as well (and maybe someday soon the southern Fujian red vinegar, completing the map of the Famous Four—let us know if you're interested in this one). 

After all this tasting, however, it's still hard to put into words what makes China's grain vinegars so unique from the world's other vinegars and from each other. Baoning, Shanxi and Zhenjiang are all made in a similar process from multiple grains, but each is unique in its use of regional ingredients (including, in Baoning's case, a miix of culinary and medicinal herbs and spices in its qu starter) and proprietary recipes that stretch back literally hundreds of years. There are some tasting notes below, but as I've said before, whiffing a vinegar aged for many years feels a bit like walking into an ancient vinegar workshop and breathing in the centuries.

Also returning is our organic stone-ground sesame paste. With it and some Baoning vinegar, you're well on your way to some real Sichuan dan dan mian.

And finally, if you read to the bottom of this newsletter, you'll be rewarded with a blow-out sale on one of our top-selling products. You know we never do this, so check it out to learn why we are this one time. 
🌶 Taylor & Fongchong 🌶
 
P.S. We've got a container coming in very soon—it's currently on a train from the Seattle port to Nashville—with some exciting new things from Sichuan! Open that next newsletter to see what they are. 
 
Zhenjiang Handcrafted Vinegar, Aged 6 Years (Chinkiang Black Vinegar)
$18.00
Zhenjiang vinegar is from Zhenjiang City—formerly romanized as Chinkiang—in the eastern province of Jiangsu, which is not far from Shanghai. The vinegar is still often called Chinkiang in the West.

Hengshun, established in 1840, is the major producer of Zhenjiang vinegar, having won numerous brand awards in China over the years. Its vinegar is all natural, fermented from glutinous rice and wheat bran, and goes through a 50-day, 40-step process before it is aged in earthenware crocks for at least half a year for the supermarket version and much longer for premium versions—specifically 6 years for this one.
Sichuan Vinegar Chicken
No, it's not famous, or even almost famous, but this home-style vinegar chicken has been a staple in Sichuan homes like Kathy's for generations. It must be something about the velveted, succulent, just-cooked chicken in a delicate vinegar sauce with crunchy veg (like our beloved celtuce and cloud ear fungus) and pickled er jing tiao chilies.

Cook this for your spice-avoiding friends and family and make yourself happy at the same time. With its added sugar and salt (in small amounts), Zhenjiang 6-year plays well with these other flavors. And, of course, caiziyou cooking oil and Shaoxing wine go in almost every stir-fry. 
Zhenjiang or Baoning?
Zhenjiang is only one of China's Four Famous Vinegars, but it is by far the most famous one outside China. The mass-market young Zhenjiang vinegar has been available in the West for decades, and even the 6-year version has been in the U.S. for a few years, while the premium, long-aged versions of the other famous vinegars were not. 

Because of that, many recipes written in the West specify Zhenjiang vinegar when a black vinegar is called for in a recipe, regardless of the region the dish is from. But in reality, Zhenjiang is not synonymous with black vinegar in China, and each region uses one of its own local or regional vinegars in its dishes. The Mala Market was the first to import an aged Baoning vinegar from Sichuan, and we will soon bring in a super-aged Shanxi vinegar. 

The four famous vinegars all taste noticeably different from each other and from other Chinese vinegars, so ideally you'd match the vinegar with the specific regional Chinese cuisine you are cooking: Zhenjiang for xiao long bao, sweet-and-sour ribs and other Eastern dishes; Baoning for Sichuan cold sauces, yuxiang and gongbao dishes, and suan la fen; Shanxi for Northern-style boiled dumplings and noodles; and Yongchun for Southern coastal seafood dishes. 

Alternatively, you could pick your vinegar by its role in the dish. Because Zhenjiang has a bit of added salt and sugar, it is great for cooking. Kathy prefers the aged Zhenjiang in her recipe for hot and sour shredded potato, as do I for my baby bok choy in a tart oyster sauce dressing. We like the more savory, pure and subtle Baoning for dipping dumplings and dressing cold dishes, such as lotus root salad and Sichuan spicy cold noodles.
Having said that, the premium aged Chinese vinegars are generally interchangeable in Chinese cooking. If you only have room for one Chinese vinegar, just choose the one most to your liking. But if you would like to have the same variety that you have in Western vinegars, find room in that pantry for two or more! 
 
Organic Stone-Ground Chinese Sesame Paste (Zhi Ma Jiang)
$14.00
New and fresh and easily stirred!

Sesame paste has a fairly long shelf life, but it is definitely easier to use when freshly made like this batch.

 

Unlike major-brand peanut butters, which use additives like hydrogenated vegetable oil or palm oil to keep the nut solids and oil from separating, natural nut butters and seed pastes such as this one—which has no ingredients other than organic sesame seeds—will separate more and more over time. 

We recommend that you do yourself a favor and stir the contents thoroughly when you first open the jar—going so far as to use a blender or food processor if you can—which will make the paste easier to stir each time you use it throughout its life. 

This deep, rich, toasted sesame paste is absolutely worth the trouble, as these reviewers make clear:

Delicious! Like turbo tahini. I look forward to amping up the sesame flavor in all my Chinese cooking.

 

Rory C.

I am from Shandong. This is the most authentic sesame paste I ever had in the US. Sylvia W.

The Mala Market Zhi Ma Jiang has absolutely transformed my experience of sesame paste flavor and strange flavor dishes; it is hard to imagine going back to versions based on tahini. Timothy D.

Delicious. Better than any store bought sesame paste. Perfect for dan dan noodles.

 

Erin F. 

Love it so much that I even make a dessert out of it (spread a thin layer on a crepe, sprinkle some crystal sugar on top, then fold and enjoy~ ).

 

Iris H.
 
Roasted Rapeseed Oil (Caiziyou)
$10.00
(Normally $16)

CURRENT STOCK CLEARANCE SALE!

Making a big batch of chili oil for holiday gifts? Already love our caiziyou and know its toasty taste and high viscosity make it the best base for chili oil and crisp or any Chinese stir-fry? Or maybe you've been curious about Sichuan's traditional cooking oil but haven't yet taken the plunge to purchase?

Then this sale is for you!

The last time we ordered a big load of caiziyou, it missed the boat. As in, it literally would not fit into the container, so our team in China didn't ship it. By the time it caught the next boat and got to us several months later, a good chunk of its shelf life had passed, and we just haven't had the time we had planned on to sell it. 

But we cannot bear the thought of throwing it away, so we are running a super sale on it, while supplies last or until the next shipment arrives. It is still at its best until mid-February 2023, and it's 40% off!
Brick and Mortar!
❣️Attention Nashville shoppers—and those traveling to Music City❣️
Our Downtown Nashville building is 95% complete and we finally have a sign! While we don't yet have regular retail hours, we are working toward that. In the meantime, here's how you can shop with us IRL. 
Order online with a local address and choose PICK UP at checkout. We'll let you know when your order is ready and you can pick it up Mon-Tues from 11-2 and Wed-Sun from 1-5. 
Contact us by email to make a shopping appointment if you want to see or sample products before you buy. We will do our best to accommodate your schedule if at all possible. 
Follow us on Instagram or Facebook to be alerted when we have the occasional pop-up hours and events. 
The building with the sign is our workshop/warehouse and the one to its right is the retail space, which also houses

 

Suraj Spices and Teas. Suraj carries an incredibly diverse range of world spices, teas and specialty ingredients such as Indian meal kits, rare oils and local honeys.

Our two stores make 943-947 4th Ave South

 

Nashville's one-stop shop for global cooking. Suraj is fully open, and The Mala Market hopes to welcome you with regular hours in the Year of the Rabbit.