February POM: Super Sale on Hoisin Sauce + Hoisin-Forward Recipes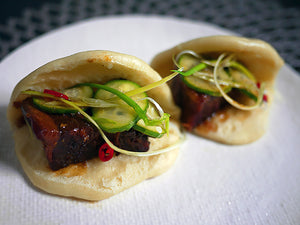 Happy Birthday, Hoisin
Greetings, Friends of The Mala Market
After
six years(!)
in business our lineup has grown to be fairly extensive (some 70 products and counting!), and we know it's hard to keep track of everything you wanted to try.
So occasionally we're going to highlight one product in The Mala Market pantry and put it ON SUPER SALE. We'll also remind you why it's special and serve up several recipes to go with it. We hope this will give you a chance to try it if you never have before or stock up if you already love it.
You all know we rarely run sales, so you can think of this as more of a birthday party for some of our babies. Everyone deserves to be celebrated once a year, right?

Let's party!
🌶 Taylor & Fongchong 🌶
 
Guangwei Yuan Hoisin Sauce
$7.00
Say Happy Birthday to Guangwei Yuan Hoisin Sauce! Though we are celebrating its garlicy-sweet umami sauciness, you get the gift! For the rest of this month, and this month only, our hoisin sauce—normally $12—is 40% OFF. 
There's a reason hoisin sauce is one of the best-known Cantonese sauces, and that's because it's a condiment as well as a cooking sauce and is designed to taste great right out of the jar. It takes a fermented soybean sauce and adds sugar, garlic, sesame and spices, resulting in a sweet and tangy taste that is instantly recognizable from Cantonese BBQ, pork-belly bao (see photo above) and dipping sauces.
Our sauce is made in hoisin's home province of Guangdong and is new to America, as we were looking for a more interesting alternative to the grocery store brands. We picked the Guangwei Yuan brand not only for its more lively taste but for its appealing reddish-brown color.
Below are some recipes in which hoisin sauce is vital. Other fab uses are a smear of hoisin in American-Chinese dishes like moo shu pork pancake wraps or lettuce wraps full of roasted meats or vegetables.
Want to wow someone on Valentine's Day?
Nothing says love like a project that produces a rare and coveted treat like cha siu bao.
Yes, we've got Chinese chocolates (
here
and
here
), but to show your true devotion you've got to invest some time and effort.
Making cha siu bao isn't necessarily hard, but it does have several steps: making the fluffy, yeasty dough; making the juicy, caramelized cha siu roast pork; making the sweet but not too sweet sauce; and putting them altogether in one perfect package. The good news? You'll make enough bao to keep some, give some, and freeze some—the freezer stash reminding the object of your affection of your affection for days or weeks to come. 
In Kathy's multiple experiments developing this recipe, she found that, "As it turns out, the heart of a great chasiu marinade begins with oyster sauce and soy sauce. I'm using 
Megachef oyster sauce
(gluten-free!) and
Zhongba light
and
dark soy sauces
, supplemented with a very special
hoisin sauc
e
(completely new to the USA!). Many mainland chefs omit hoisin sauce altogether, but The Mala Market's
Guangwei Yuan hoisin
has an important kick to it... red yeast rice powder! That's what gives this hoisin sauce its brown-red coloring, and it's also the cherry-red all-natural coloring traditional restaurants use in chasiu.
Red yeast rice powder is a bit of a niche ingredient however, so while you may not keep it on hand for many other uses, you'll definitely reuse the hoisin sauce." 
Grace Young's Sichuan Spareribs

A few years ago we collaborated with the great Grace Young to celebrate Chinese New Year with some Chinese spareribs. Grace created this slightly sweet-and-spicy and wholly addictive BBQ  sauce using The Mala Market's Sichuan ingredients, then followed her tried-and-true method of making Cantonese BBQ ribs.

You really can't go wrong with a sauce made of  3-year Pixian doubanjiang, the fount of Sichuan umami, along with sweet wheat paste, hoisin sauce and a few other pantry staples, which together create a sticky, thick mala glaze for the ribs. 

Grace cooked her oven ribs to Chinese tastes, roasting under high heat for a short amount of time to produce a rib with chew. I then used her Sichuan sauce to cook ribs low and slow like they do in here in the South, in the oven about six times longer for a tender bite. You should do you, going either high and fast or low and slow depending on your desired mouthfeel. But don't mess with the sauce! It's perfect as is. 

And for those who don't know, Grace is not only the Stir-Fry Guru, she is also the 2022 James Beard Humanitarian of the Year, for her unflagging "work to save America's Chinatowns amid Asian American and Pacific Islander (AAPI) hate during the COVID-19 pandemic.")

She is our hero.
Though
hoisin sauce
does love pork (see everything above), it also showers flavor on other proteins and vegetables. Here I used it as basically the only seasoning on a super-easy sheet-pan dinner of salmon and asparagus. 
I got this brilliant idea from our friend Maggie at Omnivore's Cookbook, who created this
hoisin-olive oil glaze for grilling (or broiling) asparagus
. I just gave the salmon fillets the same glaze and cooked them together on the same sheet pan. 
Make a glaze of 2 parts Guangwei Yuan hoisin sauce and 1 part extra virgin olive oil.
Toss the asparagus in the sauce and brush the salmon with it as well.
Arrange on foil-lined baking sheet with nothing touching and salt everything.
Bake at 450 degrees for about 5 minutes; then broil for about 5 minutes.
Watch closely and check often, as your salmon thickness and oven temp may vary from mine. 
Fongchong is not a lover of either asparagus or salmon, but for her eating is all about the sauce—so this got eaten! 
 
TIDBITS
America's Test Kitchen published a

 

definitive piece on world vinegars. Find a discussion of our 10-year Baoning vinegar in the rice vinegar section. I provided info on Chinese vinegars but also learned a lot from this piece!
I may book a flight soon just to eat at these two new L.A. restaurants, both in the San Gabriel Valley, of course:

 

Luyixian,

 

drawing from both Shanghai and Sichuan cuisines (just look at that braised pork!); and

 

19 Town, a fancy and fanciful take on Sichuan food from the former chef of

 

Sichuan Impression, which, btw, also has a lovely new SGV space. 
We've noticed that there are numerous small companies selling gorgeous

 

Chinese teaware, but very few offering interesting tableware. Let's fix that! We're working with a

 

Jingdezhen

 

porcelain workshop on the design of some Chinese tableware. If this interests you, hit reply to let me know the specific pieces and style you'd like to see us carry. For example, dinnerware or serveware? Rice bowls or noodle bowls? In traditional Chinese patterns or modern? Colorful or minimalist?