July 2022: Sweet wheat paste and Sichuan homestyle recipes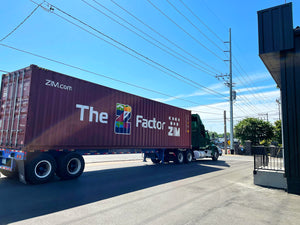 Back in Stock!
Greetings, friends of The Mala Market

It takes forever nowadays—six months from the time we place the order until we receive it, vs. three months pre-Covid—but eventually those containers of Sichuan goodies do show up! We had our first 40-footer delivered to our new warehouse last week (see above photo), so we are fully stocked.

We've got fresh new batches of Zhongba soy sauces, Baoning vinegars, Pixian fermented bean products, Sichuan pepper oil and things that have been out of stock like chow fun noodles and hot pots. Details below.

Supply-chain chaos persists, but your Sichuan pantry will not be bare!

🌶 Taylor & Fongchong 🌶

P.S. Rolling in by August? Those fantastic hand-blown glass paocai jars—Sichuan pickle jars for natural fermentation. 

Oh, and Fongchong and I are taking a much needed break and eating trip to NYC, so we won't be shipping orders the last week of July. But we will hustle upon our return to get all orders out as quickly as possible the week of August 1. 
 
Suanni Bairou

Look at this stunner from the Sichuan liangban (cold dish) canon. Kathy's recipe for

 

homestyle suanni bairou, or garlic pork,

 

is not only a visual showstopper, it's also quite quick and easy, featuring only

 

Zhongba Dark Soy Sauce, your favorite

 

chili crisp, copious amounts of fresh garlic and a quick-boiled pork belly. 

"Take note," she writes, "when we publish these 'homestyle' dishes. Banquet flavors and secretive fly-restaurant recipes have the benefits of mass production and an entire kitchen staff on their side to perfect local, time-honored tastes. But the beauty of 家常菜 (jiācháng cài), homestyle food, belongs to a homemaker's instinctive practicality. Without professional kitchen instruments and long prep times, home cooks make the same old flavors and nostalgic spirit accessible for a single dish on one night only. And with each home-cooked dish come the unique preferences and tastes of the family preparing it."
 
Sichuan Sweet Wheat Paste (Sweet Flour Sauce, Tian Mian Jiang)
$11.00
After a long absence, this sleeper Sichuan sauce has returned—and with new packaging to boot. Tian mian jiang, or sweet wheat sauce, is another long-fermented product from Juan Cheng, and last year the company simply did not have enough of it fully fermented and ready to go when we ordered. 

It is made solely of wheat—no beans—and has its own umami presence that is different from the numerous fermented bean products in China. It is neither spicy nor particularly sweet, despite its name, but just deeply savory. 

In Sichuan, this sauce is used most famously as one of the three fermented sauces, along with Pixian doubanjiang and douchi (soybeans), that flavor twice-cooked pork. This combo of sauces is truly one of the greatest flavors in Sichuan. I recently subbed pan-fried firm tofu for the pork belly in this recipe with great success, because the sauce is the real star of the dish to me and Fongchong. 

Tian mian jiang can also be used on its own (or with a dab of douban) as a stir-fry sauce for lean pork and green peppers. 

In northern China, by contrast, tian mian jiang is used as the sauce of choice for Peking duck. And while most of us are not going to be making Peking duck at home, we can most definitely indulge in the similar, but much less difficult, activity of making little parcels of sauced pork in the style of duck pancakes. Check out the video recipe below for this easy treat.
This video for Jing Jiang Rou Si, or Peking Sauce Pork Slivers, by Chinese Cooking Demystified uses tian mian jiang to sauce the pork and serves it with Peking duck fixins—cucumber, leek, cilantro and flour or tofu pancakes. (And

 

here

 

is Chef Wang's slightly more involved version.)

Don't forget that

 

supporting Steph and Chris on Patreon

 

gets you an ongoing 10% discount on all (food) purchases at The Mala Market. Only supporters get to see chapters from their book project, which is organized according to the great flavor profiles of China. 
 
Regional Chinese Noodle Collection
$49.00
Late last year we launched our Regional Chinese Noodle Collection with our favorite noodles. It includes alkaline wheat noodles for dan dan mian (and many other Sichuan noodle dishes); Chongqing sweet potato glass noodles; Yunnan rice noodles; and Guangdong wide rice noodles for chow fun.
You can find multiple recipes using these noodles

 

here on our blog. 
Guangdong Wide Rice Noodles (Ho Fun, He Fen for Chow Fun)
$19.00
At launch, we totally underestimated the appeal of this large, 2-pound bag of chow fun noods and quickly sold out. With our new shipment, we're back in business. Let the

 

beef chow fun

 

fun begin! (Or use the same noodles for Thai pad see ew).
Note that I have updated my beef chow fun recipe to include a brief boil of these noodles instead of just a soak, adding more moisture and softness to the noodles before you stir-fry them. If you tried them, what was your experience with that?
Ants Climbing a Tree
Another homestyle dish, mayi shangshu, or "ants climbing a tree," is named for the way finely minced pork and green veg cling to brownish glass noodles that resemble tree limbs.

Traditionally made with thin and springy mung bean starch noodles, nowadays Sichuan cooks, who are wild about thick and chewy sweet potato noodles in all shapes and sizes, will sometimes use those instead. Kathy prefers the thin "thread" noodles, but I talked her into including a variation, pictured above, using our Chongqing sweet potato noodles, which is how I always make it. 

So take your pick. Either way, this homestyle dish is one you'll rarely see in restaurants but makes for a satisfying family meal. You'll also need red-oil doubanjiang and Yibin yacai, the preserved mustard bits that join finely minced pork and scallions in the ant colony. This yacai-forward sauce combines two of Sichuan's famous ferments (douban and yacai) for an unassuming dish full of concentrated flavor.
 
Chinese Black Cardamom (Cao Guo, Tsao Ko)
$12.00
We have really missed Chinese black cardamom. It arrived with our previous big shipment, but unfortunately, it was the wrong kind of cao guo. It turns out that it's made two ways, sun-dried or smoke-dried. They sent us the natural kind, but we much prefer the dark and smoky look, smell and taste of the smoked version. Add it to any braise, soup or oil where you want both a mild herbaceous camphor taste and a tinge of smoke. So intriguing! 
Chinese Spice Collection (Xinjiang Cumin, Star Anise, Cassia Bark, Black Cardamom)
$36.00
The return of black cardamom also enables the return of our Chinese Spice Collection, including one bag of each of the warm spices we import: star anise, cassia cinnamon, and cumin grown in Xingjiang along with the black cardamom. 

The uses for these spices in Chinese cooking are too numerous to list, but you can start by adding them to your homemade chili crisp or

 

chili oil.