December 2022: Chinese Chocolates + Other Gift Ideas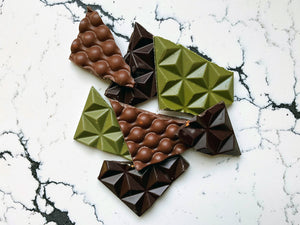 Mala la la la, la la la la
Season's greetings, friends of The Mala Market
I'll keep this short and sweet: We've got two new collections of chocolates with Chinese characteristics. These handmade bars will be so very appealing to the those who love Asian flavors. 

For the cooks on your list, however, you might want to go spicy or savory. Below are some suggestions in all price ranges. 

And don't forget a Christmas Eve or New Year's Eve hot pot celebration for yourself, family and friends!
Happy Holidays!
🌶 Taylor & Fongchong 🌶
Fossa Chocolate Collection (Chilli Peanut Praline, Jasmine Green Tea, Lychee Rose)
$36.00
Singapore-based Fossa Chocolate makes a return to our store this season with an all-new line-up of their exquisite chocolate bars with Chinese flavors. We have chosen three of our favorite bars for this collection of Chinese chocolates: Chili Peanut Praline, Jasmine Green Tea, and Lychee Rose. We marvel at how the bars have such thoroughly infused and pronounced flavors, tasting exactly like their names.

Note that this year's tea chocolate is made with Sichuan's famed Drifting Snowflakes jasmine green tea from Mt. Emei. Take a bite and be transported to a Chengdu teahouse!
Deux Cranes Collection (Milk Chocolate Ginger, Matcha Sesame, Dark Miso Almond)
$36.00
These chocolate bars with East Asian flavors are handcrafted in California by Japanese American chocolatier Michiko Marron-Kibbey. With their repeating geometric designs (see top photo) and intriguing flavors, the bars are as gorgeous as they are delicious. For this collection we chose Milk Chocolate with Ginger, Sesame and Buckwheat; White Chocolate Matcha with Caramelized Sesame; and Dark Chocolate with Miso Almonds.
Sichuan Pepper Grinder ( Da Hong Pao Hua Jiao)
$18.00
A—literally—electrifying gift! Potent, tingly, super flavorful Sichuan pepper, ready to go when you are. 

"I LOVE this pepper grinder! I am putting Sichuan pepper flakes on everything now! I have used Sichuan peppercorns in foods before, but never as a finishing ground pepper! It adds such a unique flavor!"—Faith P
Sichuan Pepper Sampler (Szechuan Peppercorns)
$29.00
Your friends think they know Sichuan pepper? They don't until they've tasted our three distinct varieties side by side. 

"You can't get something like this in a store. This is a wonderful mix, a fun addition to your pantry that nothing can substitute. If you want to get that tongue tingle, you gotta order this sampler!"—Scott P
Zhongba Handcrafted Soy Sauce (Naturally Brewed 1 Year)
$40.00
This majestic bottle is presentation-worthy, but even better than that: The taste will blow them away. This is soy sauce like they've never tasted it before. 

"Wow wow wow! This soy sauce has an incredible range of flavors and umami. It is by far the best soy sauce I've ever tasted. Bravo! "—Hank F
Starter Sichuan Collection
$60.00
This little collection features the heart and soul of Sichuan cuisine, the ma and the la of flavor. To put it bluntly, you can't cook Sichuan food without all of these. Plus, we give you five classic recipe cards to get started. 

"The best ingredient starter set for digging into the Sichuan dishes you've been wanting to try—or to give your existing dishes more flavor and authenticity. I'd been making Gong Bao Ji Ding and Mapo Doufu with some Sichuan peppercorns I got at a local Asian market (also some Taiwanese chili black bean sauce). This week I made both with the ingredients in this collection. The dishes were totally transformed—now I finally understand what ma-la is. The peppercorns I was using had none of the fragrance or numbing effect of the ones Mala ships. It can take a little getting used to! Anyway, can't say enough good things about the quality, freshness, packaging, and educational materials provided in the form of the recipe cards (and this website)."—Andy L
DIY Mala Chili Crisp and Chili Oil Kit
$65.00
Even if—and especially if—you've got a fridge full of chili crisps, making your own fresh chili oil or crisp to your own taste is so satisfying. This kit will make five times the amount of a store-bought crisp and comes complete with oversize jar (to make two large batches) and detailed recipe for the Sichuan tried-and-true method.
"A wonderful gift, my sister was overjoyed and reported that the chili crisp it made was incredible! ☺️"—Caitlin F

Super Sichuan Collection
$90.00
This collection is for those who know they not only want to cook Sichuan dishes, they want to experiment with the differences between a facing heaven chili and an er jing tiao, between the classic red da hong pao Sichuan pepper and its zingy green huajiao cousin. And of course it includes the best of the best Pixian chili bean paste, hand-stirred every day for a thousand days. 

"Introduced to us through a friend, we bought all the different elements of this collection and really elevated our home cooking in this last year, not to mention the incredible chili crisps that now are a staple in our kitchen. Since Mala Market has been such a game changer for us, why not spread the love? My gourmand sister said "best gift ever" so I guess I won Christmas this year."—Jane P
Complete Sichuan Pantry Collection
$135.00
As important as mala is, Sichuan food is not only about numbing and spicy. Those flavors are always balanced out by sweet, sour and umami. This collection fills in those important tastes with all the Sichuan heritage products needed to cook the nine classic dishes on the included recipe cards. 

"I have been learning to cook Szechuan foods for a few years now. Even though I have access to a panoply of ingredients at my local 99 Ranch store, the quality is nowhere near of that I was able to get from The Mala Market. I'm just digging in, and impressed with every new package I open.

Additionally, these folks should teach courses in proper packaging. Everything arrived completely intact and in pristine condition. Bravo."—Michael L
Yin-Yang Hot Pot (Heavy Gauge Stainless Steel)
$139.00
It doesn't get more festive than hot pot! And hot pots don't get more heirloom-quality than this heavy-duty yet stylish pot that comfortably serves 2-6 people. 

"This is a beautiful pot. A true piece of functional art! Made of heavy gauge stainless, this pot has heft. It feels of quality. The hand hammered rim is the icing on the cake. I couldn't be happier really. Beautiful!!"—Carl S