November 2022: Chinese Essentials Pantry Collection and New Cookbooks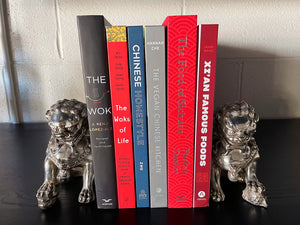 The Gift of Chinese Cooking
Greetings, friends of The Mala Market
It's a golden age for Chinese cooking in America, with yet another example being a banner season for new Chinese cookbooks. We've got not one, not two, but three new cookbooks this month that aim to make Chinese home-cooking as second nature as any other food you cook. 

Two of these gorgeous books are from our beloved affiliates Omnivore's Cookbook and The Woks of Life, who have already done so much to make us all into Chinese home cooks, and one is an important addition to the canon focusing on Chinese vegan cooking. Interestingly, they all feature Sichuan dishes on their covers, but each of the books spans China's regional cuisines.

We discount all of our books from the list price when purchased with the ingredients to cook from them, and we've made that easier than ever for you with our new Chinese Essentials Pantry Collection. Sourced from across China, the products in this collection are the go-to ingredients for cooking most regional Chinese food, including American Chinese. We've applied the same standards to them as we do to our flagship Sichuan brands: They are top-of-the-line, heritage products with centuries of tradition behind them.

We know that most of you, dear customers, are fans of Sichuan and other fiery Chinese food, but many of your friends and family may not be. So we've made it simple—one click—to give the gift of Chinese cooking to anyone! With this non-spicy, premium pantry collection and a cookbook, they'll have all they need to get started.
🌶 Taylor & Fongchong 🌶
 
P.S. For those waiting and wondering, our most recent container of goodies is still inching its way across the country to us by rail, with unknown arrival date. Supply chain? Still much less reliable than it was pre-pandemic. 
 
Chinese Essentials Pantry Collection
$130.00
Look no further if you want to build an instant primo Chinese pantry that will lay the foundation for cooking any regional Chinese cuisine. We've curated and imported China Time Honored Brands and regional heritage products that are the best China has to offer. 

The 9 full-size sauces and spices included in the Chinese Essentials Pantry Collection are used literally every day in Chinese cooking.

Buy each product separately, or save time and money when you click on the

 

collection. 
The Woks of Life (Cookbook by the Leung family)
$30.00
It's rare you get four cooks working together on the recipes for one cookbook, but that's always been the super power of The Woks of Life. The most popular Chinese cooking blog in English may have been created by one Chinese American family, but it has the benefit of four distinct personalities and skill sets. Even if, like us, you've been cooking along with their blog for years, this book is a feast of new and favorite recipes and intimate family stories. 
Chinese Homestyle (Cookbook by Maggie Zhu)
$25.00
The creator of the popular Chinese food blog Omnivore's Cookbook has narrowed her focus to plant-based dishes in her first cookbook, but Beijing native Maggie Zhu's legions of loyal readers will recognize both the authentic flavors and the modern approach she is known for, adapting regional Chinese dishes to Western kitchens.
Chinese Homestyle is highly approachable and welcoming of all cooks, regardless of their familiarity with Chinese cooking and their kitchen setup. The stir-fry recipes are written specifically for cooking in a large skillet on any kind of cooktop.
The Vegan Chinese Kitchen (Cookbook by Hannah Che)
$30.00
Some cookbooks are personal, with both recipes and stories reflecting the experience and creativity of the author, and some are professional, meaning they are highly researched and reported, often from the perspective of a trained chef. Our favorite cookbooks are the ones that pull off both approaches, and The Vegan Chinese Kitchen is a stellar contribution to that group. What's more, it's the only one of its kind in English devoted solely to plant-based dishes and the history of vegetarian eating in China. The history is as enlightening as the recipes are enticing—even for committed omnivores.
The Wok (Cookbook by J. Kenji Lopez-Alt)
$40.00
Not brand new, but still new! This spring 2022 release by J. Kenji Lopez-Alt, the food science guy, is devoted to the why and how of wok cooking. It includes recipes from Japan, Korea, Thailand and Southeast Asia, and—primarily—from China, the birthplace of the wok. And within China, it has a heavy emphasis on Sichuan dishes, much to our delight. As its purview would suggest, it is substantial, with 658 pages of recipes and nitty-gritty cooking instruction.
Starter Sichuan Collection
$60.00
Of course Sichuan food is our first love. Any of our popular Sichuan collections would make a perfect standalone gift or add-on to the Chinese Essentials Pantry Collection.
Super Sichuan Collection
$90.00
This collection includes an extended assortment of

 

ma

 

and

 

la

 

for creating stunning Sichuan dishes. 
Complete Sichuan Pantry Collection
$135.00
The only overlap in the Complete Sichuan Collection and the Chinese Essentials Collection is the light soy sauce (and you can never have too much of it).